Jul 12, 2018The following are news announcements made during the past week by the following organizations:
Checkpoint Systems, Impinj; Smartrac, and NXP Semiconductors.
Checkpoint Systems and Impinj Team to Create ARC-Qualified RFID Inlay
Checkpoint Systems, a leading global supplier of Electronic Article Surveillance (EAS) and RFID solutions for the retail industry, has created the first Auburn University ARC-qualified inlay incorporating the Impinj Monza R6-A chip using its own Vortex RFID label.
The ARC Program tests and benchmarks RFID tag performance and shares that data with the retail supply chain. This ensures that retail suppliers can deliver RFID-tagged products to retailers that meet or exceed the levels of performance necessary to provide benefit to both the retailer and the retail supplier. The new Vortex R6-A inlay is significant in that it is based upon the Monza R6-A tag chip, which helps retailers implement "Privacy by Design" principles to protect consumer privacy.
"As the industry enhances privacy controls, in part because of regulations such as GDPR, retailers are rethinking how to address the privacy interests of consumers," said Carl Brasek, senior director for silicon products at Impinj. "Impinj and Checkpoint are leading the way in providing retailers with the ability to design privacy into their RAIN RFID programs while still harnessing all the benefits of a RAIN solution."
Smartrac Unveils New Belt Inlays Based on NXP's UCODE 8 Chips
Smartrac has introduced new Belt inlays featuring UCODE 8 - NXP's recently introduced UCODE 8 passive UHF RFID chip platform. Smartrac Belt inlays are designed for item-level retail and logistics applications. The company says the inlays deliver extended read range and allow usage in light dielectric materials, such as cardboard or plastic boxes.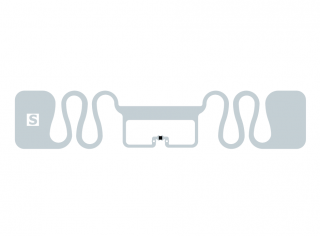 UCODE 8 is the latest generation of NXP's UCODE series and enables superior read distances and faster inventory counts for high volumes of items. The chip features an automatic adjustment function that optimizes the chip sensitivity to gain maximum performance in different environments. This optimization is performed at startup and is enabled in the default chip configuration as delivered by NXP. The chip also has an integrated Brand Identifier function to prove product authenticity, and a memory safeguard system to protect business data.
Smartrac's new inlays take advantage of the new features in the UCODE 8 chips. The company says they also offer compact size, high performance and suitability for a wide range of applications. Belt inlays and tags are designed for brand protection, inventory accuracy, loss prevention and enhanced customer experience applications. The tags can also be read at close range, as well as long distances.
"We are very excited to be expanding our comprehensive RAIN RFID portfolio and IoT solutions by incorporating one of the most advanced chips in the market, UCODE 8. Further inlays and product innovations will follow in the coming months. In collaboration with our long-term partner NXP, we will be able to enrich our product offerings for our customers in areas such as retail, logistics, industry and more", says Hal Hikita, Senior Vice President Product Management of Smartrac.
Smartrac Belt with NXP UCODE 8 is included on the approved inlay list for all categories by the Auburn University RFID lab. The Belt inlays have a die-cut size of 73 x 17 mm (2.9 x 0.7 in). They will initially be offered as a paper tag, dry or wet inlay format, and they are available immediately.