Nov 28, 2018Global packaging company Closure Systems International (CSI) has released a new container cap that brings Near Field Communication (NFC) functionality to brands without requiring the application of an NFC sticker or label. CSI teamed with Talkin' Things to develop the Talkin' Cap, which comes in two versions: One-Stage and Two-Stage. CSI is now making the cap available to brands for mass production.
The cap is designed to track products in the supply chain, and to enable engagement with consumers following a sale, for the purpose of providing access to information or coupons. The Two-Stage version can detect if it has been opened, and then transmit that status to a user via NFC. The cap technology is designed to enable companies and consumers of their products to access data wirelessly with the tap of an NFC-reading device, such as a smartphone.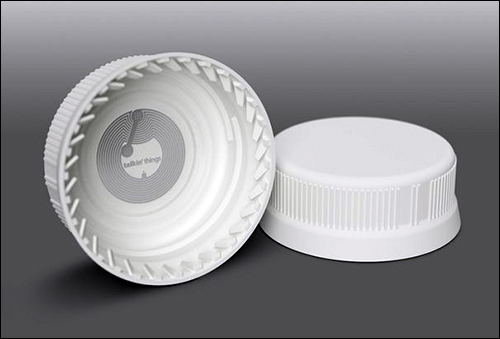 Talkin' Things, founded in 2013, is headquartered in Las Vegas, Nev., with another facility in Warsaw, Poland. Its NFC solutions are designed to enable physical products to generate digital information via smart packaging. It develops and manufactures NFC tags, while providing software and apps to manage NFC tag read information. The Talkin' Cap solution being marketed by CSI is expected to help brands fight the global problem of product protection and traceability, according to Richard Burt, CSI's business-development VP.
When it comes to product protection, Burt explains, "Every day, food and beverage companies fight consumer health risks and company financial risks associated with the counterfeiting of their products." With NFC technology, he says, goods can be uniquely identified, while the tags' tamper-detection feature ensures they reach customers without being interfered with. "Our goal is to work with companies to implement a technology that will minimize and mitigate the very real and costly threat of global counterfeiting."
NFC tags are already being used by brands, primarily as an adhesive tag affixed to a product label, says Maciej Kiryłło, Talkin' Things business-development director. With this traditional use case, consumers can tap their phone against a tag, and the phone will then be directed to a server where they can access data regarding a particular product, or gain coupons or other materials.
CSI and Talkin' Things have now launched the technology built directly into the enclosures, so that manufacturers no longer need to add an NFC label to their products. The Two-Stage model comes with a loop connected to the antenna, which is broken if the cap is opened, causing a change in the 13.56 MHz RF transmission. In that way, the company explains, a counterfeit item can be detected. "We confirm two elements at once," Kiryłło says, "the confirmation that the product is genuine and the confirmation that it has never been refilled."
For instance, if a high-value product is compromised in the supply chain and fraudulent items are placed in the opened container, an individual could identify that action when tapping the cap with an NFC-enabled mobile phone—even if the cap were closed and apparently sealed. If the cap were opened at a store, that action could be detected in the same way. The software would identify the change in transmission and display an alert. The system can also issue an alert to a brand representative, Kiryłło says, adding, "They can then send a rep to the store to see if their products are genuine."
With either the One-Stage or Two-Stage version of the cap, the tag's unique ID number can be captured at any point along the supply chain via an NFC-enabled phone, in order to confirm a product's identity and update information about where it was located and when. That data can enable supply chain members to view the history of a given product's manufacture and transportation, or determine when it was received or shipped.
Consumers can employ the NFC functionality to win a prize or access coupons, Kiryłło says. With the opening-detection function in the Two-Stage version, the solution could be designed to only enable prize information to be transmitted once the cap has been opened and the loop built into the NFC tag has thus been broken. In that way, the system could determine that the product had been purchased and was being consumed before issuing purchase credit, such as prizes or reward points. The NFC-based system could provide information to consumers without an app, such as opening a website where content could then be viewed.
Talkin' Things supplies software for the management of data and the prompting of alerts to be sent based on specific events. The firm offers a licensing and software development kit for brand owners to build their own apps, which consumers could download to utilize the NFC functionality. Brands can use the software to manage or change promotional campaigns related to products, and to tailor promotions to specific stores, regions or states. In the event that a product is recalled, the system could also alert stores or buyers.
In addition, the software could store data about app users who provide such information, such as their age, gender or address, so that companies could understand who is buying and showing interest in their products, as well as customize the kinds of offerings they receive based on their habits. "I think this tool gives brands freedom to market to consumers in a more personalized way," Kiryłło states.
The Talkin' Cap is expected to be used by companies offering high-value products, such as in the wine or spirits industry, as well as those that make motor oil or other lubricants. The system is also intended for the pharmaceutical market. In this case, the cap could help a consumer identify whether a particular drug container had been opened, in addition to linking to data stored on a server, such as a given product's manufacture and expiration dates.
The cap is available now, Burt says. CSI is presently in talks with several major brands worldwide, he reports, "on how this technology can be used to positively impact the bottom line." That, Burt notes, can be provided "either through direct to consumer communication with our One-Stage tag, or through anti-counterfeiting protection with our Two-Stage tag."