Dec 14, 2014We recently announced that RFID Journal is accepting nominations for the 2015 RFID Journal Awards (see RFID Journal to Host Its Ninth Annual RFID Journal Awards). This year, we're introducing a Best Internet of Things Deployment award, and changing the Best in Show award to Best New Product, which better reflects what the award is about.
In truth, the awards are a lot of work, and they don't bring RFID Journal any revenue. We don't charge an entrance fee, and there is no sponsor. But we think they are worthwhile, because it is important to recognize companies that have implemented outstanding RFID projects. The awards validate the time, effort and, in some cases, risk put into these projects.

Our main goal, however, is to highlight successful deployments so others can learn from these innovative deployments. Sometimes, companies in different industries get ideas for how to use the technology. Last year, after Bechtel won the Best RFID Implementation award (see RFID Helps Bechtel Manage a Megaproject), I received an e-mail from someone in a different Bechtel division who said he was an RFID Journal reader yet hadn't known about the project until it was nominated.
Some companies do not want to talk about their RFID projects. I recently addressed this issue (see Why End Users Should Discuss Their RFID Deployments), so I won't rehash their reservations here. But there are good reasons to submit for an award. The team that worked hard on the project deserves recognition. Your company will be seen as a leader and an innovator, and it might encourage others within your firm to take on new projects that enhance efficiencies.
Winning an award can highlight the value of using RFID within your industry. The true benefits of employing the technology are often unlocked when everyone in an entire industry embraces RFID. Airbus, for example, has been very vocal about its deployments, because it believes that if all manufacturers utilize RFID tags to track airline parts, Airbus will benefit (see Airbus Leads the Way and Airbus to RFID-Tag and Track All Parts Made In-House).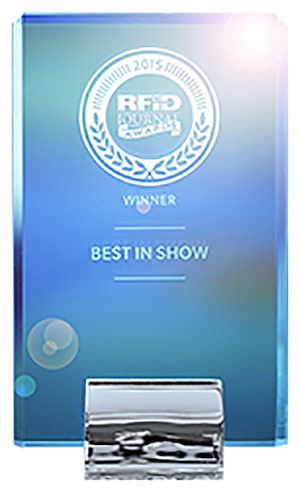 Another tangential benefit is that it will help your RFID solution provider. This might not seem to be very important, but the reality is that if your partner does well, then it can invest more in improving its tags, readers or software, and perhaps upgrade your project later on or help you with new projects.
It is a lot of work to recruit judges, gather all the entries, send them to the judges, collate the responses and choose the winners. RFID Journal's editors also read every submission. But I enjoy this process, because I get to see how the technology is benefiting individual companies, and it brings me a lot of satisfaction to recognize the great work businesses are doing. I encourage you to submit and be recognized.
Mark Roberti is the founder and editor of RFID Journal. If you would like to comment on this article, click on the link below. To read more of Mark's opinions, visit the RFID Journal Blog, the Editor's Note archive or RFID Connect.