Oct 18, 2019Real-time location system (RTLS) technology company Sewio is partnering with global networking technology company Cisco Systems in the Czech Republic to build its ultra-wideband (UWB) receiver module into Cisco access points, thereby enabling precise localization of tagged items or individuals in industrial, automotive and other spaces, without the need for an additional RTLS anchor installation. The two companies announced the plan at Sewio Summit, Sewio's second annual summit for UWB industry members, which was held in the Czech statutory city of České Budějovice.
In addition to Cisco's plans, the summit served as a platform for several UWB-based announcements. SICK, a sensor intelligence company, indicated that it is partnering with Sewio to build its RTLS technology into SICK's asset-analytics platform for location solutions. Several solution providers described their RTLS deployments for different local Toyota manufacturing sites, and UWB chip company Decawave indicated that it is joining the Car Connectivity Consortium as the technology expands across multiple vertical markets, including into the automotive sector. That membership, the company says, will help it expand its own products into numerous markets, while it hopes also to support the expected growth in UWB for automotive entry, consumer goods and industrial deployments.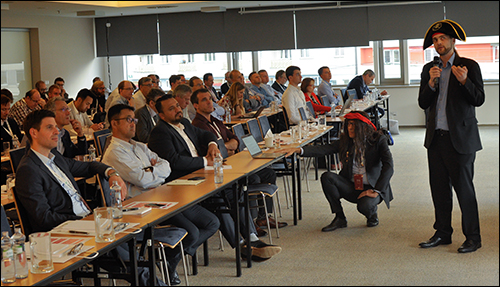 During the summit, a series of speakers representing RTLS solution provider companies described their deployments using UWB technology to provide their customers with a variety of applications, including the management of work-in-progress (WIP) at manufacturing sites. When it comes to the Cisco announcement, the wireless access technology company says it expects to deploy its new UWB-enabled access points at several sites throughout the Czech Republic, says Zuzana Svecova, Cisco's Czech and Slovak specialist team lead.

"We are now profiling suitable custoemrs for the pilot," Svecova says. "We have two on a short list and testing should start during October." The Cisco node pilots may be provided by joint Cisco-Sewio partner Alef, according to Hana Balášová, Alef's business-development manager. Alef, a subsidiary of Cisco, provides training, implements its solutions, and works with automotive and other industrial companies.
The new access points are part of a continued drive by Cisco to sell more than Wi-Fi connectivity, the company reports. Cisco has been moving further into Internet of Things (IoT) services by partnering with scores of companies to expand its offerings into the industrial and other markets. These include Bluetooth Low Energy (BLE) and Zigbee, for instance. The new devices will consist of Cisco's AP 3802, with Sewio's UWAPO module containing an integrated Decawave DW1000 chip. Additionally, Sewio's technology may be retrofitted into existing AP 3802 nodes through Cisco's Aironet Development Program.
Cisco reports that it is now offering vertical solutions centered around four markets: industrial automation, workforce enablement, security and plant efficiency. The company is building digital manufacturing solutions that include apps, software and wireless connected factories, says Michal Stachnik, Cisco Systems's general manager in the Czech Republic and Slovakia. As part of this effort, he explains, "We partnered with Sewio with a goal of bringing precise location services to our Wi-Fi clients." Industrial companies, as well as other firms with a need for real-time location, could use Cisco Wi-Fi access points to track UWB tags worn by employees or applied to assets or equipment, in real time.
Sewio's UWAPO reader with an omnidirectional antenna provides RTLS functionality in a fully plug-and-play module, says Milan Šimek, Sewio's CEO. The system can detect the locations of tags with decimeter accuracy, Šimek says, as well as the direction in which a tag is moving. Bringing UWB to Wi-Fi access points, he adds, makes RTLS deployments affordable and easy to deploy for companies that don't want to run cables and install UWB dedicated anchors. That makes RTLS accessible for a new set of end users. "Frankly," Šimek told attendees, "this revolution is happening here [in the Czech Republic]."
For the past several years, Cisco has been in conversations with its industrial clients regarding indoor localization. "We realized, for certain uses cases, that Wi-Fi-based location is not enough," Stachnik says, "and if we had another technology combined with Wi-Fi, we could offer our customers greater benefit. That's why we're bringing UWB to our product." The new access points will enable companies to build solutions in industrial settings that locate assets and equipment for applications, such as WIP, personnel safety and work optimization.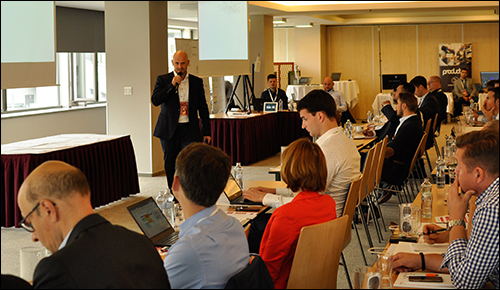 For Cisco, Stachnik says, "We see this as a win-win situation—Sewio and Cisco can help each other." The new product will bring Sewio's products to customers that had not previously used UWB, while Sewio will help Cisco's customers with more granular location data than Wi-Fi alone can accomplish. After the pilots, he adds, "We will look at the pace of use-case growth." He expects potential customers to be in the manufacturing sector—for instance, in automotive building. "I believe that this is something that will open us to a huge number of customers worldwide."

The summit was booked to capacity, with about 110 people attending, and was twice the size of the previous summit, Šimek says, adding that such increased interest may reflect UWB interest growth across Europe and beyond. "This market is experiencing tremendous growth," he states, "and one of the fastest industry-growth areas in the market." With the summit, Šimek says, "We wanted to share our experiences and inspire others to be an active part of this innovative community."
Participants at the summit—were primarily UWB solution providers—hailed from 17 different countries and shared a common conviction that UWB is on the crest of rapid growth. That growth is enabled by several factors, most recently the release of UWB technology into Apple's latest iOS devices. Solution-provider companies that partner with Sewio also described their deployments at the summit, for unnamed manufacturers as well as for several divisions of Toyota.
Tom Fritz, representing U.S.-based RoviSys, described the use of RTLS technology for the management of materials moving through manufacturing processes. In one case, he said, the technology is being employed as part of a crane operation in which assets and materials need to be identified while moving between treatment tanks.
RoviSys specializes in solving technical challenges, Fritz says. The company proposed two solutions to its manufacturer customer, then an RTLS solution using UWB was chosen. The system consisted of Power-over-Ethernet (PoE) anchors from Sewio, deployed throughout the production area, using time distance of arrival (TDoA) methodology to measure time difference between signals from tags to anchors. As a result, the company is able to detect the exact locations of cranes as they move to, from and between treatment tanks, in order to improve operational accuracy and efficiency. The anchors can detect the locations of assets in 3D and push that data to RoviSys's OSIsoft PI software platform. "Benefits were realized immediately," Fritz says, "and this solution has been duplicated at another plant."
Andrej Štefánik, a member of the board of directors for Slovak company CEIT, shared a deployment in which the company deployed an RTLS solution to track more than 200 forklifts for the Czech Republic's largest car manufacturer. The system, consisting of 500 anchors, helps the company track WIP, as well as tools and materials. Meanwhile, Luděk Cigánek, Productoo's CTO, recounted his company's deployment of a WIP-based RTLS solution for a pharmaceutical company across 25 manufacturing sites and 12 packaging work centers.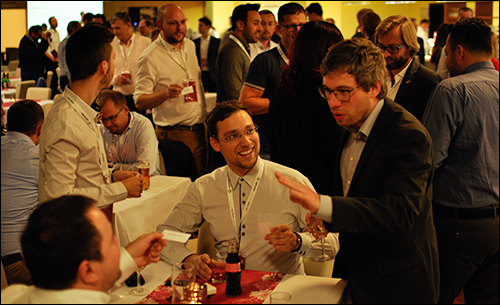 Decawave was represented by Mickael Viot, the UWB integrated circuit company's marketing VP, who said he predicts UWB technology will follow the growth model of ubiquitous technologies like Wi-Fi and Bluetooth. He foresees deployments for UWB in the retail, automotive and industrial markets, as well as agriculture such as cattle management.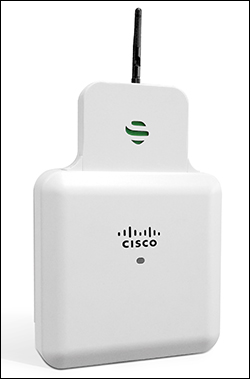 Decawave has joined the Car Connectivity Consortium (CCC), a cross-industry organization dedicated to organizing phone-to-car connectivity solutions. The group is developing a new open standard that will be used to enable smartphones to serve as vehicle keys. With the potential inclusion of UWB functionality in iOS devices, Viot says users may be able to leverage the technology to securely access their vehicles, or to share keys with other authorized users.
The UWB Alliance, which launched in 2018, is focused on promoting UWB technology and its greater interoperability and standardization. The Sewio Summit was hosted in České Budějovice, the company explains, because Sewio's customer Budweiser Budvar has deployed the technology at its site in that city and was thus able to describe the deployment and provide a tour of the facility to summit attendees. The next Sewio Summit is scheduled to take place in Prague in the spring of 2021.
Cisco Systems is not the only company to incorporate UWB into its technology. Huawei has released its Wi-Fi 6 access points with built-in Bluetooth and expansion functionality, including UWB, RFID and Zigbee.