Feb 05, 2020Restaurants are piloting a new Near Field Communication (NFC)-enabled restaurant-management system and kiosk that allows people to place orders and pay for meals with the tap of a smartphone or watch. The solution, from Florida technology startup Grubbrr, was conceived by the company's founder when he and his wife were waiting 45 minutes for a restaurant table on Valentine's Day.
"I hate waiting in line," says Bhavin Asher, who is also the company's CEO. Asher had a history in technology and business strategy work for IBM, Deloitte and Salesforce, so he began investigating a solution. Approximately three years ago, he launched Grubbrr, a technology company whose self-ordering kiosks, management software and related point-of-sale (POS) systems are intended to put an end to queues.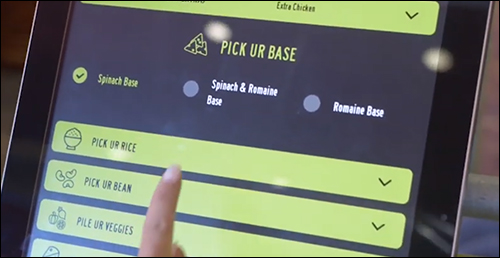 The company is partnering with FreedomPay, which provides the software platform to integrate the kiosk solution with restaurants' existing software. The resulting solution is intended to offer secure, fast and convenient payments, either with NFC-enabled devices, a standard credit card or cash, Asher says, while also bringing digital engagement to the point of purchase for a complete business-automation platform application.
When the company started several years ago, Asher says, it offered a simple kiosk for ordering. It has since evolved to include a POS solution that could be integrated with a restaurant's existing POS technology or serve as its POS system. By enabling restaurant customers to walk up to a kiosk, place an order and seat themselves, the solution is intended to increase an eatery's efficiency and to potentially boost sales accordingly. Asher uses the analogy of airport check-in kiosks, which have reduced the lines that traditionally snaked in front of airline check-in counters. Consumers now expect faster service and less wait time, he says.
The kiosk started with an Apple iPad or tablet that would allow customers to select from a menu of food and drinks. These days, however, it is a fully integrated device that provides full restaurant service management. A restaurant can link its menu with the Grubbrr software platform, and the kiosk will display that menu on its touch screen. It can also include a locker in which kitchen chefs can place finished orders. Grubbrr found a direct correlation between screen size and average ticket size, as well as revenue. As a result, most kiosk implementations now come with 32-inch screens, Asher says.
The kiosk comes with a built-in NFC reader, provided by electronic transactions technology company Ingenico. The reader captures transmissions from NFC-enabled phones, whether they use an iOS- or Android-based operating system. The NFC transmissions (at 13.56 MHz) comply with the ISO 14443 standard.
The system typically works this way: Users can go to the kiosk and select the food and drinks they would like to order. They are next prompted to pay. If they don't use NFC payments such as Apple Pay or Google Pay, they can swipe a credit card, or—in future versions of the kiosk, expected to be released by this summer—make a payment with cash. However, the system is designed primarily to leverage NFC, thereby making the process faster and more seamless. An individual simply taps his or her phone next to the reader, and that person's existing app will complete the transaction, deducting funds from his or her account. The order data is stored in the cloud-based software and is displayed on monitors in the restaurant kitchen, while chefs can then proceed to fulfill that order.
There are several options for restaurants to serve food to their customers. A Grubbrr screen can be installed facing customers so that it displays the name of the individual whose order has been completed, and he or she can then proceed to the pickup counter. The system can also automatically send a text message to a customer when the kitchen indicates, in the software, that her or his meal is ready. Alternatively, the wait staff can bring the meal to the patron's table once the kitchen-facing monitor has indicated that the order is complete and ready for serving.
In addition, the system can make the meal available in a locker that only the customer can access. The locker, provided by Grubbrr, would be installed between the kitchen and the dining area, to be accessed via two separate doors, one from the kitchen and the other by the public. The cook would place the tray with the customer's meal in the locker, then signal to the customer that it is ready. When the patron goes to the locker to pick up that meal, he or she uses a QR code on the receipt to release the lock.
In addition to restaurants, the system is also being piloted at stadiums and movie theater concession stands. In the latter scenario, Asher says, "Imagine if you had five back-to-back [kiosk] screens—ten people could be ordering at once," rather than standing in line. They would then get to their movie on time, and the theater would thus increase sales.
What's more, the technology can be used with HF RFID if users have an RFID-enabled wristband or badge. For instance, at a music festival or concert, ticketholders can be provided with a wristband containing an RFID tag that links to a prepaid or credit card account. Companies such as software provider Citrix are testing the kiosk in corporate food courts, Asher repots. In such an environment, employees could tie a food purchase to a company account with the tap of an ID badge, or use their own phones.
By eliminating the need to take a card out of a wallet, swipe the card and put it back, Asher says, the system enables food purchases to occur within a matter of seconds. The Grubbrr system is also intended to allow contactless or NFC-enabled payments for small companies that may not have a POS system capable of accommodating Apple Pay or other NFC payments. "We want to democratize payments," Asher says.
One fast casual restaurant that has been piloting the technology plans to increase the size of its kitchen in order to accommodate the additional business it has received since the system was taken live, Asher reports. Piloting started about six months ago and will continue this year, he adds. The company, which has asked to remain unnamed, will then determine whether or not to deploy the system permanently at some sites.
The system costs $399 a month for hardware, software and payment functionality for a single kiosk. Asher predicts that the system will not only increase efficiency, but also free up staff members to better engage with customers. "Everybody today expects a better experience" when they buy goods and services, he says. "I'd rather have a concierge in the front who will talk to me than someone behind a counter just taking orders." He envisions former cash-register-operating employees walking among patrons, offering coffee or soup samples, as well as helping them make menu selections.