May 05, 2004Stora Enso, a global paper and packaging company based in Helsinki, Finland, had an innovative packaging solution, called Discbox Slider, which folds cardboard to create CD cases and then inserts the CDs and booklets. It also had a happy customer in CD-Linja, a Finnish company that produces CDs and DVDs. What Stora Enso and its customer lacked was visibility of the CDs as they traveled by truck between the two companies' facilities. So they adopted an innovative RFID system that could be extended to a retail outlet.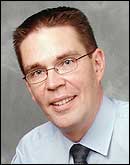 CD-Linja manufactures the CDs and ships them, along with printed cardboard sheets and booklets, from its facility in Vantaa to Stora Enso's InnoCenter 250km (155 miles) away in Imatra. Stora Enso folds the cardboard into CD cases, inserts the CDs and booklets, and then ships the packaged CDs back to CD-Linja.
The problem was that CD-Linja was having trouble meeting deliveries with short lead times. "It was difficult to know where the product was in the delivery process," says Juha Lehtola, VP of new business innovation at Stora Enso. "Were the CDs in our facility or still on their way? With RFID, we have an online track-and-trace system, so our customer can follow where the product is going and when to expect delivery, even on an hourly level."
Stora Enso turned to a local RFID software provider called Stockway, which had developed a unique peer-to-peer system for tracking products (see Peer-to-Peer: RFID's Killer App?). Stockway's World Wide Article Information (WWAI) protocol allows companies to store information about a product on a number of computers. The company had developed the Trackway asset-tracking application, too, which also provides security and authentication features that let companies decide who gets to see information related to a particular item.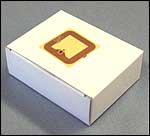 Now CD-Linja loads boxes of CDs onto a pallet with a 13.56 MHz ISO-compliant RFID tag. The pallet's tag is scanned before the pallet is loaded on a truck at CD-Linja's manufacturing facility. The tag ID and a list of the pallet's contents are uploaded automatically to a Trackway application, which is hosted by Stockway on one of its servers. Stora Enso can view data through a standard Web browser and see that a shipment is on its way. When the pallet arrives at the Stora Enso packaging facility, its RFID tag is read and the data is uploaded to the Trackway system. If the number of pallets scanned at Stora Enso's plant or the tag identifiers do not match those that were shipped, the software provides an onscreen alert.
After Stora Enso inserts the CDs and booklets into the cardboard cases, it puts them in boxes of 25 or 30 CDs. Each box is fitted with an RFID tag and weighed. The box's ID and weight information is written to the RFID tag and uploaded to the Trackway server. The boxes are put in shipping containers and sent back to CD-Linja. CD-Linja removes the boxes from the shipping containers, and scans and weighs each box. The Trackway software automatically records the ID and weight information of each arriving box, and if the box weight doesn't match the weight that was stored on the tag at Stora Enso's plant, the company knows some CDs are missing.
Each CD has a retail value of about $25 per piece, so it's important to keep shrinkage to a minimum. But Lehtola says theft had not been an issue, and the more critical benefit was providing visibility into the supply chain so that CD-Linja could fulfill orders in a timely manner.
"We've been able to test how the system works in a real production environment," says Lehtola. "It has been very reliable and has increased the satisfaction of our customer."
Lehtola says the system was not very expensive. The costs included the license for Stockway's Trackway application, four handheld RFID readers for scanning pallets at CD-Linja's and Stora Enso's facilities and cradles for transferring the readers' data to a PC, and the tags.
The Stora Enso and CD-Linja are discussing the possibility of putting tags on individual CDs during the packaging process and tracking them to a retail store. "It is under consideration," says Lehtola. "It's a matter of time before we do it."
RFID Journal University
This special two-day course presented by RFID Journal and members of Auto-ID Labs addresses the issues you need to understand before deploying RFID/EPC technologies. To learn more, visit RFID U.
Washington, D.C. (Reston, Va.)

June 9 and 10

Chicago

June 21 and 22

Atlanta

July 13 and 14

New York City

July 26 and 27