Aug 20, 2012In the past, when employees at T-Mobile Austria's stores began each work day, one of the first tasks performed involved updating prices and other product details. Workers printed and cut out paper labels, both before store hours and again during lunch breaks. Thanks to the installation of RFID-based electronic shelf labels manufactured by ZBD Solutions, the staff has reduced that labor time by approximately 40 percent.
T-Mobile Austria sought a more effective method of updating pricing and product information within its stores in a uniform manner. "Paper labels proved to be highly inefficient and very labor-intensive, often taking store staff away from selling," says David Rogers, ZBD Solutions' sales and marketing director. What's more, he notes, there was no guarantee that changes were updated accurately at each store.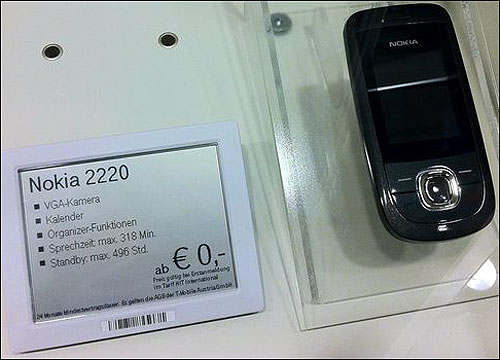 In order to update product and pricing information in-store, staff members had to either arrive at work 30 minutes early and manually cut out the paper labels, or perform this task during breaks. Furthermore, Rogers adds, paper labels were not in keeping with the stores' modern and sleek design, or with T-Mobile's reputation as an innovator. In contrast, he says, ZBD Solutions' electronic-paper (e-paper) displays have been integrated into each store's layout, thereby creating a unique and seamless design.
T-Mobile Austria trialed the solution at a single store for three months and—after determining that the system functioned, and that employees were able to work with the technology—rolled it out at 11 T-Mobile stores in Austria, as well as within neighboring countries.

Software integration firm
MmiT
installed the system, with store size determining the number of displays deployed at a particular location. Typically, each store has about a dozen ZBD epop 500 e-paper displays, as well as at least one interrogator, known as a Bounce Communicator. Each epop 500 device measures 103 millimeters (4 inches) in width and 82 millimeters (3.2 inches) in height, with a visible screen area measuring 83 millimeters by 62 millimeters (3.3 inches by 2.4 inches). The screen is bistable, meaning that it requires no power to retain an image indefinitely.
ZBD Solutions' software consists of Bounce Architect (to manage data related to pricing and product details) and Bounce Processor (to prompt the changes to epop labels via RFID). To update prices or other information, explains David Morgan, ZBD's senior VP of global sales, T-Mobile Austria's managers—working at the company's central location—make the necessary changes in the Bounce Architect software. The new data is then transmitted via the Bounce Processor to the Bounce Communicator software, running on a computer located at each store. The Bounce Communicator then forwards appropriate pricing and product data to each epop 500 unit, based on that unit's unique ID number, via an 868 MHz transmission, using a proprietary air-interface protocol. The epop 500 device, powered with a coin-cell battery, receives that data, updates its details and displays the new information on its e-paper screen, while simultaneously sending an 868 MHz transmission back to the Bounce Communicator, thus verifying that the transmission has been received.
With the system in place, Morgan says, "staff are free to spend more time with customers, and T-Mobile can ensure that call or handset pricing information is always up-to-date and 100 percent accurate."
By using the technology, Morgan reports, T-Mobile Austria has seen a 40 percent savings on material and employee costs, based on eliminating the manual printing, cutting and applying of labels, as well as a reduction in the need for paper and toner. The system also provides T-Mobile Austria's managers with confirmation that pricing and product information remains up-to-date at every store.