Aug 15, 2019Smartrac Technology Group, a provider of RFID products and Internet of Things (IoT) solutions, has announced its SKYLINE inlays and tags for industrial on-metal applications. These UHF RFID products feature a read range of up to 6 meters (19.7 feet), the company reports.
For its SKYLINE products, Smartrac developed a customized UHF inlay based on NXP Semiconductors' UCODE 7xm IC with 448-bit EPC memory and extended user memory of 2 Kbits. The resulting transponder is folded and applied around a synthetic spacer developed and provided by German firm Identytag, one of Smartrac's converting partners, which is also involved in the initial manufacturing process. Smartrac and Identytag have completed initial product volumes and plan to ramp up production during the second half of this year.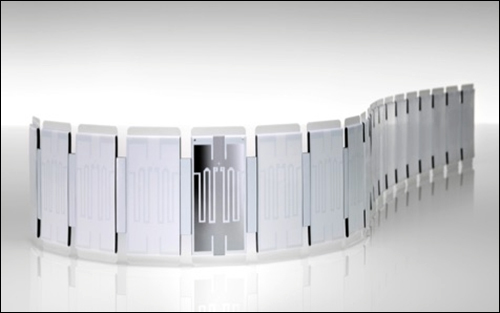 The new ICs are designed to operate in dense reader and noisy environments through high interference rejection, Smartrac explains, and provide a high on-metal read range for a tag with a die-cut size of 54 millimeters by 25 millimeters by 1.8 millimeters (2.1 inches by 1 inch by 0.07 inch). The inlays are permanently attached to the spacer via a layer of RA-33 adhesive, providing strong adhesion to an array of surfaces. SKYLINE's surface is printable with TTR printers.
According to Smartrac, the tags and inlays are suitable for tracking metallic assets, items and components within industrial environments, such as automotive, mechanical engineering and aviation. The SKYLINE family of inlays and tags are compliant with VDA recommendations for the automotive industry, the firm adds, and are supported by many global automation companies.
Smartrac has also announced an increase in its manufacturing capacity and the implementation of measures to reinforce its focus on global industrial applications. The firm runs factories, development centers and DCs across APAC, the EMEA and the Americas, which jointly account for a production capacity of more than 3.5 billion RFID inlays and tags per year.
Recently, Smartrac moved to a new location in Guangzhou, China, thereby doubling its floor space, updating its technologies and increasing the number of employees on site, which has raised its production capacity by more than 30 percent. The company has also increased capacity at its facility in Kulim, Malaysia, and has augmented its workload and production lines with a focus on hard tags and sensor tags.
Smartrac's facility in Reichshof-Wehnrath, Germany, will increase its product development and production capabilities as well, in order to support the production of specialized batches for customized RFID products. Another factory in Fletcher, N.C., has undergone a refurbishment and has added new technologies in recent months, making it what Smartrac calls the only large-scale, high-volume RFID inlay and tag production and customization center in the United States.
"Smartrac has always had a strong focus on product innovation for multi-industrial applications and solutions, and our ongoing success has uniquely positioned us to directly respond to customers and the rapidly changing market demands," said Amir Mobayen, Smartrac's chief revenue officer and the president of its Transponder Division, in a prepared statement. "By increasing our global manufacturing capacity and flexibility, and by streamlining our business approach according to the needs of our industrial customer base, we will further reduce our time to market while reinforcing our commitment to product performance and quality."