The company says developers will be able to build low energy, IoT solutions leveraging edge computing, greater security, and energy efficiency.
Sep 19, 2023With an eye on expanding IoT development by enabling edge computing, low power solutions, Silicon Labs has announced its Series 3.0. The latest version of the IC company's IoT technology platform is aimed at accelerating development of IoT solutions. Silicon Labs Series 3 devices will be built at the 22 nanometer (nm) process node to offer better wireless performance and energy efficiency than the 40 nm process node of the current Series 2 generation. The company also announced Simplicity Studio 6, which is a developer tool suite that the company says will streamline and accelerate development in an open-source environment.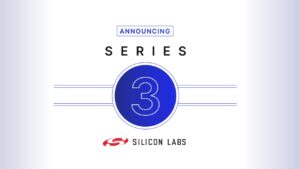 In the near future, the company points to use cases the new platform could enable and extend, such as access to camera-based data and health care devices (e.g., meters and sensors). "Primarily, we expect Series 3 to make many existing applications that are wired to a portable power source," an unnamed Silicon Labs spokesperson says. They point to high-definition cameras becoming wireless, as well as leveraging on-board AI/ML processing to provide more intelligent and accurate alerts about what cameras are detecting, without needing to be connected to the cloud.
Similarly, in the connected health market, clinicians will be able to leverage devices that can not only monitor and track a condition, such as blood glucose levels, but will also have the on-board intelligence and processing power to deliver medication to the patient through the same wearable device.
Series 3 follows its predecessor Series 1 and 2 versions by bringing greater processing power to the edge, which is intended to enable further deployment of IoT solutions, Matt Johnson, company CEO, stated in a press conference on August 22. Developers are expected to use Series 3 products and the related software platform for developing smart cities and civil infrastructure solutions, as well as commercial buildings, warehouses, smart factories, and Industry 4.0, smart homes. In addition, the platform is expected to be used for personal and clinical healthcare and applications that require more portable functionality with network security and low power consumption.
Security, Power, and Scalability
When it comes to security, Series 3 devices will include the same security features that are already available on Series 2 devices with some additional enhancements to make them more secure, according to Johnson. He did not indicate what the specific enhancements consist of. The new version is also designed to be low power so that battery life is extended beyond those using Series 2.
The move to a 22 nm processor will enable new high performance IoT solutions, Johnson said. The processing capability will be 100 times that of previous devices. It includes integrated artificial intelligence (AI) and machine learning accelerators for edge devices, enabling consolidation of system processing into a wireless System on a Chip (SoC) – eliminating the need for MCUs. This could mean that peripherals used in an IoT Solution will be able to perform faster and more efficiently, even in remote locations.
Series 3 is also designed to be compatible with existing IoT protocols including Bluetooth Low Energy, Wi-Fi, Wi-SUN, 15.4, multiprotocol, and proprietary protocols. It also will come with support for external flash drives.
In addition, the production of Series 3 devices – at sites around the world – will ensure availability, the company reports. "The past several years have included several events and trends that have put a strain on the semiconductor supply chain across the entire industry," Johnson said, "and IoT hasn't been immune. In an effort to minimize geographic risk and disruptions for customers, Series 3 will be produced in factories in multiple parts of the world."
Simplicity Studio 6 Becomes Open Source
Silicon Labs has also released Version 6 of its Simplicity Studio application developers kit. The newest version of developer tools is intended to serve those using any of the company's portfolio of devices, including Series 1 and Series 2, as well as Series 3.
Simplicity Studio 6 is designed to open the integrated development environment (IDE) to popular applications from a variety of vendors. With the launch of Simplicity Studio 6, Silicon Labs is enabling developers to use IDEs without being locked into a specific vendor. This means developers can use the tools with open-source and third-party applications.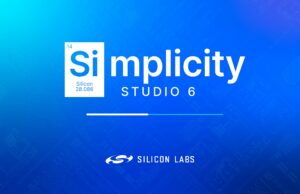 With the release of Series 3.0 and Simplicity Studio 6, the company says, "The result will be new applications based on lower energy consumption and more edge-based computing." One of the biggest ways that Series 3 will open new applications and improve or expand the capabilities of existing applications is through its greater power-efficiency, the spokesperson says, enabling wired devices to become wireless.
"This platform is not [just] an incremental step from what we've been offering it's a massive step for us in the industry," Johnson said. He also anticipates that Series 3's capacity to scale with its flexible memory architecture will enable support for more products, paving the way for new new applications and capabilities.  "We anticipate three times more products on Series 3 than we've supported on Series 2."
The release follows continued collaboration with developers, Johnson said. "We've been focused for years on improving that developer experience and making progress … making their time more efficient making their experience more efficient." He indicated that "the amount of developers working in our space and the amount of the complexity of projects as our industry grows has continued to evolve."
Silicon Labs also is announcing a new set of SoCs designed for Amazon Sidewalk development, as well as an all-new Matter Development kit. The SG23 and SG28 SoCs are intended for use by developers of applications aimed at Amazon Sidewalk systems that leverage BLE, sub-GHz FSK for up to one mile. SG28 offers dual-band SoC with radios for FSK and BLE. SG23 is designed for FSK sub-GHz long-range devices.
Key Takeaways:
Silicon Labs is targeting greater edge-based power, higher security, and lower power consumption for IoT solutions with its Series 3.0 release.
The company has also released a new set of SoCs intended for Amazon Sidewalk solutions for short- or long-range connectivity.