Jun 13, 2013Customers of global electronics company Siemens have begun testing the radio frequency identification technology built into the firm's Simogear series of electric gear motors that will enable users to more easily track the units, as well as their maintenance history and order replacements. In January 2013, Siemens began testing several different types of Omni-ID passive EPC Gen 2 ultrahigh-frequency (UHF) RFID labels on the nameplates of Simogear products. Based on the results of this testing, the company will soon include a custom version of Omni-ID's on-metal, printable IQ 400 label on every Simogear product it produces.
Simogear motors are installed in conveyor systems, roller coasters and other large equipment, and users must regularly maintain them in order to ensure their proper operation. That is not a simple process, says Benjamin McDow, Siemens' senior application engineer for Simogear products, since the gear motors can be difficult to access. For that reason, personnel often must shut down a belt or equipment, and then crawl under or into machinery to examine the unit's housing and its printed serial number or bar code, in order to identify that item and then order a replacement.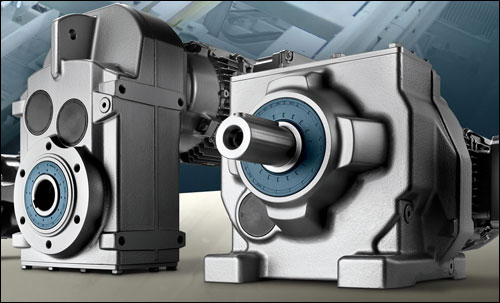 Each unit, explains Richard Mintz Jr., the marketing manager of Siemens' gear motor business, is uniquely configured for an end user's particular needs, and is then assigned a serial number, while a nameplate listing that number is attached to the motor's housing. "These are not the kind of product you can go into a catalog and order," he points out. Therefore, users are accustomed to performing extra work to identify the proper unit for replacement and maintenance, which not only can require some climbing under equipment, but also may necessitate the use of flashlights and mirrors to read the numbers, which are printed in a very small font. "There is lots of room for error in that process," McDow states, while the task is also highly time-consuming. A bottling plant, for example, may have 1,000 gear motors, each of which must be individually checked.
By using RFID, a worker could simply walk up to the machinery holding a handheld reader, capture the ID number (known as a Smart Number), which is linked to the part's serial number in the company's software, and place a replacement order with Siemens.
Siemens will use a custom-designed version of Omni-ID's IQ 400 printable on-metal RFID label, which will also be printed with the item's Smart Number, serial number and other data. "We did a search of quite a few vendors," McDow says, "and Omni-ID provided the best product," based on size and read distance.
According to McDow, Siemens will attach a blank stainless-steel plate to the Simogear motor housings during manufacturing, and the nameplate with the RFID tag built into it will then be applied to that plate. Omni-ID's customization, he says, included adjusting the label's form factor to fit the plate on the motor's housing. The label measures 38 millimeters by 72 millimeters (1.5 inches by 2.8 inches). The tag comes with an Impinj Monza 4QT chip containing 512 kilobits of memory, Mintz says, though higher-memory versions are available upon request. In contrast, the stock version of the IQ 400 RFID label, which Omni-ID debuted in September 2012, measures 28 millimeters by 103 millimeters (see Omni-ID Introduces Printable On-Metal RFID Labels).
Users will be able not only to read the tag, but also to encode it with new information. As such, when workers inspect or maintain a Simogear motor, they can write data to its tag indicating when that service took place. During future inspections, the tag could then be interrogated to access the unit's history.
Siemens intends to install an RFID-tagged nameplate to every Simogear unit it manufactures, and users could then acquire any EPC UHF reader to capture that tag's ID number or write to the tag, utilizing their own software to manage the collected read data. The tag will be added without any additional cost, Mintz says, and the RFID technology will benefit not only the customer, but Siemens as well. "It lets us service the customer's product more quickly and accurately," he explains, since it ensures that the part has been properly identified for replacement, or has been found to require maintenance more quickly.
In the future, Mintz indicates, workers at Siemens' facility in Greenville, S.C., may use the tags themselves to track the parts in-house. "We're considering ways to do that," he says, "but the main idea is absolutely for ease of use for the customer."
Since January, Mintz reports, several customers have been testing the tags to determine the benefits they can achieve. Identifying gear motors installed in equipment manually takes at least three minutes to complete—and can sometimes take up to 30 minutes—so the time saved at a large plant housing hundreds or thousands of gear motors would be significant.