Jul 12, 2019Sensemetrics, an Industrial IoT (IIoT) company focused on transforming sensor data into real-time business intelligence to enable productivity and safety solutions, has entered into a partnership agreement with DHI A/S under sensemetrics' Alliance Member Program. Under the terms of the agreement, DHI will integrate with the sensemetrics platform to automate data collection into its MIKE Mine software for water management at mine sites.
This approach will create a digital twin with all virtual components for what the companies call a "cyber-physical" mine water management system. It provides a continuous value-cycle between the physical system and the cyber equivalent, allowing outcomes of future management actions to be tested, optimized and automated. This helps to ensure safe and effective decisions are made continuously in a highly dynamic and changing environment, thereby minimizing the requirement for human intervention.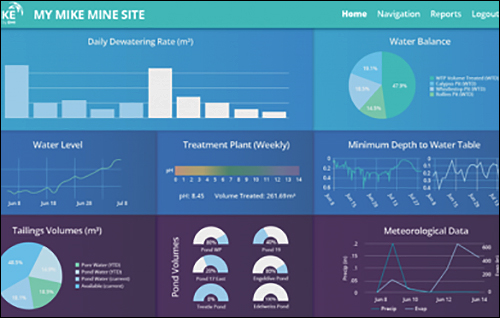 "We have been successfully working with sensemetrics on multiple applications for mines in North and South America," said Stefan Szylkarski, DHI's vice president, in a prepared statement. "The speed and ease of access to real-time data from sensemetrics' platform was a primary driver in our decision to enter into a strategic partnership with the company."
"Our digital twin technologies, combined with sensemetrics' end-to-end IIoT cloud platform, enables us to offer a proven, real-time, cloud-based cyber-physical management system for mine water operations," Szylkarski said in the prepared statement. "MIKE Mine effectively reduces water-management costs and water-related risks and improves the overall efficiency of the operation through the automation of reconciliation between planned and actual operating conditions." DHI will integrate the sensemetrics platform through several of its modeling and management products, including FEFLOW, MIKE Operations and the flagship MIKE Mine.
"Water is critical to profitability at mine sites worldwide," said Matt Meehan, sensemetrics' CEO, in the prepared statement. "As such, we are proud to be working with an industry leader. DHI's deep experience and advanced technological solutions within the water industry coupled with sensemetrics' plug-and-play connectivity and IIoT platform solution will make it even easier, safer and more efficient for users in the mining industry to solve challenges in mine water operations."