Feb 02, 2015During Salt Lake Comic Con FanXperience (FanX), a comic book convention held last week in Salt Lake City, Utah, Near Field Communication (NFC) RFID technology was used to reduce the length of lines in front of the venue's entrance, as well as to prevent fraud and collect information regarding attendees during the event.
The solution is provided by Utah Media Group (formerly MediaOne of Utah), the publisher of The Salt Lake Tribune and other Utah newspapers and magazines. Through its GrowTix division, Utah Media Group provides ticketing and access-control services and apps for several comic cons around the United States, including Florida Supercon and Planet ComiCon in Kansas. FanX was the first event for which GrowTix provided NFC-enabled technology.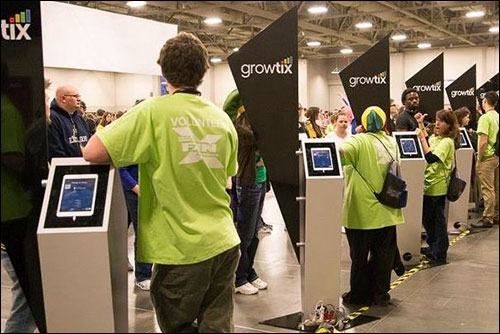 Salt Lake Comic Con was first held in September 2013, and has since been offered three more times, including a FanX event held in April 2014 and Salt Lake Comic Con 2014, held last September. It has been one of the most highly attended such events in North America, with up to 120,000 attendees. The next Salt Lake Comic Con event is scheduled for September 2015.
Utah Media Group—which provides ticketing and advertising management services to Comic Con FanX's producer, Dan Farr Productions—has been interested in incorporating NFC RFID into wristbands for convention attendees for some time, according to John Sloan, Utah Media Group's VP of marketing and business development. Other companies hold similar entertainment and comic fan conventions at various cities worldwide, and some have used NFC. For instance, New York Comic Con has employed NFC technology since 2013 in the form of badges obtained by ticket holders, in order to manage access control (see New York Comic Con Adopts RFID to Control Counterfeiting).
Utah Media Group wanted to begin testing an NFC system at the smaller January event for the purpose of access control, as well as to collect attendee-related data for business-analytics purposes and identify ticket fraud. However, the firm's long-term plans are to make the technology available to exhibitors at the larger Salt Lake Comic Con event, so that they could then use the system to identify individuals who visit their booths and follow up to provide them with information via social media or e-mails.
The immediate priority, Sloan says, is to reduce attendee wait times. At previous Salt Lake Comic Con events, the wait time for ticket holders could be as much as four hours. This was due to the need for visitors to pick up the wristbands with the correct color-coding, according to their access credentials, and to then present the bracelets at the gate.
The solution used for last week's FanX event included approximately 45,000 NFC wristbands and 30 NFC readers, all supplied by Serialio.com. Each attendee had to wear an NFC wristband to gain entrance to the show. When guests purchased FanX tickets online, they received the bands in the mail. Each attendee then followed instructions on the Comic Con website to register the bracelet, by entering data printed on it, to be stored along with his or her own personal information. Each visitor had the option of linking the wristband ID to his or her Facebook profile, including the picture that comes with it, or simply to a name and e-mail address, as well as demographics such as gender and age group. According to Sloan, about 35 percent of attendees opted to provide their Facebook account information. This gave Utah Media Group access to demographic information about each visitor, gleaned from that person's Facebook profile.

However, Sloan, says, the Facebook data was not used to enable the automatic posting of details about an attendee's day at the show on his or her Facebook Timeline page, since the automatic posting of NFC-based data on the social-media site was not popular with attendees at other Comic Con events in previous years, according to those organizers.
At the FanX convention, 25 kiosks were installed at the convention's entrance gates, each equipped with an Apple iPad running the GrowTix software, and connected to a Serialio.com Scanfob NFC-BB2 reader via a Bluetooth connection. Upon entering the convention, located at the Salt Palace, each guest presented his or her wristband to a reader, which captured the bracelet's unique ID number and forwarded that information to the iPad, which identified the ID and linked it to that individual. If the attendee had provided his Facebook profile, a picture of that guest was also displayed on the iPad, which offered confirmation that the correct individual was wearing the wristband.
The iPad can work offline, but as long as there is an Internet Wi-Fi-based connection, the iPad then forwards that data to Utah Media Group's server, where its GrowTix software also stores that ID number, along with the time and gate at which that individual entered. In that way, the company can provide convention organizers with a real-time list of how many people are onsite at any given time—information that could also be provided for safety concerns (for example, to local fire authorities). The data is also stored in order to provide business analytics—an application that Sloan says he finds especially interesting. For example, his company intends to use that information to present convention organizers with details about the times at which the event is most crowded. That data can then be paired with information about the presentations taking place at that time, as well as demographics indicating which attendees arrive at particular times, how long they stay and how often they return.
Inside the convention, staff members carrying Google Nexus NFC-enabled tablets walked around the area, using the devices to perform any necessary spot checks. This includes verifying that a particular wristband was being worn by the appropriate individual.
One NFC-enabled kiosk was used by an exhibitor offering a free T-shirt giveaway. The reader was employed at this booth to ensure that each attendee received only one shirt, and that his or her contact information could then be obtained so that the company could send other promotional data.
Some ticketholders at the Salt Lake event had purchased three-day-access, VIP or gold passes, each of which resulted in a uniquely colored wristband. The bracelet's ID number was also linked to an individual's access credentials, so that when the tag was interrogated via an NFC reader, the attendee using the reader could confirm access permission. In that way, the company could better manage which guests could enter which areas, and at what times.
While Sloan says September's Salt Lake Comic Con could use an expanded version of the NFC solution, thereby enabling exhibitors to obtain information regarding who visits their booths and then provide information to those attendees, he considers the access control and basic attendance analytics to be the most interesting initial use case. "We want to make sure we're solving the problems we most want to solve, first," he says, citing waits at the entrance and fraud prevention as examples.
Furthermore, the software can identify suspicious behavior involving a particular wristband. For instance, if the system detects that a bracelet has entered and exited the exhibition floor at an unusually high rate, this could indicate that the band was being shared with multiple individuals. In that case, the software would display a "red flag" the next time that the wristband was read.