Sep 08, 2015An Ecuadorian researcher and University of Costa Rica Ph.D. candidate named Janio Jadán-Guerrero is developing a radio frequency identification system, known as Kiteracy, which is intended to help children with Down syndrome learn how to read by using radio frequency identification technology. He hopes to provide his system, which he developed while completing his Ph.D. in computer science, to potential customers in kit form next year.
The system, which Jadán-Guerrero calls a tangible user interface (TUI), consists of high-frequency (HF) 13.56 MHz RFID tagged toys and an RFID reader, plugged into a tablet or laptop computer. When a child places a tagged toy on or near the reader, the device sends that toy's ID number to the computer, and Jadán-Guerrero's software identifies information about the item, and instructs the computer to display the word for that toy and to play a sound file of someone speaking that word. The system comes with software on a hosted server to manage administrative data regarding which child completed each lesson.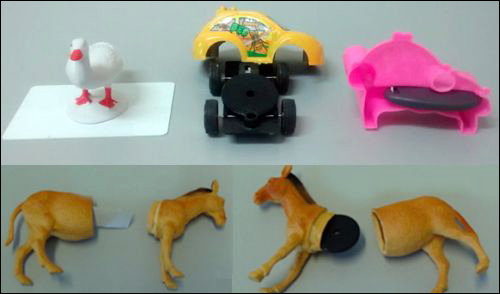 Jadán-Guerrero has a daughter with Down syndrome, so for his Ph.D. project, he sought a technology-based system to help children with learning disorders or other disabilities learn how to read. He wanted a solution that, with the help of technology, would automatically present a word for a child that he or she could associate with a particular object. "The use of a TUI seems to give a physical sensory experience to develop literacy skills in children with Down syndrome," he says.
He investigated a variety of technologies, including Microsoft Kinect sensors and QR codes, but found that these required too much effort by the children to ensure that they operated properly. Near Field Communication (NFC) technology, compliant with the ISO 14443 standard, is designed to have a short read range for security reasons, he says, and thus would not work for his solution either, since a tag could be difficult to read if the toy to which it is attached were not oriented in such a way that the tag was directly on top of the reader.
Jadán-Guerrero then tried passive low-frequency (LF) 125 kHz tags compliant with the EM4102 protocol, as well as HF RFID tags compliant with the ISO 15693 standard. The larger LF and HF tags, he found, could be read within a distance of about 10 to 15 centimeters (3.9 inches to 5.9 inches), making it possible for a child to place an object or toy in a variety of orientations near the reader and still capture the tag's encoded ID.
"We wanted a technology that was not intrusive, and this seemed to be the best option," Jadán-Guerrero states. He, along with his colleagues at the University of Costa Rica, Polytechnic University of Valencia and Polytechnic University of Madrid, created some 3-D printed objects (as well as using some low-cost toys) and placed HF RFID tags inside them.
The team connected the reader to a laptop and developed software to link each tag's ID number with the corresponding specific object, as well as display the picture and present how that word sounds. They conducted a test of the system at a school for children with Down syndrome in Valencia, Spain, which involved 12 students between the ages of four and eight, and approximately five teachers.
The researchers used a 3-D printer to create a variety of plastic toys, such as farm animals, each with an internal space that could accommodate an RFID tag, and also purchased low-cost toys that could be disassembled and fitted with a tag. In addition, the team tested various materials, including aluminum, glass, iron, paperboard, plastic, porcelain, rubber and wood, that could be used to make tagged toys. "We noted that the presence of some materials—for example, rubber—near tags can degrade the performance of the RFID [system]," Jadán-Guerrero says. Orientation also affected the read results, he noted. "The radio wave sensor works well when the tags are placed parallel, but the identification decreases when the tag is in a vertical position." Utilizing two readers, rather than just one, resolved this problem.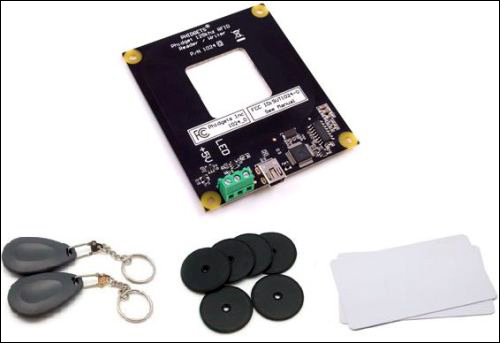 The researchers also tested the system with tags attached to flashcards, each printed with a picture of an item. Although the tags on the flashcards could be successfully read, Jadán-Guerrero reports, the children responded more favorably to the toys than to the cards.
The testing began in September 2014 and ended in March 2015. Jadán-Guerrero then brought the resulting data to the University of Costa Rica, where he is currently preparing his dissertation describing the results.
Some of the learnings from the test included the features that made the system most desirable to children. The researchers determined that the physical object's color must match that of the displayed word on the tablet, and that the system's voice should be female. They also found that children needed confirmation when an object was recognized, so they implemented an audible beep along with the displayed word, in the software.
For the test in Valencia, Jadán-Guerrero and his team used Tertium Technology's IceKey HF reader with various HF tags and inlays supplied by a Spanish company called Coderco. Ongoing testing performed in Costa Rica employs a Phidgets LF 125 kHz reader with Phidgets ABS key fob (model 3902), clothing button (model 3903) and credit card (model 3008) tags. However, Jadán-Guerrero says, he has yet to decide which RFID reader device will be included in the kit that will be sold.
By April 2016, Jadán-Guerrero will be moving to his home country of Ecuador, where he will serve as a researcher and professor at the Universidad Tecnológica Indoamérica. There, he hopes to complete the software for a kit that he will then offer to schools for children who have developmental deficits and need help learning how to read.
With the kit, schools and other users can employ their own tablet and access the software on the Kiteracy website. The software will not only be able to display information based on RFID tag ID numbers, but also come with an administration module to configure the quantity of sessions that a particular child has with the system. Once teachers set up a series of sessions for each child and designate a number for every session in that series, the teachers can then sign into the Kiteracy site and the software will create a record of each session's start and end times, along with the number of objects the child selected during that session and the time between each identification step.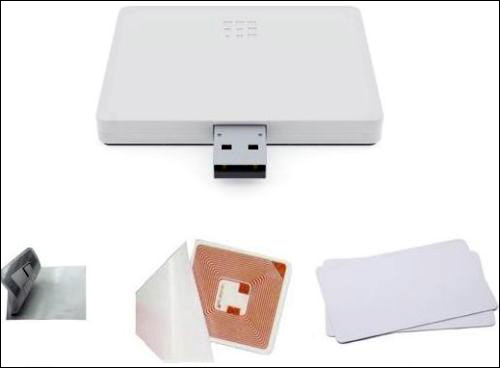 The kit will consist of the RFID reader and about 12 RFID-enabled toys. The teacher or some other user would then plug the reader into a tablet. The toys are intended simply to be starters, however. According to Jadán-Guerrero, a teacher or parent can acquire RFID tags and input his or her own data—linked to the ID of a specific item's attached RFID tag—including the written word describing that object and the sound of that word, which the teacher or parent could record in his or her own voice.
In the long term, Jadán-Guerrero hopes to offer the solution worldwide in different languages. He says he is presently seeking partners to help produce and distribute the system once it becomes commercially available.
Other researchers involved in the project included Luis A. Guerrero, a supervisor at the University of Costa Rica; Javier Jaen, a supervisor at Polytechnic University of Valencia; and two of the study's other co-authors, Gustavo López, from the University of Costa Rica and, Doris Cáliz, from Polytechnic University of Madrid.