Dec 14, 2018Since Decathlon USA, opened its doors in November 2017, it has saved labor costs and boosted inventory accuracy with an EPC UHF RFID reading robot. The robot enables the sporting goods store, located in San Francisco, to automatically capture data not only about the inventory it has on hand, but also where goods are located and when they might be misplaced.
Decathlon has already been using RFID to manage inventory at its stores throughout Europe and Asia (see Decathlon Sees Sales Rise and Shrinkage Drop, Aided by RFID and Decathlon Scores a Big Win With RFID). When it planned the opening of a flagship store in the United States, the firm considered new ways to use the technology, and selected a robotic system from Simbe Robotics. Simbe's Tally robot was initially launched to use computer vision to manage activities at a store, including pricing, as well as monitoring which products are on which shelves. It has more recently been providing RFID reading functionality with its robot.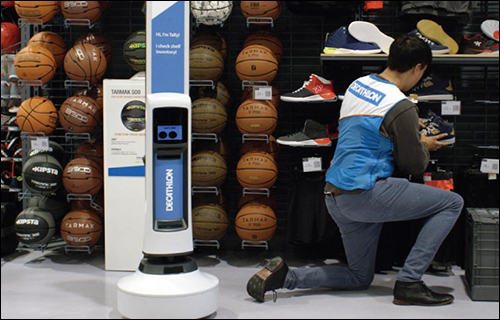 Decathlon is the world's largest sporting goods retailer, but until this year, it lacked a presence in the United States. The company opened its first store in Lille, France, in 1976, and now operates approximately 1,414 locations worldwide. The San Francisco Lab Store aims to collect feedback from customers about their products, and to then use that information to innovate. It has more than 10,000 products onsite, spanning more than 80 sports, and nearly all goods are stored on the shop floor.
Since Decathlon already applies RFID tags to most of its merchandise at the point of manufacture, it chose to leverage the RFID functionality in a robot to spare store associates from having to undertake the time-consuming task of walking through aisles with a handheld RFID reader in order to count products.
"All our goods have RFID tagging," says Tony Leon, Decathlon's CTO. "By helping our team with inventory, Tally allows our staff to spend more time interacting and engaging with customers, and less time behind the scenes counting products." The robot makes its way through store aisles seven days a week, with the aim of capturing an inventory read of every item at least once daily, explains Brad Bogolea, Simbe Robotics' CEO and co-founder.
Decathlon provides a uniquely challenging environment for tracking inventory. Since nearly all of its products are available on the sales floor, it's vital that the company understand which goods require replenishment and which might be shelved incorrectly. In the sporting goods environment, however, customers often pick up a product and carry it to another part of the store. For instance, Bogolea says, it's not unusual to see someone taking a bicycle or a skateboard for a test ride inside the store, and then not returning the bike or board to its intended location.
That makes RFID a good technology choice to automatically detect a product's location, and to gather data for analytics, enabling the store to understand how and where products are being handled. The company first brought the Tally robot onsite and used its camera-based sensors to build a map of the one-story, 8,500-square-foot environment. That, Bogolea explains, can be accomplished within a matter of minutes.
Tally is a slim robot designed for use in a store front by shoppers and store personnel. It stands on a circular base that is approximately 62 inches in height and 18 inches in width. The company has built an Impinj reader into the Tally robot, as well as an array of antennas that can adjust orientation based on the direction of tag reads.

The robot uses machine learning to optimize its traversal pattern. For instance, areas containing a high density of products and tags might require Tally to move more slowly, or to pass by twice. The robot also uses sensors to detect the presence of shoppers or store personnel, bypass the specific aisle in which they are congregating and then circle back to read the tags on that aisle once it is clear of people.
The robot can identify the location of each tag it reads within about 1 cubic meter. The collected data is then forwarded via a Wi-Fi transmission to a cloud-based server, where Simbe software interprets data and also provides an inventory audit and other reports pertaining to inventory location.
"A lot of what they've talked about is the value proposition to free up associates," Bogolea states. "Given it's a very dynamic environment, with products moving around stores, Tally has been a really helpful tool to free staff up to focus on more essential tasks, like hands-on customer service." The other benefit, he adds, is knowing where goods are located, so that they can be returned to the proper display area for easy customer access.
Analytics could provide another benefit for the retailer. Data concerning the movements of products helps management to understand what is being handled and purchased, and to compare that information against each item's location. "We're able to see which products need frequent replacement and which products do not sell as quickly," Leon says. "This type of data allows us to make smarter decisions when we think about how and when to stock our shelves."
In addition, Leon says, the robot adds some entertainment to the environment. He notes that Tally has received positive attention from customers as well. "Tally offers a fun conversation topic," he says, "as our customers observe the inventory process in action." Whether or not customers are in the store, he says, Tally "moves seamlessly around the store taking a methodical, accurate count of our inventory, allowing our staff to spend more time engaging with our customers, answering questions and providing a positive customer experience."
At existing stores throughout Europe and Asia, Decathlon's store associates utilize handheld RFID reader wands, which they carry through clothing racks and shelves to capture RFID tag reads. Such reads, however, cannot be conducted as often as Tally is currently intended to accomplish.
At the San Francisco store, Decathlon is using fixed RFID readers to interrogate the tags of any items that might leave the store. "We're able to activate the RFID tags to ring [sound an alert at] a security gateway if a product was not purchased," Leon explains. The tags of purchased items would be switched off at the point of sale, so only tags that had not undergone that process would trigger an RFID tag read and a resultant alert at the doorway.
In spring 2019, Decathlon plans to open another store in Emeryville, Calif. That store will have a much larger footprint than the San Francisco flagship location, the company reports, at 50,000 square feet.
The Tally robot uses RFID to track inventory at a variety of companies, Bogolea says, and each deployment poses its own challenges. "Every RFID environment we get into is a little different," he states. "What we find is there is greater differences in the types of products that are tagged, as well as fixtures [such as shelving] and the size of the store."