Jan 30, 2014The following are news announcements made during the past week by the following organizations: HID Global; InvoTech, T-Y Group; Thinfilm, Kovio; Delage, Selinko; Aditium; and Phone Halo.
HID Global Intros 'Smallest High-Frequency Direct-Bonding Technology'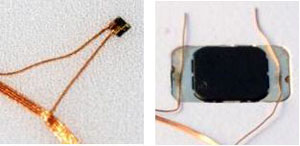 HID Global has announced new technology that enables a passive high-frequency (HF) 13.56 MHz RFID chip to be joined to an antenna without the bulk of an added module, such as a housing or additional soldering material. HID will use the process to create its Vigo product line, which it describes as the smallest HF formats available on the market. HID Global's patented direct-bonding process enables precise connection of ultra-thin copper wire RFID antennas to micro-sized chips, the firm reports, allowing the Vigo units to be thinner and smaller than comparable chip-and-antenna combos. The company says it has used direct-bonding technology to place hundreds of millions of low-frequency (LF) chips into a variety of ever-shrinking form factors. By eliminating requirements for added modules, the firm explains, the direct bonding also produces finished units that are more cost-effective. The resulting Vigo chips, compliant with the ISO 15693 and ISO 18000-3 standards, features a 64-bit unique identifier (UID) and 1 kilobit, 1.6 kilobits or 2 kilobits of user programmable memory, as well as 32-bit password protection for functionality and data, and direct bonding of a chip to an antenna. The Vigo units' compact sizes, HID notes, empower designers to embed HF RFID capability into a broader range of card and tag form factors and potential applications, including consumables, brand protection, medical, and on- and off-metal asset tracking. The company is currently integrating the new Vigo technology into a complete portfolio of upcoming micro-sized RFID products that it claims will take HF industrial tags to the next level of miniaturization.
InvoTech, T-Y Group Provide Tagged-Linen System to Miami's Grand Beach Hotel Surfside
InvoTech Systems has announced that the Grand Beach Hotel Surfside in Miami, which opened in November 2013, has installed InvoTech's ultrahigh-frequency (UHF) RFID-based Linen System. InvoTech's system monitors the location of each tagged linen item, the company reports, and is designed to help to lower lost-item costs and provide real-time information regarding linen inventory levels. T-Y Group, a manufacturer of luxury bathrobes, linens and towels, provided the Miami hotel with 50,000 linen items pre-tagged with UHF RFID laundry tags made by Fujitsu Frontech North America. The system also includes Impinj UHF RFID Speedway Revolution readers for all fixed reading stations, and an MC9190-Z handheld reader from Motorola Solutions that is used to monitor and maintain linen storeroom par stocks without the need for hand-counting. InvoTech had supplied the RFID laundry tags to T-Y Group, which then sewed the tags into the towels, sheets and pillowcases, and delivered the linens to the hotel for use prior to opening. According to InvoTech, T-Y Group also provided the Grand Beach Hotel Surfside with a linen inventory data file that instantly updates the resort's InvoTech system. InvoTech installed its Linen System with its UHF-RFID Laundry Cart Reading Station and a touchscreen monitor in the Grand Beach Hotel Surfside loading dock. The reading station is designed to automatically count and record entire carts of both soiled laundry and clean linens from a distance of up to 8 feet away, InvoTech reports. InvoTech also provided its UHF-RFID Linen Inventory Reading Station to monitor linen aging, so that the property can maintain quality-control standards for guests.
Thinfilm Acquires Kovio, Opens Silicon Valley NFC Innovation Center
Thinfilm Electronics, a Norwegian provider of nonvolatile-memory products, announced this week that it has completed acquisition of the technology, intellectual property (IP) and manufacturing assets of Kovio, a Silicon Valley company focused on developing low-cost RFID tags using printable silicon electronics and thin-film technology. Thinfilm has also announced that it has opened the Thinfilm NFC Innovation Center, in California's Silicon Valley. The firm uses printing to manufacture simple integrated electronics, such as labels with integrated sensors, data storage and display screens. Included in the acquisition are more than 200 international patents and patents pending covering electronic inks, Near Field Communication (NFC) and RF applications and protocols, process technologies, devices and circuits, pilot manufacturing capacity of hundreds of millions of units per year, a 60,000-square-foot manufacturing and development site, and Kovio's NFC and electronic article surveillance (EAS) product lines. Thanks to the Kovio acquisition, Thinfilm plans to add a printed NFC RFID interface to its sensor labels, in order to allow the linking of sensor data to applications on mobile devices and/or cloud-based analytics. Thinfilm expects to demonstrate NFC-readable sensor labels by year's end, the company reports. According to Thinfilm, the Kovio technology is the only industry-supported NFC interface in printed electronics, and is supported commercially by Google Android and numerous NFC controllers being deployed in phones around the world. According to the company, the integration of Kovio technology with Thinfilm's products will accelerate the time-to-market for NFC labels, and expands both Thinfilm's manufacturing capacity and its IP portfolio. Future applications could include verifying the temperature exposures of perishable goods, such as food and pharmaceuticals, without heavy infrastructure; the creation of disposable medical tests that can be distributed to remote clinics and homes, with results communicated to medical records via a mobile device; humidity detection in the walls of new construction, to monitor for leaks in pipes; apps for smart appliances that can automatically initiate orders when an indicator says the product quantity is becoming low; patient monitoring with one-time use devices for blood-oxygen levels, pulse readings and other vital signs, and with data gathered with the tap of a phone; and more. More than 20 of the former Kovio team members are joining the NFC Innovation Center, and the core team will build out the facility's competence in design, process development and manufacturing.
Delage Protects Luxury Leather-Goods Brand Via Selinko's NFC Solution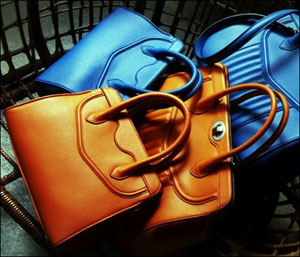 Anti-counterfeiting identification technology firm Selinko has announced that French leather goods brand Delage is integrating Near Field Communication (NFC) RFID tags into its leather products to provide a universally verifiable identity card for every one of its leather items, designed to protect the goods against counterfeiting. The Selinko solution consists of a high-frequency (HF) 13.56 MHz NFC-compliant RFID chip from Inside Secure built into a label, an application for an NFC-enabled phone to capture that label's ID number, and a server to manage the collected data. Each chip has more than 250 security measures and contains an encrypted, tamperproof digital certificate that, according to Selinko, is impossible for anyone to reproduce. In a prepared statement, Delage's owner, Philippe A de Vilmorin, said his company's priority is to "convey the guarantee of Delage quality and expertise at all times, anywhere in the world. Selinko enables us to protect ourselves effortlessly against the growth of counterfeiting in the sector, using technology that has proved its worth for over 20 years in the banking industry and is now available to our customers by means of a simple cell phone. This will enable us to continue developing direct relationships based on trust, in which we actively involve our customers in safeguarding authenticity and stay well ahead in the development of marketing services accessible from the product itself." The first Delage bags to be fitted with the Selinko technology are expected to be available by June 2014. Other companies are utilizing Selinko's NFC solution as well, including French vintner Château Le Pin (see Château Le Pin Uses NFC to Ensure Its Wine's Authenticity).
Spanish Transport Company Implements NFC Ticketing System from Aditium
Spanish software development firm Aditium, which specializes in mobile solutions for transport, events and retail, announced today that Madrid-based transportation-service provider Jiménez Dorado has selected its Near Field Communication (NFC) RFID ticketing system for its private commuter buses. More than 15,000 commuters use Jiménez Dorado's services daily to get to work at Banco Santander, Coritel, FNAC, Maersk, Microsoft, Orange, Symantec and other companies. TickTrack is a fleet-management solution that, according to Aditium, employs NFC-enabled smartphones, thereby costing less than traditional contactless reader infrastructures, by harnessing the capability of NFC host card emulation to transform a smartphone into a contactless card reader. Starting in March 2014, commuters will be able to validate their employer-issued transit cards by simply holding the card over the driver's smartphone. The smartphone will register the validation to a remote online server, providing information about the number of passengers and each bus' location in real time. All data is logged into the system, and can be accessed remotely by a system administrator through a control panel. The cloud-based software is easy to install, implement and scale, the company indicates, offering remote maintenance and updates. Ticktrack's closed-loop system offers functionality, even when Internet connection is lost temporarily due to network overload or areas with poor Wi-Fi, according to the company. The solution is compatible with contactless cards and NFC smartphones or devices. Optional features include two-way communication that allows an administrator to send a message to the fleet for important notifications, such as traffic jams or unexpected delays, as well as the ability to develop applications for mobile phone users, such as real-time arrival schedules and route planners.
Phone Halo Unveils BLE-enabled Tag, App for Tracking Personal Items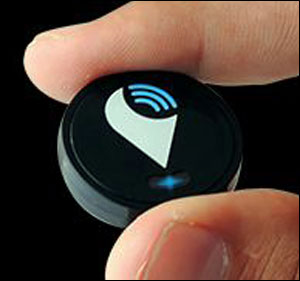 Phone Halo, a proximity technology startup based in Santa Barbara, Calif., has announced the StickR TrackR, a small, battery-powered RFID tag designed to help people find their misplaced items. The coin-sized tag, which measures 25 millimeters (1 inch) in diameter and 5 millimeters (0.2 inch) in width, leverages Bluetooth Low Energy (BLE) technology and works with a corresponding application that runs on Apple or Android smartphones and tablets. BLE uses a technology that allows for periodic rather than continuous data transfer, enabling longer operational battery life. The SticRr TrackR, the company reports, can be affixed to keys, purses, wallets and other commonly misplaced items, such as television remote-controls. Customers can utilize the TrackR app to locate a misplaced item, and the StickR TrackR device will ring once that object has been found. The app features a distance indicator showing the distance between a person and an item, as well as a map indicating the last known locations of all items fitted with StickR TrackR tags, and the ability to track up to 10 items simultaneously. A two-way ringer lets customers use the device to ring a misplaced smartphone or tablet, according to Phone Halo, and the phone or tablet will ring even when on silent mode. If an item is lost or stolen, a crowdsource feature on the app can help locate it. The lost item is registered in the crowdsource app, and if another customer using the TrackR app walks near the lost item, his or her app will automatically detect the lost object and seamlessly send a message to Phone Halo's server, which will then issue an alert announcing the item's new geo-location. The StickR TrackR leverages a CR2016 coin cell battery that lasts up to one year and can easily be replaced, the company says. Available now, each StickR TrackR costs $24.94, including batteries and the free TrackR app. Similar products are available from Reveal Labs and Sticknfind Technologies (see Who Says RFID Tags Pose a Privacy Risk or Are Too Costly?), as well as GearID (see RFID News Roundup: GearID Readies Bluetooth- and NFC-enabled GearTag for Tracking Personal Items, Pets and More).