Jun 17, 2019Wild Store has launched an RFID-based solution at its two Netherlands-based stores to enable automatic replenishment as goods are sold at its store or online. The system, provided by Israel-based RFKeeper, consists of EPC UHF RFID inlays built into the hard tags attached to each product, as well as countertop and handheld readers and cloud-based software. The RFID system provides stock reliability to enable the automatic replenishment of inventory.
With the technology in place, the company reports that it is now able to ensure its inventory is accurate for those buying products online, as well as for in-store shoppers. The solution was taken live in May of this year and was installed at its distribution center and in two shops in Dinteloord and Hoeven.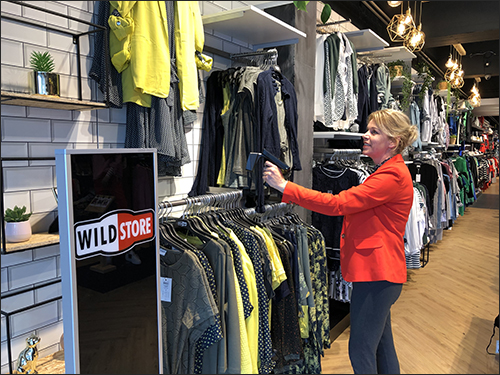 Wild Store, a family-owned clothing retailer, was launched nearly a century ago as De Wildt Family Fashion. These days, the company remains under the ownership of the de Wildt family, selling clothing and shoes for men, women and children. It sells its products at the Dinteloord and Hoeven locations and operates a DC in the city of Oudenbosch, where goods arrive from suppliers and are then routed to stores as needed. In 2013, the firm modernized its operations by offering a Web shop for Internet shoppers.
Most recently, the company has wanted not only to ensure that its Web shop can rely on inventory accuracy (by only featuring products it has on hand), but also to enable shoppers to pick up goods purchased at their neighborhood store. Wild Store has been planning an automatic replenishment program to ensure goods do not go out of stock, and to make sure that if a customer purchases an item and wants to pick it up at a store, the product will be there waiting when he or she arrives.
To enable accurate data to prompt replenishment orders, Wild Store began looking into RFID technology in 2017, according to Arjan de Wildt, the current owner and the great-grandson of the company's founder. "Our interest in RFID started because of our need for automatic replenishment with some suppliers," he states. The firm introduced an electronic data interchange (EDI) system to ensure goods were automatically reordered when they reached a minimum level of inventory.
However, the company found that the orders were not always accurate. "We experienced that sometimes automatic replenishments were not the size or color we needed," de Wildt says, which happened due to variance in stock counts. "So I started looking for a solution." Barcodes required two or three days for workers to scan each item within a store for the purpose of inventory counts, so the company only conducted those counts about once a year.
That often was not enough for inventory accuracy, de Wildt recalls. Products could be stolen or could simply end up missing, and the company found that at the end of each year, accuracy was only at about 79 to 80 percent. That, according to de Wildt, was insufficient for automatic replenishment or online purchasing. He thus began looking for an RFID supplier. One of the biggest challenges, he recalls, was the need for a seamless connection between RFID-based software and the company's existing point-of-sale (POS) and inventory management system.
Ultimately, the firm approached RFKeeper, whose software can be integrated with Wild Store's existing inventory-management and POS systems. Wild Store uses hard tags for its products that serve as electronic article surveillance (EAS) tags. These hard tags are removed from products at the point of sale and are then sent to the DC to be attached to new items.

The retailer is now using the same kind of hard tags, but with RFKeeper's EPC UHF RFID tags built in. These are attached to all garments and shoes as they arrive at the DC. Because RFID is built into the reusable hard tags, no additional work is required for employees to apply an RFID tag to each item. RFKeeper's handheld readers are used to scan and commission the tags and link them to each product. As workers read the tags, they write the barcoded serial number on each tag, which provides a link between the RFID number and the product when the two IDs are interrogated.
As goods are shipped, the data can be captured via a fixed desktop reader. The collected tag-read data is forwarded to RFKeeper's software, which interprets that information and forwards it to Wild Store's own management software. The inventory is then updated to reflect the new items, which are thus connected to the store to which they are being shipped. Shoppers can then view and order those products at the website.
Store personnel utilize a Nordic ID handheld reader to read all tagged items in the store front, typically once or twice a week. When a product is purchased, the detacher that is used to remove each hard tag also reads the RFID tag, thereby linking that product data with the purchase and updating the inventory count in Wild Store's software. If the sale reduces the inventory for that item to a minimum level, an automatic replenishment order is placed with the supplier. At the same time, the reader erases the barcode number from the RFID tag so that the hard tag can be reused.
Wild Store receives 90 percent of its products from suppliers. So far, suppliers are not tagging the products they make and ship to Wild Store, though the retailer would like to see that change. The stores also utilize the handheld readers to locate missing items. For instance, if a shopper seeks a specific size, color or product style, a sales associate can enter that data into the handheld device and use it in Geiger counter mode to locate the requested item.
The handheld readers employ Wi-Fi connectivity in the stores to access and update data in the cloud in real time. Almost every time a handheld is used to locate a missing item, de Wildt says, that product is found within only one minute. This feature has reduced the risk of lost sales, he adds, because an item might otherwise not have been readily available while the customer was in the store.
Since the system was taken live in May, de Wildt says, "We now have a better stock with auto-replenishment because we know we have the right sizes and the right colors." Additionally, he notes, online shoppers are more likely to have the correct product data about where an item is available for sale. "That way, we don't have to disappoint them. Those are important benefits to us."
With the RFID solution, de Wildt says, the POS process has been going faster, since the tags can all be read at once as goods are placed on the counter, and they don't have to be individually scanned. The biggest challenge involved the connection between software systems, de Wildt recalls. The retailer set up an FTP server for sharing data, then worked to ensure the information was collected in the appropriate categories so it could be easily shared with the store's existing software.
Going forward, de Wildt reports, the company is looking for new use cases for RFID. "I think other things could be done in the long term," he says, such as self-checkout or the use of RFID with smart mirrors.