Mar 29, 2016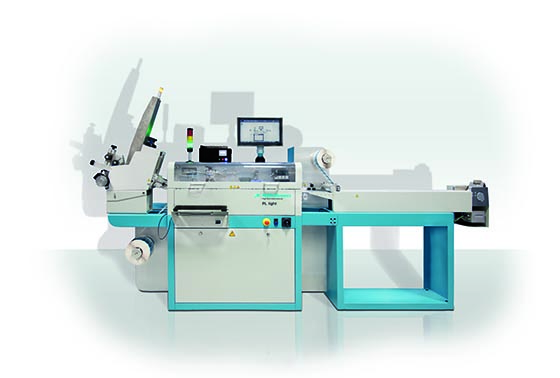 Mühlbauer presents the PL light Ticket to Ticket at booth100 at RFID Journal Live in Orlando. With the new Personalization Line, Mühlbauer follows the increasing demand for RFID and NFC products that include special printed features, variable data printing (e.g. linear or 2D barcode) and unique encoding. The PL light thereby constitutes an entry level RFID Personalization System that is designed for low to medium volumes. A throughput of up to 18,000 UPH can be achieved. The process includes UHF chip encoding as well as printing variable data for graphical personalization. Both, Reel to Reel as well as Ticket to Ticket usage is possible. A maximum width of 110 mm can be processed. With its modular design other processes can be integrated on request. The small footprint and the high print resolution printer, makes the PL light an ideal solution for your company.
Visit us at Booth 100 and get ready to enter the growing RFID market!
Process Flow:
1. Encoding
The Mühlbauer chip encoding solutions offer the ability to electronically encode data to each tag's RFID chip at production speed. The encoded data is linked to a data base containing all pertinent information on the product. Mühlbauer's inherently modular solutions also allow for advanced encoding features such as password lock, perma lock and more.
2. Printing

After the RFID chip has been successfully encoded, a high-speed digital print system prints the corresponding information on the face of the label in mono chrome or full colour. Its Variable-Data Printing (VDP) capability coupled with our encoding solution guarantees that every label is fully personalized, both visually and electronically.
3. Verification & Testing
Every label will be tested for RF functionality and/or visual defects and/ or data match. Depending on the customer's requirements, bad labels can either be visually marked or completely removed from the roll.

KEY FEATURES PL light:

• Small footprint

• Operator friendly and easy machine operation

• TIJ (Thermal Inkjet) or DoD (Drop on Demand)

• Reel to Reel and Ticket to Ticket

• UHF- Application

• Encoding Technology: MÜHLBAUER ENCODE or Item Encoding

• up to 18,000 UPH
About Mühlbauer Group: Mühlbauer is a global, independent manufacturer of turnkey production solutions for the ID, RFID, and Semiconductor Industry. With about 2800 employees and a world-wide sales and service network, Mühlbauer is in particular the leading supplier of production equipment for the smart label and smart card industry and enables clients the manufacture of any type of RFID labels, tickets and tags, contact and contactless cards, including ID cards and e-passports. www.muehlbauer.de