Aug 03, 2018I mentioned a few weeks ago that I was working on a white paper about retail digital transformation (see Digital Transformation Must Be Wholistic). My motivation for writing it was what I saw as an incomplete picture being presented by retail consultants and commentators. They would talk about aspects of retail digital transformation, such as artificial intelligence, but they wouldn't put it in perspective or explain what retailers needed to do before introducing AI.
The paper is now completed and is available for download. It's titled "How to Succeed in Retail in the 21st Century: A Guide to Digital Transformation for Brick and Mortar Retailers," and it explains the steps that retailers must take in order to truly transform their operations and compete in the digital age.

The paper covers radio frequency identification, of course. But that is only about 20 percent of the document. The vast majority of it is focused on video analytics, Bluetooth beacons, artificial intelligence, technologies that enhance the instore experience (such as augmented reality) and so on. It explains how retailers can experiment with new business models, and it provides guidance regarding who should lead the efforts and the subcommittees needed to drive change.
So why is the editor of RFID Journal writing about AI and augmented reality? It's because RFID needs to be understood in the broader context of the changes retailers (and, to a lesser extent, manufacturers, logistics providers and others) must undertake to survive.
Here's the problem I see: A retailer undertakes a new digital marketing program that uses Facebook ads to target those most likely to want to buy a new, hot product. The campaign is a huge success. Lots of millennials come flocking to its stores—only to find the product isn't there. The successful digital marketing effort winds up doing more harm than good because the millennials never want to go back to this retailer's stores again.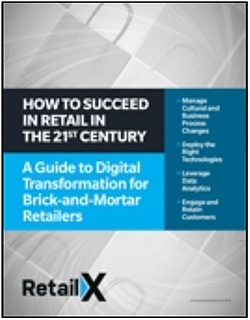 Another example: A retailer decides to opt for some instore experience technology. The system works great, creates a lot of buzz and drives shoppers to the store. Unfortunately, inventory accuracy at the stores reaches only 60 percent (and could be as low as 35 percent in some categories), so shoppers who are enticed to buy often leave the store disappointed due to their size or style not being in stock.
My contention, in this new white paper, is that RFID must be the foundation upon which all retail digital transformation is based. Only RFID enables retailers to improve their inventory accuracy to 95 percent or better, and provides the visibility necessary to enable true omnichannel retailing. The report shows how RFID data can be merged with video analytics to conduct instore marketing, as well as how RFID provides the accurate data AI systems need to drive value. It also examines how RFID provides supply chain visibility and control, enabling companies to experiment with new business models (stores within stores, surprise-me subscriptions, pop-up stores and so forth).
My goal in writing this white paper was to provide retailers with a map to the confusing landscape of digital technologies. The paper is not a technology guide—it's a strategic guide. It doesn't tell you which technologies or vendors to use or how to implement specific technologies. Rather, it explains how different technologies fit together to enable retailers to optimize their operations, create a true omnichannel experience for customers, wow shoppers in stores and experiment with new business models.
This is by no means an easy journey for retailers. Change is difficult. But it is even harder without a vision and an understanding of how to change and what the transformed company should look like. I encourage you to download the white paper and give it a read.
Mark Roberti is the founder and editor of RFID Journal. If you would like to comment on this article, click on the link below. To read more of Mark's opinions, visit the RFID Journal Blog or the Editor's Note archive.