Jun 05, 2007By Mary Catherine O'Connor
Product promotions can boost sales—if they are executed correctly and on schedule. But often retailers don't receive promotional display materials on time, or the displays sit in the back of stores when manufacturers are advertising the promotional products. Now RFID reporting and analytics software from Infosys, OATSystems, TrueDemand, TR3 Solutions and T3Ci can help retailers and suppliers improve product promotions, as well as reduce out-of-stocks and forecast sales. The software can also monitor the transit times of RFID-tagged goods from manufacturers' facilities to RFID-enabled distribution centers and retail stores.
Until recently, it's been difficult for manufacturers that are RFID-tagging pallets and cases for retail customers to get any real business benefits from RFID data. Initially, retailers supplied raw data—the date and time Electronic Product Codes were read—through their extranets. Manufacturers had to download the data, usually into an Excel spreadsheet, and try to make sense of it. But it wasn't always clear where or in what business process the tags were read, and the volume of data became overwhelming as the number of RFID-enabled stores increased.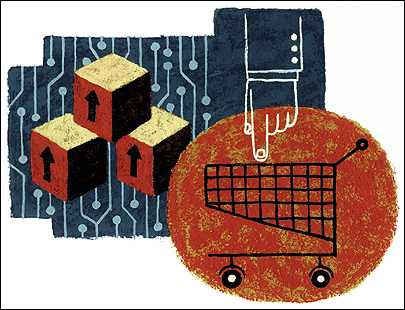 In 2005, EPCglobal's Data-Exchange Working Group came up with a standardized way to share data. XML software codes would be attached to EPC data, indicating where and when a tag was read, at which store or DC, what business step was involved and more. That enabled software companies to develop applications end users could use to interpret the data—for example, a pallet was shipped from DC 1 to store 35, or a case was moved from the back of store 35 to the sales floor.
The offerings from the five software companies all use proprietary algorithms to analyze RFID data and generate reports that provide visibility into the movement of tagged goods through the supply chain. The data includes the tag reads and timestamps, as well as current and past sales statistics on products from enterprise resource planning and point-of-sale programs. To access data on the flow of tagged products from the manufacturers' facilities to DCs and stores, the software companies have developed interfaces into the EPC Information Service (EPCIS), a set of protocols that lets partners easily exchange data regarding the movement of EPC-tagged goods.
The reporting and analytics software promises benefits for both manufacturers and retailers. Kimberly-Clark, for example, worked with OATSystems to track the movements of promotional displays of its Depends and Poise incontinence products at RFID-enabled Wal-Mart stores. As a result, K-C improved execution of in-store promotions by more than 20 percent (see Kimberly-Clark Gets an Early Win). Procter & Gamble is working with OATSystems and T3Ci. In one pilot, reporting and analytics software helped P&G with the successful launch of its Fusion razor, ensuring the product was on shelves in 400 stores 11 days faster than it typically takes for product launches.
Retailers could use the reporting software to analyze current inventory levels of RFID-tagged product, expected demand for these items during a busy shopping period and unexpected transportation problems that could prevent the timely delivery of these goods. Armed with this information, retailers could take proactive measures to prevent those items from going out of stock.

Infosys' New Product Introduction and Key Promotion software is designed to run on SAP's Auto-ID Infrastructure middleware. It generates alerts when, for example, read events indicate that a retail store hasn't received its first shipment of a new or promotional product on time or hasn't placed it on the sales floor on schedule. These alerts are sent to the manufacturer's brand promotions team so it can react quickly.
OATSystems' software has a proprietary consistency engine that fills in holes in RFID tag data, making the data to be analyzed more accurate, according to Anand Karasi, a senior engineer at OATSystems. The consistency engine uses a set of rules to infer the movement of goods in supplier and retailer DCs, or in the retail store's back room, even if interrogators don't read all the tags attached to cases or individual items.
TrueDemand's replenishment and forecasting tools can help prevent out-of-stocks by identifying the root causes. The software uses stock data generated from RFID infrastructures at DCs and retail stores, as well as current and historic sales data, and variable demand drivers, such as holidays and specific shopping seasons. Retailers can use the reports to tweak their ordering practices for individual stores and lower inventory levels. And the software can help suppliers optimize their manufacturing orders to avoid producing more items than they will sell. Kimberly-Clark is currently using TrueDemand's replenishment and forecasting tools.
TR3 Solutions' RFID data analytics tools are designed to mine business value from tag-read events and then present actionable information to customers, which include Chiquita Brands International and Malt-o-Meal, as quickly as possible so they can take steps to prevent out-of-stocks. "Our objective is to give our customers something that they can do something about," says TR3's president Tom Rauh, "and not to give them data they don't need."
T3Ci customizes its out-of-stock prevention and promotions management reports to meet the needs of various departments within a consumer packaged goods company. Reports, for instance, could be tailored for accounting personnel, marketers or the people who manage the company's supply chain.
Peter Rieman, executive vice president of T3Ci, says in 2006 the company doubled its customer base and tripled revenues. And if its recently opened office in Bentonville, Ark., is any indication, most of T3Ci's customers are Wal-Mart suppliers. "Our two best sellers are our out-of-stock management and promotion management software," says Rieman. "We're usually working with the Bentonville-based sales and logistics departments within [consumer packaged goods] companies that are using RFID, because those companies are finding that using reporting and analytics software to get information they could not get before is where the strongest business case is with RFID."
Who's Who in Reporting and Analysis Software


Infosys


www.infosys.com
OATSystems


www.oatsystems.com
TR3 Solutions


www.tr3solutions.com
T3Ci


www.t3ci.com
Illustration by James Steinberg