Aug 01, 2017New Zealand agriculture technology company WaterForce is providing an Internet of Things-based water-management and irrigation system for New Zealand farms using sensor technology and software from Schneider Electric, built on a Microsoft Azure and Azure IoT technology platform. The technology, adopted this year by BlackHills Farm, has reduced water consumption by 30 percent, according to Schneider Electric.
The SCADAfarm system consists of a cloud-based software platform that captures and manages data from wireless sensors and weather stations to help the farm view information related to conditions and thereby adjust water use accordingly. Since being taken live, the farm reports, the system has reduced not only water consumption, but also energy costs by 50 percent. With the technology, BlackHills Farm can determine the level of moisture in the soil and air, as well as the water conditions, and adjust the operation of irrigators, pumps and sprinklers for each field of crops.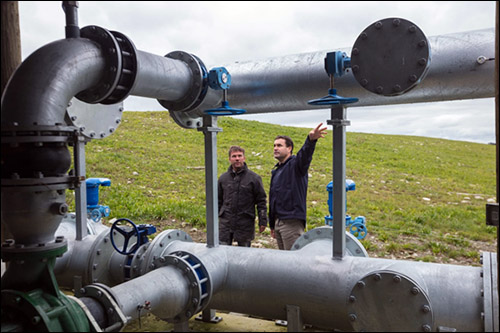 Schneider Electric provides SCADAfarm with EcoStruxure IoT-connected products and edge control, plus EcoStruxure IoT software to manage data. WaterForce took these interoperable elements, the company reports, and combined them with its own water-management technologies to create a solution intented to help farmers control, monitor and record farm irrigation and wastewater performance, explains Saadi Kermani, Schneider Electric's global business development manager for industrial information and asset management. Schneider began offering its technology for cloud-based farming solutions approximately 18 months ago, Kermani says, and the company has now developed partnerships around the world, including the one with WaterForce that has led to SCADAfarm.
Traditionally, farmers in New Zealand (and in most of the world) have relied on weather forecasts and the physical tracking of conditions when it comes to making decisions about watering. That often leads to over-watering—to ensure that crops never become too dry—which has costly ramifications. Not only is the water itself expensive for farmers, but in many locations (including New Zealand), farmers must meet local government requirements regarding water usage and also be able to prove the water is not running off into the environment. What's more, the environmental impact of overuse of water has global ramifications. Therefore, BlackHills Farm has adopted the precision-farming approach of SCADAfarm to detect, in real time, exactly how much water is needed, as well as when and where.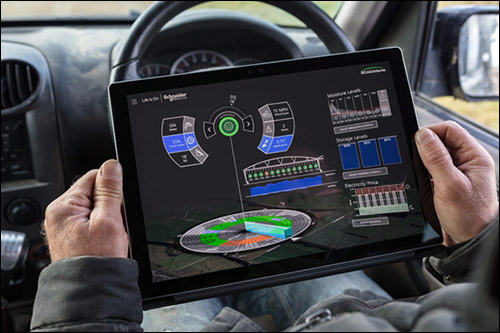 BlackHills Farm includes more than 400 hectares (988 acres) of land for 2,100 cattle and 800 sheep. The farm grows rapeseed, kale and fodder beet, as well as 70 hectares (173 acres) of green feed crop for its animals. To water those crops, the farm uses a center-pivot irrigation system consisting of motorized equipment measuring 700 meters (2,300 feet) in length, with sections of pipe (equipped with multiple sprinklers) that rotate around a crop to provide watering. Pivots can be controlled remotely.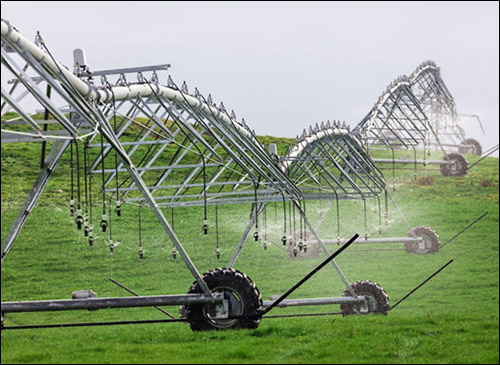 The farm was able to retrofit its existing pivots with SCADAfarm flow sensors to measure the flow of water passing through them, and it installed sensors in the soil to detect moisture levels. The sensors send that information, via a cellular connection using a Vodafone communication service, to the nearby computer gateway, which pushes the data onto a cloud-based server. There, SCADAfarms software interprets and displays the data for the farm, along with weather-based data from a Schneider Electric weather station.
The farm can then adjust the use of pumps feeding water from a nearby river to a retaining pond, or from the pond to the pivots, based on anticipated demands. The technology enables the farm to start or stop individual pivots, as well as change their speed or the direction in which they move, via a PC or mobile phone. The weather data can also be used to ensure safety. For instance, in the case of high wind measurements, the pivots can be remotely moved so that they do not receive the full impact from the wind or pose a potential for wind-related accidents.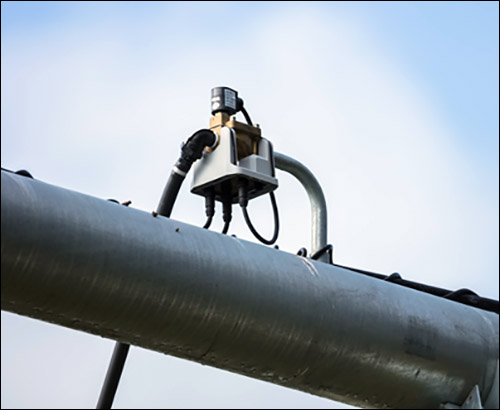 By combining data from the sensors and weather station, Kermani says, the farm can begin making intelligent choices. For instance, he notes, "If you know it's going to rain, the reservoir doesn't have to be as high," which means the pump may not need to run for as long, thereby saving energy and water.
In the long run, Kermani says, the technology can provide analytics that can help the industry as a whole. For instance, the data can be linked to crop yields, and thereby enable analytics regarding how much water is needed for specific results, such as the amount of water that will result in a pound of beef or a gallon of milk. The solution not only reduces the amount of water used, but also saves labor for farm workers who otherwise would need to drive to field sites to monitor conditions and inspect their crops.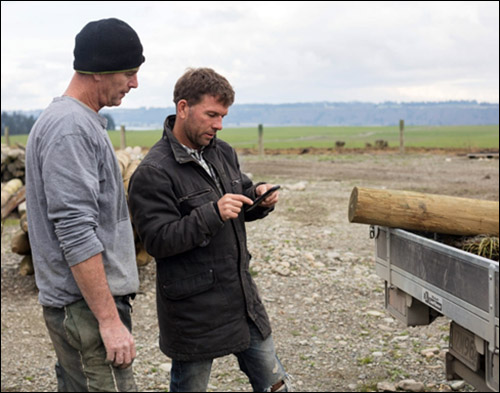 Schneider Electric is currently speaking with several partners in other parts of the world, as well as end-user farmers who are interested in piloting or deploying the technology for water and irrigation management in their own operations.