Jun 26, 2019Efforts to deliver products to consumers, where they are and when they want them, have led to the so-called "new retail" movement that includes unmanned kiosks offering goods for sale to consumers outside of traditional stores. The new retail concept began in China. This year, several companies in China and Europe are piloting a new intelligent cabinet solution from Stora Enso, a renewable packaging and biomaterials solutions company, that leverages passive UHF RFID to track inventory and enable sales transactions to consumers, without requiring the presence of a sales associate.
The system is now commercially available for use in public spaces, such as transit stations, office buildings, hotels and sports facilities, says Martin Ros, Stora Enso's senior VP of intelligent packaging. The refrigerated, automated cabinet is already being piloted by retailers to provide food, beverages or other consumer goods to the public. RFID tags on each product enable the system to identify what item is being purchased from the cabinet, update inventory data for replenishment purposes and provide analytics regarding sales.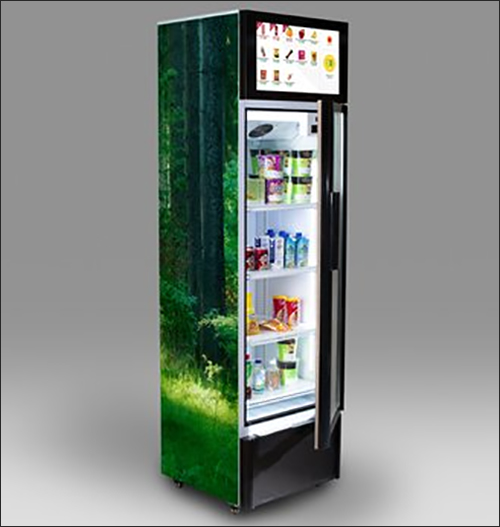 For the past year, Stora Enso has been working with its retailer customers to develop this solution to meet the changing demands of consumers. "A lot of our development work is done closely with clients or potential clients," Ros explains. "It has been driven by several customer innovations and ideas."
Traditional retail models are changing, in part due to the prevalence of mobile phones, the Internet and digitalization. Brick-and-mortar shops are sharing the market with online stores, as well as omnichannel sales models by which customers can purchase goods either in-store, on the Web or via mobile devices. Unmanned kiosks provide a bridge between online and brick-and-mortar stores, as part of a movement known as automated retail, which can bring products closer to consumers at their places of work, school or leisure.
Stora Enso has released an intelligent cabinet solution for the retail market that includes food and beverage sales at transportation hubs, offices, schools and hotels. It is available for use in Asia, Europe and North America, Ros says, while the earliest adopters are in China. Retailers seek to offer increased efficiency, he explains, while technology is enabling many sales options beyond the brick-and-mortar model. "New ways of serving customers are developing," Ros states, "and we believe that's a really strong driver for this solution."
The system consists of an RFID-enabled refrigerated cabinet (also available in a non-refrigerated format for non-perishable goods), as well as Stora Enso's Bridge Cloud software. The cabinet comes with temperature sensors and Stora Enso's customized RFID reader and antennas to capture transmissions from RFID tags. Stora Enso provides its passive UHF ECO RFID Tags that can be applied to each product. Each tag's ID number is linked to product details in Stora Enso's cloud-based software.
An Eco RFID tag is encoded and applied to each product before it is placed within the cabinet. The software can be set for specific inventory thresholds for each product, indicating the minimum number of items that must be present before replenishment orders must be placed. The cabinet is installed in a public space, using a power source at the site. It can forward RFID read data to the server via a cabled connection, or wirelessly via Wi-Fi or cellular connectivity.
The unit comes with a screen on top that offers promotional content about the goods for sale. It has a glass door that displays those items. When a consumer approaches the unit, he or she can first read a QR code on the front of the cabinet via a smartphone. The phone will access the website, where payment information can then be collected. The user provides his or her payment information, which can be accomplished through a variety of payment services, depending on the what is commonly used in that area.
The Stora Enso software receives the payment data and releases the door lock. At that time, the individual can open the door, remove any item he or she wants and then close the door. The action of shutting the cabinet prompts the reader to scan the RFID tags inside the unit and identify which items are missing, thereby enabling it to determine what has been removed by that customer. The system then charges the individual accordingly for the purchased goods.

The format allows users to select a variety of products for a single transaction. That is key, Ros says, since shoppers are more likely to purchase several items if all of those goods are presented to them for a single transaction (as opposed to traditional vending machines, in which each item must be purchased separately). Once the transaction is complete, the cabinet is ready for reuse.
Stora Enso provided all of the hardware in the cabinet, including the reader and antennas. Ros says the software can not only enable purchases, but also trigger replenishment orders based on inventory counts. What's more, it can provide historical data and analytics based on time, date and conditions during sales. That information could include the days and times at which most purchases are made, or the temperatures when items were purchased, thereby enabling the retailer to adjust the products and inventory levels being sold at a location accordingly.
Temperature data can also be collected and forwarded, along with the RFID read data, to help retailers ensure products are being maintained at optimal temperatures. With the cabinet, Ros says, "Retailers can get to the consumers where they are." Those locations can include fitness centers, schools, malls and airports, he notes.
Initial pilots are being conducted with retailers and restaurant café operators in China and Europe, and Stora Enso is also in discussions with other companies in greater Asia and North America. The solution was launched May 14. In addition to the cabinets, RFID tags and software-as-a-service (SaaS), Stora Enso can provide consultation regarding RFID tag encoding and proper application to products.
The second half of this year will see more early adopters for testing and deployments, Ros says. They can offer food and beverages, he adds, but other small consumer goods could be sold as well, such as personal electronics, workout equipment at a health club, or ski goggles at a ski resort, for instance.