Sep 11, 2018Japanese electronics company Kyocera Corp. has released an ultra-small ceramic tag designed for tracking the smallest of tools—those used during surgery or aircraft assembly, or at nuclear sites. The tag measures just 5 millimeters by 2 millimeters by 1.5 millimeters (0.2 inch by 0.08 inch by 0.06 inch). Samples are being provided to potential customers in multiple industries across Japan, North America and Europe.
The new tags were developed in cooperation with tool manufacturers earlier this year, says Alexa Pristl, Kyocera's new business-development specialist for Europe. However, she notes, the company has kept other industries in mind as potential users. "We see a lot of potential in demanding applications where asset management or sample identification is critical," she says, such as aerospace, automotive or in the cryogenic biological sample market. "The ceramic package is capable of enduring harsh temperature extremes and the small size gives users flexibility on mounting locations."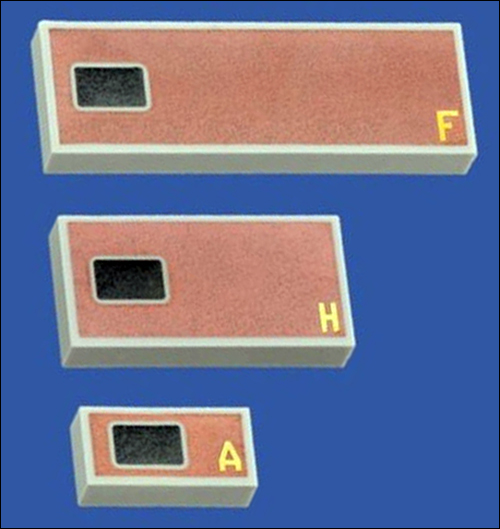 When it comes to surgical tools, the tag is designed to be attached to items such as forceps and scissors in such a way that they won't affect the tools' ergonomics, and to be robust enough to survive numerous washing and sanitization processes. Currently, health-care providers must account for the use of tools during and after surgical procedures, to ensure that no foreign bodies are left inside a patient.

This is a process that often requires visually counting tools at the beginning and end of a procedure—which takes time away from employees who could otherwise be providing health care. Companies have been developing radio frequency identification-based solutions that would consist of RFID readers in surgical rooms, or at washing stations, to capture the tags of all instruments on a tray as they are cleaned, prepared for a patient and then used for surgery. One challenge for RFID technology providers and tool manufacturers has been finding a tag that wouldn't impact the feel or use of the tool, and that could survive the sterilization process.
The aerospace sector also uses tools of all sizes, including very small ones. In the case of small tools, tracking is especially challenging because they can be misplaced in large assembly areas. However, it's critical that they be accounted for. In fact, if a tool cannot be located after a worker leaves, all assembly may have to stop until that tool can be found, even if that means contacting the employee at home to check his or her pockets. What's more, Pristl says, even large aerospace tools can benefit from small RFID tags to ensure an optimal placement on the tool. For maintenance, repair and overhaul (MRO) services of aircrafts and spaceships, she states, "any object that is not where it is supposed to be provides a high risk to safety."
These foreign objects include metal tools used for maintenance services by MRO service providers which may be forgotten after they service the aircraft. Metal tools left behind in an aircraft can cause potential foreign object damage (FOD) to a plane. The firm sells its ultra-small ceramic package with a built-in UHF RFID chip and antenna that it claims offers a longer read range than other tags of the same size.
The tag also comes in three other sizes, ranging from 6 millimeters by 3 millimeters by 1.7 millimeters (0.2 inch by 0.1 inch by 0.07 inch) up to 15 millimeters by 5 millimeters by 1.7 millimeters (0.6 inch by 0.2 inch by 0.07 inch). An Impinj Monza R6p chip is built into the tag. The package comes with a cavity designed specifically for an IC, to ensure protection against mechanical stress and impact, while also enabling the small size and profile. The tag is offered in UHF 920 MHz in North America and 866 MHz in Europe.
Other companies also offer tags for similar use cases. For example, Murata makes a tag measuring 6 millimeter by 2 millimeters by 2.3 millimeters (see Murata Developing Small On-Metal Tag for Surgical or Industrial Tool Tracking).

Kyocera's ceramic tag has a uniquely long read range for its size, says Adam Schubring, Kyocera's senior manager for new business development for North America, and the ceramic package is designed to maximize read range in proximity to metal—on metal, he says, it can be read at a distance of approximately 40 centimeters (15.7 inches). For many use cases, that range could be more than is required, and could be reduced as necessary. For instance, surgical tool manufacturers have suggested that in some scenarios, 20 centimeters (7.9 inches) is sufficient.
Kyocera's customers now trialing the new tags are solution providers that are developing systems for their customers. Thus far, users have been testing the tags in several ways. Tags are being attached to surgical tools for tracking by health-care providers, and to tools used in aerospace and other manufacturing applications. The tags can also be used for tool tracking in the oil and gas or energy industries, as well as construction and automotive.
In addition, smart cabinet solution providers are testing the tag for managing tools that are small enough to be stored on shelves. In this case, RFID readers and antennas can be built into the cabinets, and tools tagged with the new ceramic mini-tag can be placed on shelves within the cabinets. If an individual needs a tool, he or she can present credentials in the form of an ID card containing HID or RFID technology, or else enter an ID number. After he or she removes the required tools, the cabinet identifies what has been taken and by whom.
The companies testing the tags have asked not to be named. Kyocera is also in conversations with companies in multiple industries about employing the tags, Schubring reports, including medical, aerospace, automotive, and oil and gas.