Nov 01, 2016Atlanta-based car dealer technology firm MyDealerLot (MDL) has launched a new solution for dealership service and sales that incorporates Bluetooth Low Energy (BLE) beacons, as well as license plate recognition (LPR) technology and drones. Several dealerships are currently trialing the system, known as Bloodhound, though the drone-based option will not be made commercially available until early 2017.
Bloodhound is intended to be a low-cost alternative to the zonal vehicle-tracking RFID system that MDL has been offering for the past four years, using passive ultrahigh-frequency (UHF) RFID tags to monitor vehicles. With the Bloodhound system, dealerships attach reusable Bluetooth beacons (instead of passive RFID tags) in order to record those vehicles' locations and movements by means of smartphones or tablets that workers carry around the lot. The drone option will allow for automated updating of location information, coupled with a video of the drone's flight over the dealer's inventory.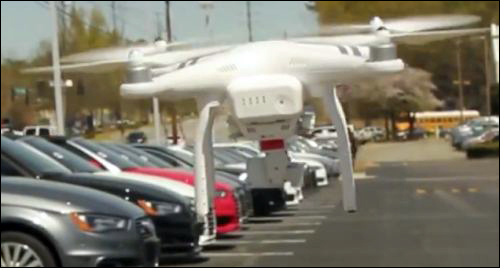 MDL has tested the drones at its headquarters, and plans to carry out additional testing at potential customers' sites. Each drone will come with mounting hardware for attaching a Wi-Fi-enabled mobile computing device that can receive the beacons' transmissions. MDL preconfigures the drone flight plan based on a particular dealer's physical layout, using Google Earth imaging. The read data is then transmitted to the hosted Bloodhound software via a Wi-Fi or 4G connection.
A number of dealerships have already been using MDL's RFID system to identify the specific zones in which cars and trucks are located, based on tag reads as those vehicles move through portals (see Lexus Partners With MyDealerLot to Implement RFID-enabled Customer-Service Solutions). Dealers are also utilizing MDL's Service Drive Concierge, an automatic guest-recognition solution in which passive UHF RFID tags on cars and readers at gates can be used to automatically identify a vehicle—and thus the customer who owns it—as it arrives for servicing. The solution identifies and welcomes that individual by name via a large, flat screen in the service lane. The RFID readers deployed around the service area and at the gate help dealerships to manage the servicing process, the loaning of vehicles to customers and the alerting of those customers when their service is nearing completion so that they can collect their cars, based on the tag reads near the exit gate, explains George Cresto, MyDealerLot's founder and CEO.
Now with Bloodhound, MDL can offer multiple solutions that cost less and are easier to install than the passive RFID version. "The big difference over RFID is that Bloodhound has no major infrastructure to install, no cabling, no readers," Cresto explains. The BLE functionality makes Bloodhound a three-ingredient solution: a removable beacon attached to each car, several larger reference beacons permanently mounted on walls and a mobile app that runs on employees' smartphones or on airborne drones. Users can access the cloud-based Bloodhound software via the internet, using a desktop computer, tablet PC or smartphone. With the Bloodhound system, car dealerships can track both new vehicles on the sales lot and customer-owned cars being serviced on the premises, as well as vehicles loaned to customers while theirs are being serviced.
Each vehicle is fitted with a Bloodhound beacon (a third-party manufacturer custom-makes the beacons for MDL) that can be tethered to the rearview mirror. The beacon emits a unique identifier every second. The beacon's ID number is linked to the car's details, such as its make, model and vehicle identification number (VIN), via MDL's integration with the Dealer Management System (DMS) software.
Vehicles available for sale are parked in the lot or showroom. Throughout the yard or parking area, reference beacons (which are also MDL products made by a third-party manufacturer) are installed on walls, ceilings or light poles. A reference beacon typically covers a 75-square-foot area, with an average ratio of one reference beacon for every five to 10 cars, depending on a lot's layout. Each reference beacon transmits a unique ID that is linked to that beacon's location in cloud-based software. As sales representatives or other individuals walk around the yard, the Bloodhound app installed on their Android or iOS device collects the IDs transmitted by the vehicle and reference beacons. The app then forwards that data to the cloud-based software, which calculates each vehicle's location, based on the reference beacon transmissions received by the drone.
As long as those moving the cars use the mobile app, that data is updated on a continual basis. In some cases, however, companies prefer to perform daily physical inventory counts to ensure that they know what is in their lot and where it is located—even if personnel may not walk throughout that lot on a regular basis. To accomplish this goal, Cresto says, a dealer could use the MDL drone, which comes with a smartphone-size Wi-Fi-enabled computing device attached to it that begins receiving the beacons' signals once the drone is launched. The device also comes with a camera, he adds, that shoots video of the lot.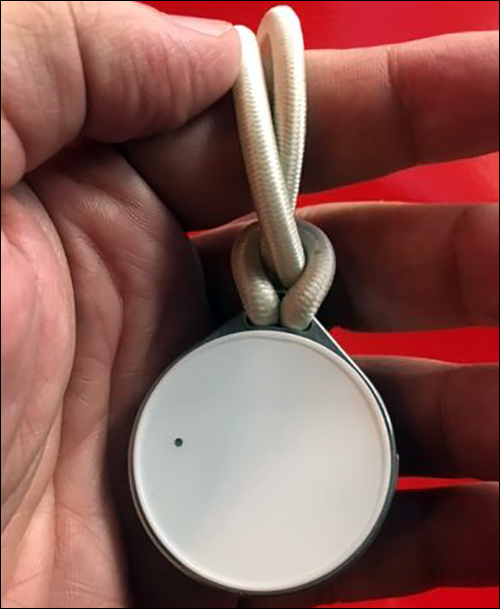 The drone's mobile device uploads the beacon data and video to the Bloodhound software via a Wi-Fi connection. Typically, users would launch the drone once daily, in the early morning or evening hours when there are no customers in the yard. It could then fly up and down the lot where cars are parked, based on a preset map. If the dealership's managers discover a discrepancy—for instance, if a specific vehicle's beacon is not detected when it is expected to be in the lot—they can view video of the lot in the area where that particular car should be, and thus determine whether the beacon was simply missed or if the vehicle is, in fact, not present.
The vehicle beacons measure 1.5 inches in circumference and are powered by coin-cell batteries with an operational lifespan of approximately two years. The reference beacons use AA batteries that can operate for five years before requiring replacement. Vehicle beacons cost $5 or $10 each, depending on the dealer's contract commitment, while reference beacons are priced at about $30 apiece. For many of the approximately 300 cars, 60 reference beacons would typically be installed. The cost of launching the system is usually around $5,000 for installation and training, Cresto says. A user would then pay a monthly fee starting at $695 per month for the app and software subscription. The price of the drone, he notes, has not yet been decided, though he expects the unit to be low-cost.
The software and app make it possible for a store's sales reps and managers to easily access a specific vehicle's location. In that way, if a customer expresses interest in a certain vehicle (something he or she may have seen on the website, for instance), a sales rep can easily determine that vehicle's location and escort the customer to that spot. This reduces the risk of a lost sale due to a car or truck not being found when a customer wants to see it, and makes the sales reps more efficient since they spend less time searching for vehicles.
"The first pain point is finding the car," Cresto states. But the Bloodhound system, he notes, is also intended to enable users to conduct business analytics. For example, the technology can be used to identify which cars have not moved within a week or longer, which would indicate that they aren't being test-driven.
One business planning to pilot the Bloodhound system at its facility is Global Imports BMW, in Atlanta, which sells new and pre-owned vehicles. The company installed MDL's RFID-based Service Drive Concierge system at its service center in September 2015, and began tagging not only vehicles that arrive for service, but also loaner cars and those available for sale. In that way, says Eldric Brown, Global Imports BMW's service manager, most customers who pay for service at the dealership have Alien Technology Squiggle RFID tags—customized by MyDealerLot—attached to their vehicles.
The company installed an Alien ALR-9900 RFID reader at the service center's entrance to identify vehicles and prompt the welcoming of each customer by name on a flat-screen monitor. The technology also confirms the visitor's appointment and alerts workers that the car is on the premises. Another reader installed at the car wash's exit identifies when a vehicle's service is finished. When the reader captures the car's tag ID, it forwards that data to the MDL software, which can alert personnel to notify the customer that his or her car is ready. That information can also be viewed at a later time to determine how quickly service is being provided. Additionally, Brown says, the dealership has installed several more RFID readers within the facility to identify when cars enter specific stations.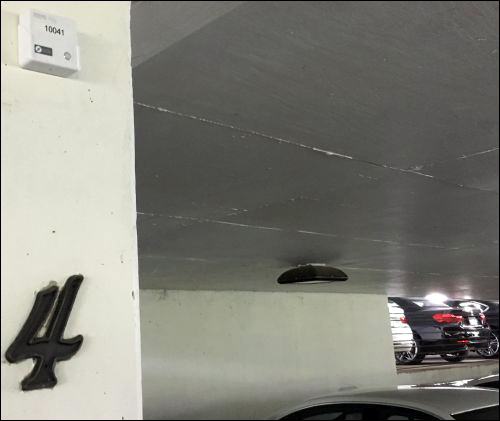 The company intends to pilot the beacon system on its sales decks, in order to provide location data regarding the vehicles for sale. With passive UHF RFID, Brown says, the system can identify when a car or truck passes a portal, but with BLE technology, the firm could collect location data about a vehicle no matter where it is located, every time an individual who has the app running on his or her phone passes.
The company does not plan to use the drone, Brown says, since the cars are stored on covered decks providing limited overhead space for a drone to pass.
Global Imports BMW has benefited by installing the MDL RFID solution, Brown reports, "We've seen an uptick in revenue," he says, attributing that growth to the ability to process vehicles faster. More importantly, Brown adds, the company's customer satisfaction index has risen, because customers appreciate the faster and more personalized service.
According to Cresto, numerous new and existing customers are in conversations with MyDealerLot about using the Bloodhound system with a drone, which he says would be relatively low-cost and would offer a "coolness" factor that car dealerships would find desirable. Dealerships, he explains, like to use technology in eye-catching ways, and tracking inventory with a drone is much cooler than having a paid employee manually do so via pen and clipboard. The process would be inexpensive to carry out, he adds, since a lot containing 500 cars could be counted by a drone within a matter of minutes.