Aug 22, 2019Lacoste's Brazilian subsidiary, a popular clothing brand featuring a crocodile stamp, is testing the use of radio frequency identification in its customer showroom at the company's headquarters in São Paulo. Powered by iTag' smart tag technology , the solution brings the benefits of electronic tags to both showroom visitors and company executives.
This year, the firm launched a new store concept called Le Club—a technology-enhanced showroom. "The new Lacoste showroom is designed to create a unique human experience for the consumer," says Thierry Guibert, the company's global CEO. "It's the synthesis of the brand and its creator, René Lacoste, in one place, called Le Club. The atmosphere is evident even before one enters. With lighter materials and iconic brand colors, the layout is reminiscent of a tennis court—the green concrete panel is a reference to René Lacoste's training wall."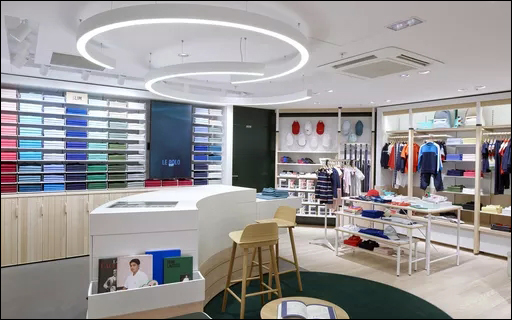 According to Cristiano Assis, the project manager of Lacoste Brazil's Project Management Office, the showroom project aims to show business group that RFID technology can help streamline product logistics operations and reduce vital costs. "The idea is to try to make RFID a global project for the company and already receive garments with tags on them," he explains, adding that a similar initiative is currently being tested in Mexico.
In international logistics operations, Assis says, 40,000 to 50,000 garments are placed within each container, so counting and checking are a costly and time-consuming process. "Even if, for some reason, the company chooses not to use the technology in store sales operations, for example, the possible gains in receiving and delivering products to resellers ends up being worthwhile," he states.
Products sold in the Brazilian market are distributed at five of Lacoste's own stores, across more than 80 brand franchises and at more than 1,000 multi-brand points of sale. "Now, our showroom is selling what we will have available to the public in a year's time," Assis explains. "That is, we are already receiving orders from franchisees and multi-brand retailers, who come here in the office to place their orders."
In stock, the company has leather products, shoes, bags and textiles. The RFID system uses two Zebra Technologies handheld readers for the purposes of counting and tracking products. For goods checkout, the solution employs an Identix rPad UHF RFID table reader.
In the elevator lobby, the firm installed an Impinj xArray reader that interrogates the tags of all products in the showroom area. The reader alerts Lacoste's managers to any goods being removed improperly, thereby thwarting theft and preventing misplacements.
"We want to inbound, outbound and inventory parts with the aid of RFID functionality," Assis states. "As with any project, we need to validate the entire scenario by mapping out the opportunities, costs, critical paths and benefits that the project can add to our business." Sergio Gambim, iTag's CEO, says that for his company, "It is a great honor to help design RFID for Lacoste, the world's first polo shirt."