Dec 28, 2018Anderco Lifting, one of Ireland's largest lift equipment testing and inspection companies, is employing a high-frequency (HF) RFID solution to improve the efficiency of inspections of the lift equipment that its customers use at construction sites. The system was taken live in July 2018, and the data collected is being accessed by utilities and several other customers to which Anderco provides six-month cycle inspections.
The solution, consisting of an app, a cloud-based server and passive 13.56 MHz RFID tags, is provided by CoreRFID. Anderco not only provides the system (known as CheckedOK) with its own maintenance service, but also sells it to customers for inventory-management purposes.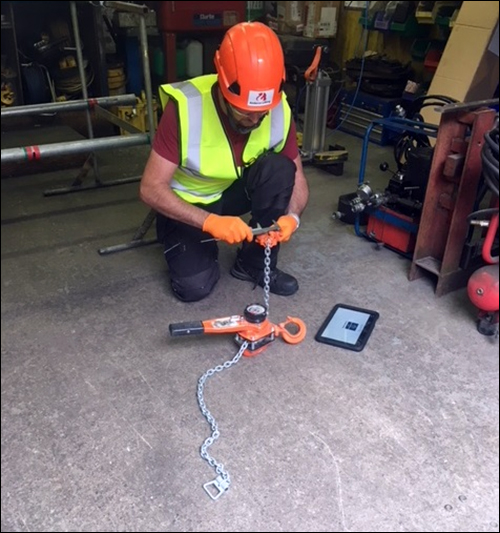 Anderco has been providing inspection and maintenance services to the Electricity Supply Board (ESB) for several months, and the utility company has now begun employing the solution for its own purposes, such as managing mobile assets. In fact, ever since the firm began offering the system with its inspection services, it has found that the RFID technology attracts the interest of customers for a variety of inventory-management solutions, says Gerard D'Arcy, Anderco Lifting's height safety engineer. It expects a boost in business to meet those demands.
Anderco, based in the city of Cork, sells work clothing, protective gear, and fall protection, personal protective equipment (PPE) and lifting equipment. It also provides inspection services throughout Ireland for such companies as utilities, chemical plants, and construction and petroleum firms. The company has been in the lifting equipment business for four decades, D'Arcy says. It both sells and leases equipment to customers, while providing inspections at its own facility, as well as on location for customers that use or have purchased its equipment. Moreover, the company provides first-aid and other training courses.
In recent years, Anderco has been exploring software-based solutions that would help manage the inspection of equipment at customers' sites. When the company has dispatched inspectors to customer locations throughout Ireland, they have traditionally needed to manually record the equipment they test, along with the results of that testing, then forward that information to Anderco's office. In addition, they supply a certificate to each customer indicating that its equipment has been properly inspected for use. That process could take several days, especially for equipment inspected offshore, such as on oil rigs.
Last year, the firm tested a software-based system with an Android tablet that inspectors could use to input information. However, that technology failed to meet the company's needs, so it began seeking an RFID solution instead.
CoreRFID provides its CheckedOK app on an HF- or Near Field Communication (NFC)-enabled Android tablet, which makes it possible for the tablet to capture tag ID numbers. It also offers a portal to the cloud server where data can be viewed by inspectors, Anderco's management and customers, according to Munzi Ali, CoreRFID's technical director.
CheckedOK is designed to improve safety management for use with handheld computers, tablets or smartphones. It can be used not only for managing lifting equipment, but also for tracking hazardous substances and work equipment, and for controlling accident hazards. Anderco is offering the service for use by its own inspectors, and also sells it as a service for customers to manage inventory and view inspection reports and certificates.
If a customer is utilizing Anderco's service with the CheckedOK app, an Anderco inspector will report to that customer's site to conduct inspections. He or she can use a 13.56 MHz HF RFID wand reader with a Bluetooth connection to an Android tablet to access data on the CheckedOK app regarding what equipment he or she plans to inspect at that site. As the inspector proceeds to each piece of equipment, he or she taps the reader near the tag affixed to that item. The app on the tablet identifies the equipment based on the encoded RFID number, and compares that ID against the list of equipment scheduled for that location. "Each time an inspector reads the tag," Ali states, "the system displays that equipment's history."
The inspector then follows the inspections process for that item, indicating what has been done by following the prompts. He or she can report any problems or potential issues, and can take pictures with the tablet, to be stored with the equipment data. That information is then forwarded to the cloud-based server. If the equipment passes inspection, an automatic certificate can be generated, which the customer (such as a construction company manager) can access and store, or print for the company's records. In that way, in the event that government inspectors require certificates, they can be easily accessed for each item.
Businesses can also download the app for use by their own inspectors, and can use their HF- or NFC-enabled phones or tablets to view the inspection histories of the tagged equipment on their site. When a new customer uses the system, Anderco can tag the equipment on that customer's site, or begin tagging equipment as it sends new products to that user. CoreRFID also offers its own 13.56 MHz HF RFID readers that could be dedicated to interrogating tags for use by inspectors, or in-house at Anderco's office location.
In the future, the system could be utilized with GPS data automatically captured by the tablet, so that the location could be linked to each inspection. This feature could prove useful at large or remote work sites, Ali notes. With the technology, inspectors have reported that the actual inspection process becomes faster and more efficient. "We've been very impressed with how well it works," D'Arcy says.
Customers testing or employing the technology have requested the system's expansion, D'Arcy reports. For instance, they have asked if the tags could be applied to other items that are note necessarily inspected by Anderco—ladders, for instance.
ESB is also testing the system's use for tracking the utility's lifting equipment. In this scenario, a 13.56 MHz passive RFID tag is affixed inside a vehicle's windshield. Each time a driver begins his or her shift, he or she can use an HF or NFC reader to capture the tag ID, then enter that person's own ID into the system, as well as any inspection updates for the vehicle. This creates a record of that inspection, along with who was operating the vehicle on that specific day.
In addition, Anderco offers a new training service for those using the CheckedOK system. CoreRFID tailors the CheckedOK app for each of its clients, Ali says.