Jun 06, 2013Active RFID technology provider Guard RFID Solutions (also known as GuardRFID) is marketing a new school-security system to identify when an emergency occurs, and to help locate students and staff members during such an event. The solution, known as the SafeGuard K-12 Safety System, was developed at the request of its resellers' school customers, and is a modified version of GuardRFID's existing security and personnel-tracking product, including software, active RFID tags, exciters and readers used in the health-care industry, as well as in offices or at manufacturing sites. GuardRFID has also developed a mobile tracking system to help monitor the movements of passengers onto and off of buses. What's more, the solution could be used by schools, in conjunction with SafeGuard, to provide a school and students' parents with assurance regarding which children enter and exit which bus, as well as when and where.
Among GuardRFID's real-time location system (RTLS) products is TotGuard, which hospitals can employ to track newborn babies and pediatric patients via tamper-detecting 433 MHz active RFID tags that communicate using GuardRFID readers (see Middle Tennessee Medical Center to Install TotGuard). The software receiving that read data can then identify the location of that tag's wearer within an area of approximately 8 to 12 feet, using signal strength (though that location specificity depends on reader density). The tag beacons at a preset rate, but when the tag comes within range of a 125 kHz exciter, the tag immediately transmits its signal.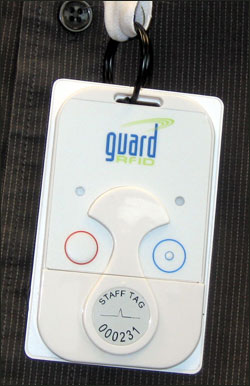 That health-care security technology also applies well to a school setting, says Zahir Abji, GuardRFID's president and CEO. When it came to requests for technology solutions from schools, he adds, "We were thinking about tools we could give them to enhance security in such a way to ensure safety and alert authorities as quickly as possible," if there were an incident such as an intruder or a medical emergency.
The solution—which the company began developing this year, and is now being offered commercially—consists of GuardRFID's ST-3 active RFID tag that can be worn on a lanyard by workers, or be attached to a student's garment or knapsack. The washable tag comes with two buttons, one red and one blue, each of which can be configured to transmit a particular type of emergency call. The tag also has a built-in dual-frequency RFID chip and antenna to receive 125 kHz transmissions from exciters, as well as receive and send data via a 433 MHz signal. Typically, readers will be installed at a school's entrance and exit points, though they could also be installed in hallways, with exciters placed at such locations as each classroom's entrance.
GuardRFID software, residing on the school's server, stores each individual's identity, along with the ID number encoded to that person's tag. Each time the tag beacons, the software updates the tag's status, thereby creating a record of his or her location within the school.
To send an internal alert to a school's administrators and teachers, a student or staff member would typically press the blue button. In the event of a fire, gunman or other incident requiring assistance from someone outside the school, the individual would press the red button and the software could then prompt an alert to be sent to local police or fire authorities. The software, Abji says, "is configurable depending on the kind of alarm the user requires." For example, an e-mail or SMS text message could be sent based on a blue or red button press. Additionally, the system could send a prompt to close and lock specific doors within certain zones of a school. For example, if an individual pressed a tag button in one zone, the doors could automatically lock in the other zones, in order to ensure that an intruder could not access those areas of the school.
The system is designed to be affordable for schools, Abji says. While the hardware and installation costs would vary, he notes, the software typically costs about $6,000 and can support multiple sites, such as several schools within a particular district.

GuardRFID has also developed a mobile solution in which RFID readers and exciters are installed on buses. The readers come equipped with a GPS module, along with RFID antennas, to identify a tag entering or exiting the bus, as well as its location, and then forward that information to a server via a GPRS transmission. That technology, Abji reports, is currently being tested on city buses in a small Illinois town.
The mobile solution could also be installed on school buses, with the data received by the same GuardRFID software used for the school's security system. In that way, Abji explains, parents and school personnel could know when a student boards a bus, where that vehicle is located while the child is on board, and when and where he or she left the bus.
Both solutions are commercially available, Abji says, and GuardRFID is currently in discussions with a high school and a college about installing the school security technology for the fall. Although the system is targeted for primary and secondary schools, he adds, other schools—such as colleges— as well as large corporations, have also shown interest in the product.