Vancouver, BC—March 13, 2014—Guard RFID Solutions Inc. of Vancouver, BC and Focus FS of St. John's, NL have partnered to deliver a unique solution for one of Newfoundland's offshore oil and gas projects. This innovative system enables accurate tracking and location of tagged personnel for real-time visibility in the event of an emergency incident. The system also supports the tracking and management of materials—such as equipment and tools—which reduces the time required to locate them, assists with maintenance schedules, and prevents loss. This Personnel Safety solution, provided by Focus FS, is the first solution of its kind to be implemented in the Newfoundland offshore oil & gas industry. As a result of its successful deployment, GuardRFID and Focus FS have agreed to enter into a strategic distribution agreement that will see Focus FS deploying GuardRFID solutions in the east coast offshore oil and gas market.
GuardRFID's system offers long range as well as proximity detection, allowing for real-time location services and instantaneous portal detection. Its field proven Yard and Industrial infrastructure devices are designed to be able to withstand the harshest of environments, and are supported by a variety of tag types and configurations for placement on people and objects. The company's Active Label, which is the lowest profile active tag available in the industry, will be placed on hard hats of employees working on the project site. This ensures that personnel are always equipped with a tag that is unobtrusive and does not hinder their ability to do work safely. GuardRFID's Staff tags offer enhanced functionality for applications where Lone Worker Safety is required. These tags can be worn like a standard ID-badge, and have configurable buttons that can be used to support a duress call, bidirectional communications, on-tag annunciation, and "Man Down" detection all in a thin ID-badge form factor.
Mar 17, 2014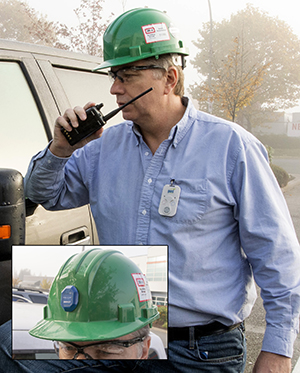 "GuardRFID's active RFID platform has been successfully utilized in several different vertical markets to date, and we are excited about the opportunity to serve a new market segment", said Zahir Abji, GuardRFID's President and CEO. "Besides assisting companies in this new market to enhance personnel safety, our system capabilities can provide significant return on investment to them by enabling them to utilize the same infrastructure for other applications, such as managing and securing assets for example."
"We investigated several possible technologies and systems for our customer, and found GuardRFID's AllGuard system to be the most suitable due to its reliable detection capability, choice of tag types available, flexibility, and rich feature set. It was also a natural fit as there wasn't any new development required and was certified to integrate with the existing systems used by our customer" said Jeff Brown, President of Focus FS. "Our partnership with GuardRFID allows us to provide customers in the industrial sector with field-ready solutions, thereby avoiding significant custom development schedules and allowing our clients to realize benefits earlier in the lifecycle of their industrial project."
About Guard RFID Solutions, Inc.
Guard RFID Solutions, Inc. develops Active Radio Frequency Identification (RFID) technologies and products for Healthcare, Industrial, and Enterprise applications. Guard RFID Solutions, Inc.'s products can accurately track and locate equipment, materials, and people for enhanced automation, workflow, monitoring, and security solutions—all on one flexible platform. Guard RFID Solutions, Inc. is federally incorporated in Canada, with its head office in British Columbia sales offices in Chicago, IL and West Palm Beach, FL.
GuardRFID Contact:
Zahir Abji, President and CEO
info@guardRFID.com
www.guardRFID.com
About Focus FS
Focus FS is a leading provider of information management systems for the industrial sector based out of Newfoundland and Labrador. Industrial Information Management (IIM) systems encompass the technology necessary to efficiently and accurately collect and distribute operational worksite data. Using rugged hardware and user friendly, intuitive software, our IIM systems manage the two most critical worksite resources: Personnel and materials. Focus FS delivers IIM systems that span personnel safety and security, material handling and supply chain management. Focus FS helps their clients build smart worksites.
Focus FS Contact:
Jeff Brown, President
info@focusfsi.com
www.focusfsi.com