Feb 08, 2012Goodpack, a container-leasing company based in Singapore, is in the process of installing EPC Gen 2 passive ultrahigh-frequency (UHF) RFID tags on 2.6 million collapsible, steel containers, so that it can track them as they are rented by customers to transport materials around the globe. Data collected from the system, supplied by Finnish RFID solutions provider Vilant Systems, enables the firm to know the locations of its assets, receive alerts in the event that any containers fail to reach their expected destination, and bill for usage based on the RFID tag reads.
Goodpack claims to be the world's largest provider of intermediate bulk containers (IBCs). The steel containers, measuring 1 meter (3.3 feet) in length, width and height, are employed at approximately 400 third-party warehouse locations throughout 68 countries, and each is capable of holding 1.5 tons of materials, including rubber, food and chemicals. Goodpack delivers empty containers to customer locations as needed, and later retrieves the empty IBCs once they are longer required.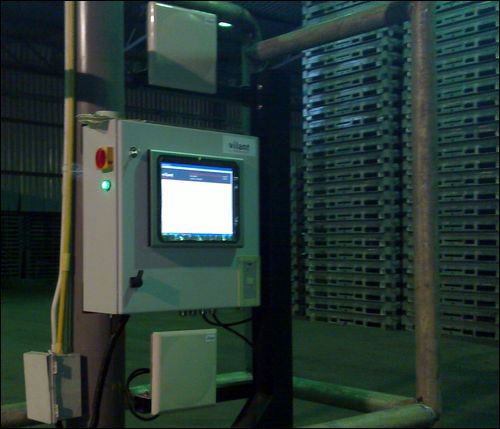 To track the containers, Goodpack has historically depended on bar-coded labels that could be scanned by its warehouse staff. However, the company reports, scanning bar codes has proved difficult, since the labels were often covered with dirt or damaged, and were thus unreadable, making them time-consuming and labor-intensive to scan.
The $8 million RFID installation—consisting of fixed and handheld readers, tags, and software to manage read data—is providing the company with a more automated solution, intended to collect data regarding each container's location as its tag is interrogated by depot or warehouse workers or repair vendor employees around the world.
The company sought a solution to help identify each container's location, so that it could not only reduce the loss of its assets, but also employ an automated rent-calculation system based on when a particular container was received by a customer, and when it was returned to Goodpack.
Vilant provides integration and installation services, which includes attaching an RFID tag to every container, installing fixed readers and providing handheld interrogators, as well as its own software to manage data culled from the tag reads. The company is supplying a version of Confidex's Ironside Slim tag custom-made for this application. According to Vilant, that model of tag was chosen because it proved to be as rugged as Goodpack required, and since it transmits well when attached to metal.

Installation for the system commenced in April 2011. By June, Goodpack began reading tags at one of its busiest depots—where empty containers are received and shipped out—located in Thailand. The remaining technology rollout is expected to be underway by next month, says Ville Kauppinen, Vilant Systems' CEO and co-founder, with additional locations slated to have readers installed throughout the year.
The fixed readers consist of Vilant's Smart Gates with incorporated Impinj Revolution readers. Psion Workabout Pro and CAEN RFID A828 handheld interrogators are being utilized at container-repair locations, at some of Goodpack's 10 depots and at several smaller third-party warehouses. Vilant's Web-based software resides on a server that Goodpack can access in order to obtain details regarding the locations of its assets, the number of items at each site and the turnover rate at various warehouses. The software also issues an alert in the event that a container is reported leaving a depot, but not arriving at another location where either fixed or handheld readers interrogate arriving crates' tags. Finally, the data is then linked to Goodpack's billing software, thereby enabling the sending of invoices pertaining to the rental time for each container, or any damage reports.

To date, the system has been deployed at Goodpack's depot in Thailand, as well as at five or six of its other depots, where handheld readers are being used. Approximately 400,000 containers have been tagged so far, the firm reports, and the tagging process is expected to continue for two years, while the company is now distributing handhelds to hundreds of warehouse locations. In some cases, however, the smaller warehouses will continue to use bar-code scanners. Goodpack notes that it is too early to report the benefits achieved thus far from the deployment.
In most cases, warehouses—which tend to be small—use handheld readers to capture information about the containers as they are received at and then leave their facilities. When a container arrives, the warehouse staff utilizes an interrogator to capture its tag's ID number, visually inspects the container for damage and then inputs data about that container, based on the inspection results. When the container is picked up from that location, its tag is read once more, thus indicating that it has left the facility.
What's more, the system enables the company to know quickly if a container is damaged, and thereby stop it from getting shipped to other customers. The more immediate damage details provided by the RFID system also help Goodpack to identify when that breakage must have occurred, and the firm is better able to bill for the damage. In addition, RFID is being utilized for damage repair. Vendors providing repair work will also be equipped with RFID readers, and will read the tags as containers arrive, and again after they are mended and sent to a customer. In this way, the company knows how many days it takes for repairs to be carried out, and can compare the efficiency levels of different repair vendors.