Jun 26, 2018Digital marketing has grown by leaps and bounds throughout the last five years or so, thanks to the rise of programmatic, machine learning and mobile advertising. Modern digital marketing allows you to customize your message and reach in real time. Given that technology is at the forefront of driving innovation in online marketing, the common assumption is technology companies would be better at it than the rest. However, nothing could be farther from the truth.

At Forward Vision Marketing, we reached out to B2B technology companies to understand how they go about marketing their products and their biggest marketing pain points. Half of the responses we received are from live interviews we conducted at RFID Journal LIVE! 2018 and MRO Americas 2018. The other half are responses we received via email, social media and other online channels. Here is what we found out.
Most Still Rely on Trade Shows to Reach Their Audience
Most of the companies surveyed said they don't have enough confidence in SEO, webinars, online advertising and other digital marketing activities. They weren't sure if investing in digital marketing will lead to better results. Furthermore, most companies had little experience in creating content for digital marketing purposes. In fact, most B2B technology companies still take the traditional approach of trade shows and press releases to get the word out.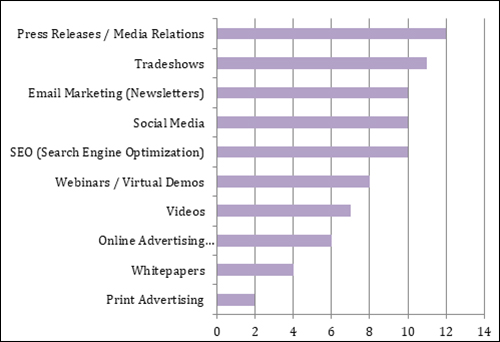 Our take: Not a lot of B2B tech companies are investing in digital marketing, which means the competition in the space is low. Thus, it makes even more sense for B2B companies to focus more on digital marketing initiatives, in order to gain competitive advantage.
Most Have Trouble Reaching the Decision Makers
Sixty-three percent of companies struggle with lead generation through marketing. However, our survey unearthed something even more pertinent. Most B2B tech companies struggle with reaching their target audience—hence, the process of lead generation never begins. Furthermore, most companies identify their target prospects. However, reaching and engaging these prospects is a challenge for them, according to the survey. Respondents also pointed out that their key prospects aren't aware of their brand, thus making the process of engagement and conversion harder.

Our take: An omnichannel approach is the need of the hour. Companies should formulate a strategy that aligns with their sales cycle. A typical B2B sales funnel goes through the stages of awareness, lead nurturing and conversion. Each stages should have the right content on the right channels in order to maximize reach.
For instance, awareness stage can be tackled with blogs, videos and advertising. The goal is to attract prospective leads with the relevant content that resonates with them. Here, identifying key pain points of the industry you are operating in helps. Here are some more ideas to improve your online lead generation game.
The awareness stage will allow you to build a pipeline of possible leads. At this stage, personalization of messaging helps. Email can be the right channel at this stage, in most cases. Build an email marketing campaign that tells your lead more about what your company can do.
The final stage is when you make the last pitch to your hottest leads. At this stage, events, trade shows and in-person meetings can come in handy. However, since the lead is coming through a funnel, they will already know a lot about your company and what it delivers. If someone is agreeing to a meeting at this stage, it is very likely that they are interested in your product.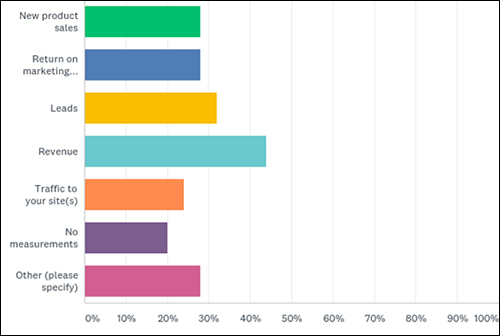 Most Measure Marketing Success Through Revenue Metrics
Most B2B tech companies surveyed indicated that they rely on revenue metrics to measure the success of their marketing campaigns. While revenue metrics are a clear indication of a company's bottom line, they should not be the only metric taken into account.
Our take: Very often, B2B sales cycles can be long. Typically, it can take high-growth tech companies much more than a year to convert a lead. It can be difficult to track marketing campaigns over such a long period of time, especially when modern buyer journeys are non-linear. Other metrics should be taken into account when analyzing the effectiveness of a marketing campaign. Online traffic metrics, lead-generation metrics, attrition rates and customer lifetime value are key contenders here. The latter two are especially relevant in the case of SaaS companies.
Most Haven't Invested in E-Commerce
Seventy-two percent of the B2B tech companies surveyed said that customers can't buy their products online. While not all products lend themselves to an online sales model, most companies still rely on traditional sales processes.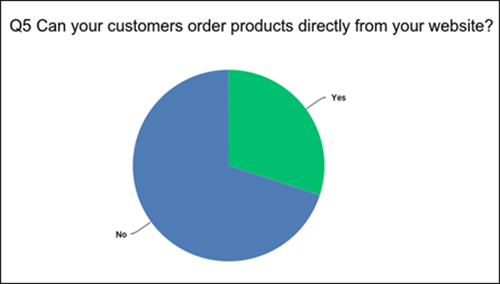 Our take: Making products available online can drastically shorten sales cycles for B2B companies. In fact, rolling out products online for beta testing can be a viable way to build trust and pave the way for bigger orders in the future.
E-commerce also makes it easy to track your key prospects and how they are reacting to your messaging. You can A/B test to find the messaging that resonates the most with your audience, thus maximizing your ROI. Here, a fail-fast approach is what works best.
A multi-channel marketing approach can solve the challenge of not being able to reach key prospects, for B2B tech companies. However, the right content is at the heart of digital marketing, be it for PPC advertising, webinars, blogs or social media. Every kind of content should move the prospects further down the sales funnel. Most importantly, though, B2B tech companies need to experiment a lot more with digital marketing, so they can gather enough data to analyze and hence understand their target audience better.
Kelly Stark is a technology marketing consultant with 20 years of experience in high-tech, business-to-business marketing. She is the principal founder of Forward Vision Marketing, LLC, a full-service B2B marketing companies specializing in market strategy, website development, marketing communication, SEO and PPC marketing strategies. Kelly focuses on developing winning marketing communication strategies in energy, health care and the security industry using wireless and network technology.