Jan 22, 2016Approximately one million steel plates are rented out for construction projects each year in the Netherlands. These plates are used for temporary roads, as well as trench covers, or to prevent soil erosion where buildings, roads or other infrastructure are being built. The plates, which weigh half a ton to one ton apiece, are provided by more than 30 different plate-rental companies within the country, and are billed on a monthly basis. Tracking the sheets of steel is often complex, and has caused numerous challenges to the plates' owners and their customers, who could be renting them from multiple companies.
To resolve these challenges, a consortium of the rental companies has created a business known as Eagle Eye Innovation BV (EEI) to manage the plates for all of these firms, as well as rent them to customers and track them via RuBee readers and battery-powered tags provided by a New Hampshire company called Visible Assets. While RuBee works at a frequency of 131 kHz, a RuBee reader or tag emits virtually no RF power, according to Visible Assets, and instead relies on magnetic waves to communicate with a RuBee tag, using a protocol complying with the IEEE 1902.1 standard. The company describes RuBee as an alternative to RFID technology that works in places where RFID cannot operate reliably. That includes sites at which transmissions must pass through steel, mud and water.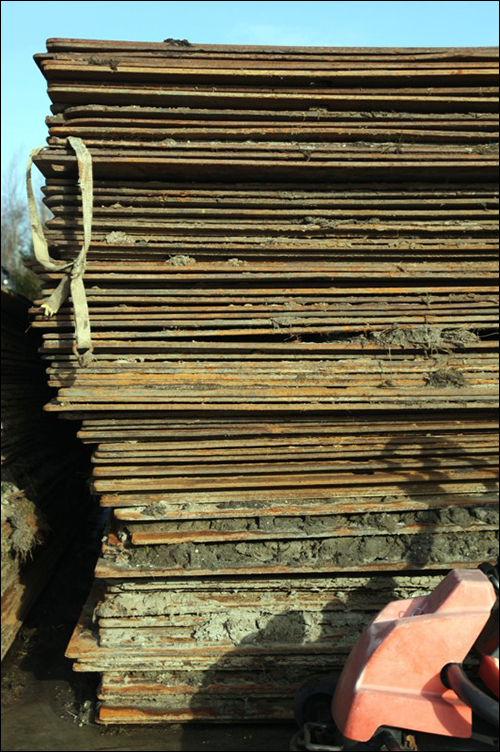 In the Netherlands, the width and length of steel plates vary from 150 centimeters by 250 centimeters (5 feet by 8 feet) to 250 centimeters by 600 centimeters (8 feet by 20 feet), and they can be 11 or 15 millimeters (0.4 or 0.6 inch) in thickness. The dimensions of a typical plate, however, are 150 millimeters by 600 millimeters by 15 millimeters (6 inches by 23.6 inches by 0.6 inch). Rental companies struggle with ensuring that the plates they rent out—which are typically installed in muddy, wet and sometimes remote locations for varying lengths of time—are returned to them.
"All the companies suffer from the same challenge," says Gjalt Loots, a principal business consultant for applied research firm TNO, which served as the systems integrator for the Plate 20/20 solution that Visible Assets is supplying to Eagle Eye Innovation. Because companies use so many steel plates, often from multiple vendors, and because the plates tend to look alike, making sure they are returned to the proper owner is not easy. Plates are individually marked with printed or etched serial numbers, but those numbers are impossible to see if the plates are stacked on top of each other, as they often are while in storage or transport. Since they weigh up to a ton apiece, they can be lifted (so that employees can view their serial numbers) only by means of construction equipment. In addition, the IDs can be covered by mud and various other materials found on a worksite, making them difficult to read.
Since reinforced steel is of such high value—the plates can often be sold for more than they were purchased for years prior—they are also at a high theft risk.
To solve these problems, the group secured the assistance of TNO and launched Eagle Eye Innovation, which will act as a service provider that will draw from a pool of steel plates from the rental companies and manage them as they are provided to and return from customers. The consortium—located in Heerenveen, in northern Netherlands—offers its own storage area for some plates, while others are shipped to and from the rental businesses directly.
To manage the plates, Eagle Eye will use the RuBee technology provided by Visible Assets. The New Hampshire-based company specializes in providing location data for tagged items that would not work well using traditional RFID. In 2015, the company began working with Eagle Eye, running tests of the tags embedded directly inside the plates.
The solution posed both technical and mechanical challenges, says John Stevens, Visible Assets' CEO. Not only did the tags need to be inserted into the metal plates and loop antennas installed on worksites, but they also needed to be protected from the abuse that can occur when construction vehicles drive over the plates. The latter challenge required the incorporation of metal posts into each tag's housing, in order to protect the tag's components from strain.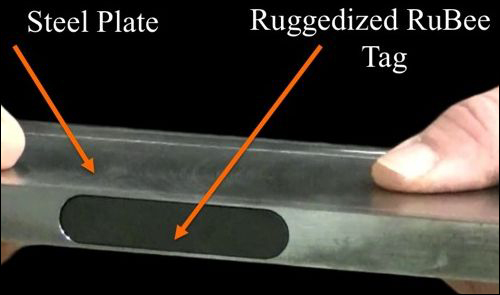 The tags use the steel plates as a way to extend transmission range. "Steel can have an effect on transmission," Stevens says, "but we anticipated that, and we make a plate's steel function as part of the tag's antenna."
To order steel plates, a customer can approach Eagle Eye, which will identify the proper plates for that project and order them from one or more of the rental companies in the consortium. Eagle Eye can embed the tags into the plates at the worksite, or do so at its own facility. In either case, each tag will be embedded by means of a portable mill that can be used to cut a pocket into the plate's edge.
The loop antennas used to read the tags will be buried in the soil around a worksite. In addition, a single GateReader will be installed at the exit and entry areas of that site. The loop antennas, as well as the GateReader, capture each battery-powered tag's ID number and then forward that data to the Plate 20/20 server. Getting data from the loop antenna and GateReader to the server (hosted by Visible Assets) requires either a Wi-Fi, GPRS or satellite connection, depending on the worksite's location.
The tag's unique ID number will be linked to details about the plate, as well as who owns it, in the 20/20 software and where the tag is being rented. Data will also be written to the tag so that it can be read even if there is no connection to the server. Loop antennas installed on the worksite will capture the tag IDs as the plates are deployed around that site. That information will then be available to Eagle Eye, the rental company and the customer, to capture a real-time view into where each plate is located.
The system will also send alerts in the event that a problem is detected, such as a plate leaving or entering the yard when not authorized to do so.
In some cases, the plate tags will need to be read where there may not be a loop antenna installed, such as when the plates are stacked on the back of a truck at the rental company's site, or within a storage area. In such a scenario, workers can use a Trimble handheld device with an integrated Visible Assets RuBee reader.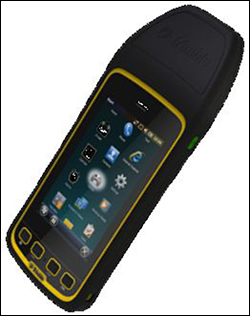 By reading tags via a handheld, users can view which plates they have on hand, as well as input data specific to status changes, such as a plate being shipped to a specific site. Typically, there are 30 plates stacked together—any more than that, the company explains, would exceed the vehicles' weight limits. In storage areas, a stack can consist of as many as 100 plates. According to Stevens, testing found that in stacks of these sizes, all tags could be read within one minute.
The solution aims not only to protect rental companies from loss, but also to help the customer, for whom access to the plates during construction work is critical. For instance, Loots notes, if steel plates are unavailable when needed, some projects come to a halt while workers search for them onsite or call to find out why they have not been delivered.
Each tag is expected to have a battery life of at least 10 years, according to Visible Assets, and comes in a sealed, rugged package complying with the MIL-STD-810G standard.
The consortium is currently in discussions with several customers to determine where the first installation using the RuBee technology will be located, Loots reports, with plans to have the technology on that site by April 2016. "We've had central discussions about the first customer," he says, adding that "Many [customers] are quite anxious to get started."