Jun 10, 2014Collingwood General & Marine Hospital, located in Collingwood, Ontario, has recently completed a deployment of Stanley Healthcare's Wi-Fi-based RFID tags, enabling it to monitor not only infants' movements throughout its building and parking areas, but also asset locations and environmental conditions. All three functions are tied together and managed by Stanley Healthcare's AeroScout MobileView software. For the previous dozen or so years, Collingwood had employed an older version of Stanley Healthcare's Hugs infant-tracking system, which can identify an infant's unauthorized removal from the maternal childcare unit, and thus issue an alert. Its shortcomings, though—primarily its inability to track a child once he or she leaves that unit—had led the hospital to switch to the Wi-Fi-based RFID tags.

Collingwood Hospital has 72 beds, five of which are located in the obstetrics unit, which delivers an average of 500 babies annually. In 2002, the hospital installed its first Hugs system—(provided by VeriChip, which Stanley acquired in 2008 (see Stanley Bolsters RFID Portfolio With VeriChip Subsidiary)—to manage the movements of infants. This initial deployment consisted of RFID readers and battery-powered tags that employed a proprietary Hugs RFID protocol. The hospital had installed Hugs readers within the obstetrics unit, but not in the remainder of the building or in the parking areas—leaving a total of 15,000 square feet without any coverage. The obstetrics unit contains three exits (one of which is a stairwell), and the hospital wanted not only to know where babies were located if they passed through those exits, but also, when possible, to have the ability to close and lock doors to prevent the unauthorized removal of any child.
In February of this year, the hospital began seeking an expanded solution to improve infant tracking, as well as to locate assets and monitor environmental conditions. "Staff were often frustrated that they could not find wheelchairs in a timely manner," says Michael Lacroix, Collingwood General's CFO and corporate services VP, "and we would often receive requests for more wheelchairs as a result." Consequently, he notes, the hospital performed an inventory count. "We realized that we had enough wheelchairs to support the demand with the hospital—we just needed a better way of tracking them."
Additionally, Lacroix says, the hospital sought a method of automatically capturing and recording temperature and humidity levels within its operating rooms. The new system would thus replace an existing manual process that was time-consuming and error-prone.

In June 2013, the hospital installed a new technology being beta-tested by Stanley, known as Hugs Wi-Fi. Stanley developed the Wi-Fi-based solution to make it affordable for a customer to track tags throughout an entire facility, rather than merely within a few limited areas in which that customer could afford to install readers. "Since most hospitals have Wi-Fi throughout the facility, it is possible to monitor infants anywhere in the hospital, even in the parking garage," says Steve Elder, Stanley Healthcare's senior marketing manager. "The ability to see the infant everywhere also has major benefits when it comes to responding to an abduction attempt."
The Hugs Wi-Fi solution includes Stanley Healthcare's MobileView software platform, a Web-based application that can be provided on a hosted server or on the hospital's own back-end system, and be accessed remotely. "This helps significantly with workflow," Elder states, "since nurses no longer need to return to the nurse station to perform software tasks." Instead, he says, they can simply access the data via any PC, laptop or tablet.
At Collingwood General, a Hugs ankle band is applied to each infant at the time of birth. The band's battery-powered RFID tag has a unique ID number that is linked to data regarding that child in the MobileView software, including the names of both the baby and the mother. The tag employs the Wi-Fi protocol to transmit 2.4 GHz signals at preset intervals, and comes with a sensor enabling it to determine if a band becomes loose, or if someone tampers with it. The Wi-Fi nodes deployed throughout Collingwood receive tag transmissions and forward that data to the MobileView platform.
If an individual begins carrying an infant toward one of the exits, that action can be detected by an exciter—a specialized type of RFID reader installed at each exit. The exciter transmits a low-frequency (LF) signal that the RFID tag captures. The tag then responds by transmitting its own ID, as well as that of the exciter, which also forwards that same information to the MobileView software, via an Ethernet connection. The Wi-Fi nodes within the vicinity transmit that data to the software as well, while the exciter prompts the automatic locking of the door to the stairwell or other exit before the infant's removal can occur. If a potential abductor manages to get past that door, the system will continue monitoring the infant's movements throughout the building, issuing alerts related to those movements via a feature of MobileView known as InstantNotifier, which can display messages on PCs running the software. InstantNotifier can also push notifications to the hospital's Cisco IP phones, as well as to Apple iPhones, iPads and iPods running a Stanley iOS application.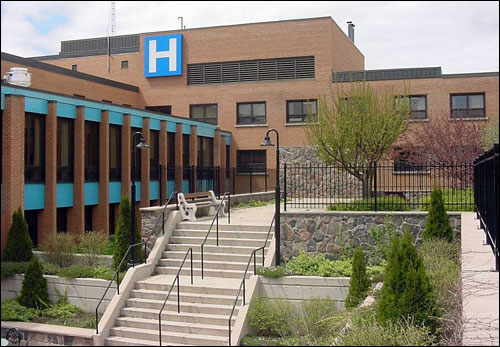 This past February, Collingwood General & Marine Hospital began affixing Stanley Healthcare's AeroScout Wi-Fi-based active RFID tags to its assets. "One of the first assets we began tracking was wheelchairs," Lacroix recalls. "Now that all wheelchairs are tagged and tracked in the system, departments can easily locate [them] and reduce the amount of time they spend searching for them, freeing up time to perform more value-added activities."
The hospital also installed Stanley's AeroScout Wi-Fi-based RFID sensor tags within its OR. Now, if the humidity or temperature level falls outside of expected parameters, InstantNotifier sends an e-mail or text message to the maintenance department staff via the iOS app. The system records conditions that can then be reported to other departments as necessary. "The logging and recording of temperature and humidity levels has been a real time-saver for staff, who are required to monitor and record levels under accreditation standards," Lacroix states.
Quantifying the value of the new Wi-Fi-based solution isn't possible, Lacroix notes. "What it has enabled us to do," he says, "is focus on more value-added activities that directly benefit the patient."