Aug 17, 2015The Romanian branch of Carrefour, Europe's largest retailer, has deployed a beacon solution at 28 of its stores throughout Romania, in order to deliver location-specific content to customers' smartphones. The Carrefour app uses beacon-based location data to provide shoppers with in-store navigation, as well as information about products, prices and promotions for goods displayed in the store aisle where they happen to be. The deployment, which utilizes beacon hardware and software supplied by a Romanian company called Onyx Beacon, follows testing conducted at the same stores between June 15 and July 15 of this year.
Carrefour, headquartered in France, has 11,910 stores across 34 countries in Europe, Latin America and Asia, and serves 10 million daily customers. In Romania, the company operates 178 locations, 28 of which are hypermarkets. It is only those 28 hypermarkets, however, that have adopted the system, deploying a total of 600 Onyx Beacon One beaconing devices, which work in conjunction with the Carrefour Smart Shopping app running shoppers' Android smartphones. For customers who do not have a phone supporting Bluetooth Low Energy (BLE) beacons, or who wish to view content on a larger screen, Carrefour stores offer shopping carts fitted with Samsung tablets and loaded with the Smart Shopping app. In both scenarios, the app displays data relevant to the beacon's location.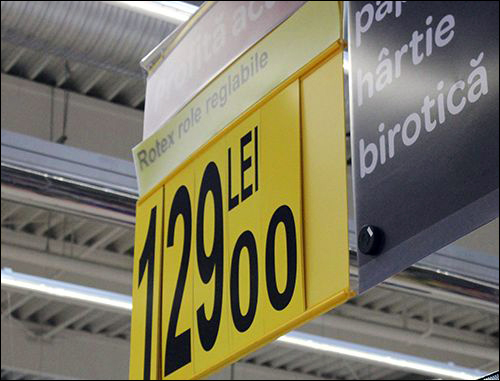 In the long term, says Bogdan Oros, Onyx Beacon's CEO, Carrefour intends to expand the kind of content and functionality it provides via the beacon system. (Carrefour declined to comment for this story.)
Onyx Beacon provided a software development kit that was used by Carrefour's own app developers and cloud platform developers to add beacon functionality to the Smart Shopping app. In addition, Onyx Beacon provided its cloud-based content-management system (CMS) to deliver content to a user's phone app, based on which beacon that individual is near. In the future, the company reports, the app will also work on iOS devices. Each store has approximately 20 beacons installed in key locations, including at the entrance.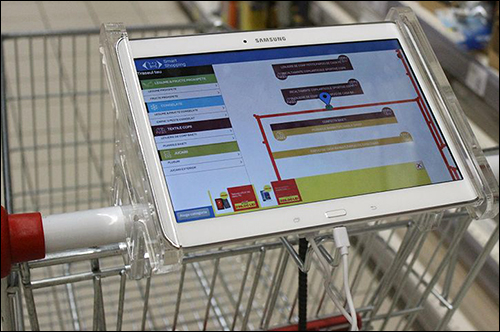 First, a consumer with an Android device that has BLE functionality downloads Carrefour's Smart Shopping app on Google Play. The user must then launch the app upon arriving at the store, Oros explains, as well as open the phone's BLE port. Apple devices have the BLE port open by default, he adds, so the iOS version of the app will not require users to complete that step.
The beacon at the store's entrance triggers the app to display content welcoming the customer and inviting him to choose the departments in which he wishes to shop, as well as noting a list of groceries for each department. He can then press the "start navigation" prompt and the application will calculate a route for him to follow, based on his current location and a map of the store. As the shopper follows the directions on the phone or tablet, the app displays coupons or offers, as well as other details about products within each particular department.
Deployment of the beacons at all 28 stores had to take place quickly, Oros notes. "This was one of the orders with a large quantity of hardware to be delivered in a very short time [frame]," he says, "but we managed the entire delivery within a few days."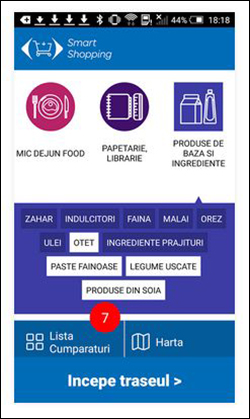 Carrefour is now working with its app developers and Onyx Beacon to expand on the system's functionality. "The biggest challenges are coming now," Oros states, "because we really believe that this improved shopping style delivered within this first Carrefour project could be seriously developed and enriched in order to deliver a special, attractive and exclusive experience for the customers." The retailer has yet to decide what the app's added features will be.
Oros speculates that Romania might have been a good choice for the retailer when it sought a location for a BLE deployment, due to that nation's well-developed IT industry, which has the capability "to quickly build and implement a project of this type," he says.
"We have now had conversations with other partners interested in introducing this solution in other countries where Carrefour is active," Oros reports, "not only in Europe, but also in Africa and Asia." At the same time, there are other global retailers interested in this technology that are already testing and piloting small deployments within their stores. "We can say that a global rollout is very possible soon," he predicts, "but not necessarily in the Carrefour network."
This article originally appeared on RFIDJournal.com on August 7, 2015