Dec 30, 2018Since the beginning of time, mankind has been focused on how to reduce human labor and how to upgrade life activities by developing survival tools. No wonder that today, every industry across the globe craves for automation and machine learning. Rapid technological advancements have enabled us to use effective tools that can minimize human work, as well as error.
Today, the Internet of Things (IoT) has become the norm. In the past, we used to control machines manually. For instance, if we wanted to use a water heater, we used to plan and schedule the time to turn off the switch. However, thanks to the advent of the IoT, we can control the "on" and "off" switches remotely with the help of nothing but a smartphone or a voice-controlled device. However, the incorporation of 3D technology in the IoT has given rise to a whole new disruptive era, and the opportunities are endless.

According to Allied Market Research, the 3D technology market is expected to reach $175.1 billion by 2020, registering a CAGR of 21 percent. Factors such as low operating costs, the ability to sustain higher temperatures and improved strength while maintaining low weight have propelled the demand for new products based on 3D technology.
During the last few years, several engineers have adopted 3D printing in manufacturing IoT devices, even though the technology is still in its infancy. The benefits of 3D printing, such as flexibility in developing various models in different scales, materials and colors, are the major drivers for the market players to include 3D technology in the IoT.
3D-Printed Enclosures for IoT Devices
This will be regarded as the most obvious use of 3D printing in IoT projects: using additive manufacturing for developing enclosures. As IoT applications are electronic devices, they need proper enclosure. With the help of 3D printing, the manufacturing of enclosures that seamlessly fit a product is possible. Moreover, according to the design of the IoT device, specific features including snap fits could be inserted during the production process in a heartbeat, with no additional costs.
Custom-made 3D-Printed Products
As we all know, IoT devices collect data that can be used to build amazing products. When the IoT is combined with 3D printing, the opportunities are infinite and designing custom-made products at a low cost is just a basic step. For instance, manufacturers can create custom-made 3D-printed running shoes according to a customer's weight and running habits, and the way feet behave during running sessions. Or, while designing a customized tennis racket, a company can use data collected regarding how a player performs during test sessions to design a 3D-printed racket that perfectly matches his or her requirements.
Communication Without Electronics
Researchers at the University of Washington (UW) have developed 3D-printed devices that can communicate with each other without using batteries or electronics. The engineering team used a method called ambient backscatter to develop these devices, which use antennas and radio signals for data transmission without external power.
According to Jennifer Mankoff, an engineering professor at UW, "Our goal was to make accessible assistive technology using 3D printing, and we came up with creating a circuitless solution that could be 3D-printed and allow the device itself to collect information. During the process, we found 3D technology and the IoT are the keys to the future."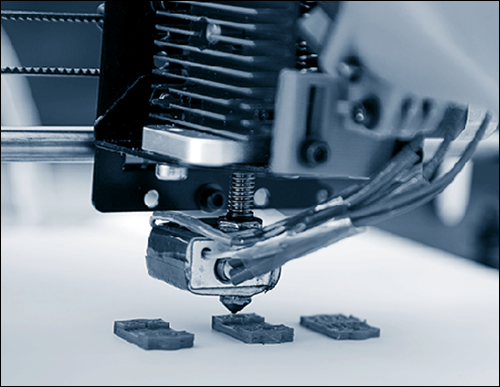 There are several benefits, such as speeding up the process of producing electronic components and completely removing the existing constraint of 2D circuit boards. In addition, 3D-printed circuit boards with different shapes could be designed and would offer opportunities to build better products. Moreover, 3D-printed circuit boards allow the creation of lightweight objects, which can be used in health care, military or aeronautics.
3D Printing + IoT + Health-Care IT
This is the ultimate trio for the disruptive future. It is true that 3D printing is still in its nascent stage, with recent technological developments opening new doors in the health-care sector. The most obvious use of 3D printing in health care is designing custom-made prosthetics and medical implants. The incorporation of 3D technology and the IoT would help surgeons take a closer look at a patient's condition and become familiarized with the diseased area prior to the surgery. Moreover, IoT devices could help to monitor a patient's vitals before and after surgery, and ultimately help diagnose a disease faster and more accurately.
We can only predict what the future would look like if the two rapidly changing industries of the IoT and 3D technology were to bind together. For now, we are able to see only a fraction of the possibilities; however, there is no doubt that 3D technology would disrupt the way we handle things in every industry.
Swamini Kulkarni holds a bachelor's degree in instrumentation and control engineering from Pune University, and works as a content writer at Allied Market Research. She is deeply fascinated by the impact of technology on human life, and loves to talk about science and mythology. When she is not glued to the computer, Swamini loves to read, travel and daydream about her areas of interest.