May 15, 2019U.K. fashion and homeware retailer Matalan has boosted its inventory accuracy by 30 percent, thanks to an RFID-based solution deployed across all of its 220 stores. The technology was installed and taken live following a two-store pilot, throughout the course of fewer than five months.
The system and the majority of tags were provided by solutions technology company SML. With the technology in place, the retailer has brought its inventory accuracy to more than 95 percent, enabling easy access to products for customers, whether in the store or online. The system was taken fully live in November 2018.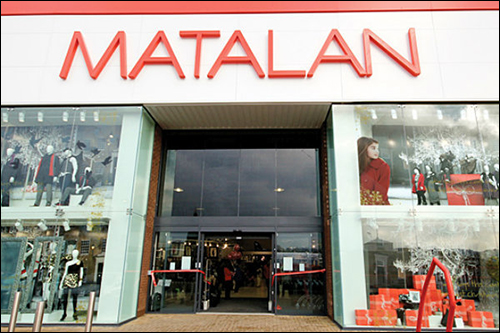 Like most retailers, Matalan is challenged with meeting the demand for fast delivery and easy availability of products for its customers, whether they are shopping online or browsing at stores. To provide consumers with quick access to goods ordered online, for instance, Matalan sought more accurate inventory data about which products were available at a given shopper's neighborhood store. By increasing inventory visibility, the company could better ensure that replenishment orders were placed as soon as an item was sold. RFID data also enables the company to access analytic data indicating how goods sell at specific stores, and to then adjust each site's inventory levels accordingly. Matalan has declined to comment for this story.
The company began working with SML to build a solution in early 2017, according to Dean Frew, SML's CTO and senior VP of RFID solutions. The technology was piloted at two stores between Liverpool and Manchester, in the cities of Warrington and Wigan, for a period of six months. The pilot helped the retailer test the technology and build a business case for its deployment, Frew explains. It then began rolling out the solution at 25 additional stores, then at 50 more, and eventually to all locations, in bi-weekly or monthly steps.
The solution consists of SML's Clarity software to manage read data, as well as EPC UHF RFID tags with NXP Semiconductors ICs applied to all products sold in the Matalan stores, including apparel, home goods, pillows, towels and blankets. Most products are tagged at the point of manufacture, then pass through the company's distribution center in Knowsley, England.
After tagged goods are received at the store, the tags are read on a cycle-count basis using a Zebra Technologies RFP8500 sled reader connected to a Zebra TC51 mobile computer, running a Clarity app to display read data and help associates perform inventory-management processes. Each store is equipped with multiple handheld readers and mobile computer kits. To ensure wireless connectivity between the handhelds and the software, SML utilizes existing Wi-Fi connections at the stores.
The unique ID number encoded on each tag is linked to the product's stock-keeping unit (SKU) in the cloud-based Clarity software, which resides in Microsoft's Azure cloud-computing platform. The data is then integrated with Matalan's own inventory-management software, Frew explains.

The read data is displayed on the handheld device, as well as on the Clarity dashboard, so that it can be accessed by store personnel conducting inventory counts, or by store managers, as well as at the company's headquarters, thereby providing a companywide view into inventory availability and performance. To further ensure the accuracy of inventory at each site, store associates conduct stock counts using the handheld readers at regular intervals.
The software can display progress in the receiving of goods, according to a particular order, on the handheld device. As such, associates can view any products that may be missing from an order as they read the tags. "We deployed a version of Clarity that was enhanced based on requirements that Matalan and other customers had shared," Frew recalls. These included enhancements to the stock-counting, receiving, returns and click-and-collect functionalities. Other features include peer-to-peer sharing of tasks for sales associates, aimed at improving operational efficiency.
Clarity's Cloud dashboard and enterprise portal provide a companywide stock count in real time, Frew notes, while also reporting analytics. To accomplish a fast rollout across all stores, SML used its Clarity Solution Simulation software to simulate the entire 220 stores and the millions of tags being stock-counted, thereby minimizing risk and ensuring optimal performance during the full deployment.
"It was a very collaborative team that worked on this project. That's one of the highlights of a project like this," Frew states. "We've found this collaborative partnership with our customers allows us to get to the successful end goal faster, with a lot less effort." In the future, he adds, Matalan is considering leveraging the RFID tags to enhance other processes and improve customer service at the stores.