Jun 30, 2014More than 40 stores throughout Norway are using a new radio frequency identification system provided by Norwegian systems integrator Front Systems to manage inventory data automatically, at an affordable price. Front Systems is supplying the RFID solution to fashion boutiques and other small retailers, to help them reduce the amount of manual labor previously required to conduct inventory counts and ensure that goods are available when customers want them. Three early adopters that deployed the solution last year are Tara - Espen Dronsett, Follestad and Høyer. As of this month, several more companies have begun installations, with a total of 41 stores currently using the RFID technology. Since developing the RFID solution in 2012, Front Systems has been doubling its revenue annually, according to Steffen Løpsmark, the company's business developer.
Front Systems was launched in 2009 as a point-of-sale (POS) software provider for small to midsize businesses, Løpsmark says, but as early as 2010, the company began focusing on EPC Gen 2 UHF RFID technology, after observing an RFID solution in use at a customer's retail locations. He joined the firm in 2012 and began spearheading the rollout of RFID solutions.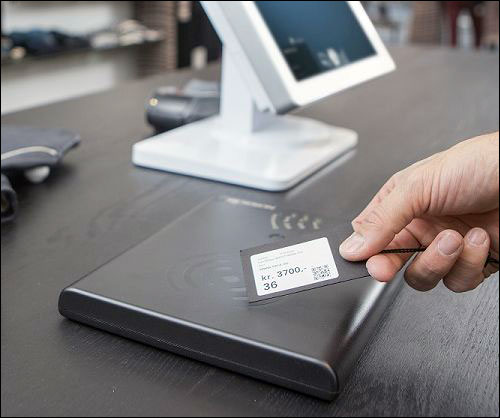 The problem for small or midsize retailers is finding an affordable way to track inventory. Manual inventory counts can take hours, often requiring that a store be closed for a day in order to complete a full count. And despite the labor put into that effort, Front Systems' customers have reported that manual inventory counts can often be inaccurate.

The priority for Front Systems was thus to develop a solution that could be installed quickly and at a very low cost. "Our point is that you don't have to be a member of a large retail chain to benefit from RFID," Løpsmark states.
Front Systems tested a variety of reader and tag products. It then developed RFID-based inventory-management software that a retailer can integrate with its point-of-sale system, whether the POS software comes from Front Systems or another vendor.
The solution features RFID labels made with Alien Technology's ALN-9728 "GT" RFID inlay, as well as Nordic ID's Morphic UHF RFID Cross Dipole handheld readers and Sampo S1 desktop readers. The Sampo S1 can be installed at sales counters to read the tags of merchandise being purchased (to date, only one customer is using it in this manner), or be mounted within a store's backroom to interrogate the tags of goods being received from a product supplier.
The Front System software resides on a user's server and can be accessed from remote locations via the Internet. This enables a retailer to, for example, view inventory data from an office at another location.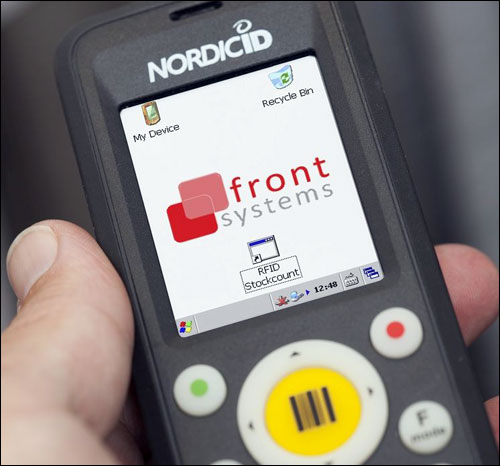 Most retailers are using Zebra Technologies' RZ400 RFID printers to encode and print their own RFID labels and apply them to goods as they are received from suppliers. The unique ID number encoded to each RFID inlay is then linked to the appropriate product stock-keeping unit (SKU) and date. Men's and women's fashion retailer Høyer, on the other hand, tags its merchandise at its distribution center and then ships those goods to its stores, each of which has an RZ400 printer to encode additional tags as necessary, for such situations as a returned item or a missing RFID label.
The Morphic Cross Dipole reader allows employees to conduct periodic inventory checks in the back room or storefront. The Sampo reader can also be used in various ways, such as interrogating tags on merchandise as it is received at a store, assuming those tags have been applied in advance.
Generally, the handhelds utilize the store's existing Wi-Fi network to transmit data back to the Front Systems software via the Internet. What's more, when a store's customers purchase items, the POS software shares that data with the Front Systems software, thereby updating the inventory. Store managers can then view updated inventory counts and determine when merchandise requires replenishment.
If the RFID tags are applied to goods at the warehouse or DC, managers can also view whether any merchandise had gone missing and never reached the store. To attain this visibility, a company can read the tags at the DC or warehouse as goods are loaded onto a delivery vehicle, and again when they arrive at the store. The Front Systems software can then alert the retailer if any items are missing.
Some of Front Systems' customers are now also installing fixed RFID reader portals using the Sampo reader at store doorways. They are then linking the collected read data to an alarm system that can sound an alert if unpurchased merchandise is being removed from the store.

"We chose RFID in order to have more accurate numbers related to inventories," says Inge Nygaard, Høyer's CFO. All eight stores that it owns are now equipped with the technology, as are eight of the 15 Høyer stores operated by franchisees. By using an RFID reader to capture all tagged goods at regular intervals, he says, each store has a more accurate record of what is and is not onsite. "Also, cost saving is a key motivation," Høyer states. "As labor is expensive in Norway, all measures that can reduce labor cost are welcome. RFID is one such measure that, when used correctly, can save both labor costs and the costs related to the closing of stores for inventory counting."
According to Nygaard, the benefits of deploying RFID cannot be measured immediately, and he is still gauging the results since Høyer began installing the technology at its stores in late 2013. "We are still in the phase of adjusting ourselves in order to adopt routines and processes to the technology," he says. "The key benefits are yet to come" though he has already found inventory counts to be more accurate. The company's goal is to eliminate the need to close any stores for inventory counting this year.
Løpsmark says the initial findings from all of its customers have shown inventory accuracy to have risen from about 70 percent to 99 percent. Although Front Systems has been marketing its technology primarily in Norway thus far, Løpsmark expects the solution to be made available internationally by next year. "We're looking to expand abroad," he says, including throughout Europe and North America.