Dec 17, 2018Several packaging companies in Asia have begun testing a new low-cost Near Field Communication (NFC) label solution, customized to their needs, with labels that have a built-in flexible, ultra-thin IC intended to make the picking of RFID tags and their placement onto packaging easier than with standard RFID labels. The label itself will have little impact on the packaging.
Smooth & Sharp Corp. (S&S) and PragmatIC are collaborating to develop a new low-cost NFC and HF label manufacturing solution with PragmatIC's flexible IC and a printed antenna. The system can be customized for mass production in labels or on packaging.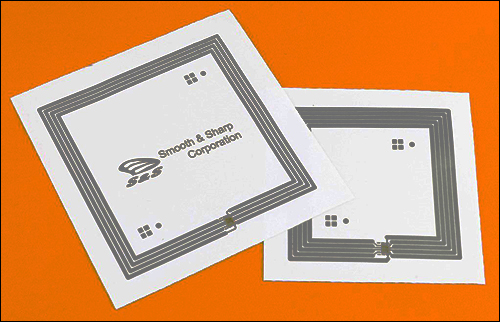 S&S, a tag manufacturing service provider, has built and tested a flip-chip machine to accommodate PragmatIC's chips, known as FlexICs, which will enable fast throughput and, therefore, low assembly costs. The FlexICs are designed to be thin and bendable, in order to enable a single antenna layer, and can be attached to paper or plastic inlays. The inlays produced by S&S with the FlexICs operate at 13.56 MHz for NFC and HF products, says Gillian Ewers, PragmatIC's marketing VP, while UHF labels are expected to follow.
S&S is a Taiwan-based tag manufacturing service provider. The company specifies and customizes labels for packaging companies, according to Alan Wu, S&S's CEO, that are increasingly attaching or embedding NFC or HF labels into the packaging they sell to customers. "We can convert an inlay into a label," Wu states, and packaging companies use S&S's services to create labels they can then attach to products to meet the specifications of their own clients, such as product brands. "Our solution is modulized," he says, and can include a standard IC or FlexIC. Its manufacturing solutions can operate with both aluminum and printed antennas.
PragmatIC, launched approximately a decade ago, has been working for years to develop a flexible chip. It partners with companies such as Avery Dennison, as well as now with S&S, to provide a full solution for those buying and using the RFID labels.
"The end users want the whole system with the chip, the inlay, the software and everything to go with it," Ewers says. "This is why we partner with people like Avery, and now S&S, to bring the whole ecosystem together." S&S can manufacture up to 4,200 UHF RFID labels per hour with the FlexIC.
The announcement comes at a time when the NFC market is growing, Ewers says. "There's been quite a bit of change in the market over the last year," she adds. Since Apple is opening access to NFC functionality in its iOS devices, brands are increasingly testing or deploying NFC-based solutions for customer loyalty, authentication or other product-management purposes.
Part of the appeal of NFC, Ewers notes, is the ability for companies to own their own customer information. Traditionally, brands have had to employ a third-party vendor to collect and access data regarding their customers' behavior, but with NFC, they have direct access to each consumer who taps a smartphone against the label to gain coupons, loyalty points or information. Until recently, however, NFC has faced several barriers to large-scale deployments, Wu adds. The cost of applying an NFC tag to packaging is among those obstacles, which has led to the technology being used only on higher-priced or luxury goods.
Packaging companies offering NFC functionality to their customers are employing automatic label-application machines, Wu reports, and the pick-and-place process, especially with the rigid silicon chips, makes this difficult and expensive. "Silicon has its limits," Wu states. "We find that customers using HF [or NFC] are looking for something different than silicon."

One limit of silicon-based chips in NFC labels, according to Ewers, is the bump that comes with the form factor. Consumers would be able to feel the bump in the label in which the chip is embedded. Additionally, the rigidity of silicon means that even though the chip is tiny, it could still fracture during the process of application, or in the supply chain. Then there is the expense—although the chip represents only a fraction of an inlay's cost, Ewers says, the price for end users will be reduced since the FlexIC is cheaper than a silicon chip, and because label manufacturing is easier.

The FlexIC tends to be larger than the small silicon chips, Ewers adds, with a plastic insulator, and can serve as a bridge for two sides of the antenna loop. As such, it eliminates the need for the metal crimp that is required with a silicon chip, resulting in two layers of aluminum to ensure the connection of both sides of the antenna. Having already tested the IC on its machines in-house, S&S can now produce the labels in large numbers. During the coming weeks, Wu says, he will meet with several large Asian packaging companies that are interested in using or piloting the new labels.
For PragmatIC, Ewers reports, S&S is a good partner because of its access to Asian companies, as well as its ability to offer full, custom solutions. "They have their own assembly equipment," she says, "and can also offer customization, as well as having regional connections in Asia. When people are just starting their journey doing RFID inserts, S&S is good at helping new companies grow into [the technology]."
Next year will be a pivotal period for HF and NFC applications, Ewers predicts. "Until now," she says, "they have been quite low-volume and have been for high-end goods." She expects to see applications emerge in the coming months or years involving products valued at less than $5.
S&S and PragmatIC expect more companies will begin attaching NFC labels to their brands as a way of interacting with customers who use smartphones to capture data from the labels. "In 2019," Ewers states, "we hope to see case studies showing good tap rates," as well as high interaction and considerably more marketing projects. While the companies are initially offering HF and NFC products, she adds, future chips will accommodate UHF, or may be combination chips with both HF or NFC and UHF functionalities.