Apr 13, 2021Spanish bookseller  Ona Llibres opened a store last year that aims to offer visitors more than just shopping. The shop, located in the center of Barcelona, is designed to provide an immersive reading experience. The company is leveraging RFID technology to accomplish this goal, and is enhancing the customer experience through automated access of book content, as well as self-service purchasing, while managing its inventory to ensure books that should be on the shelves actually are.
The solution was provided by Spanish systems integrator  Laforja, using UHF RFID reader technology from  Keonn Technologies. Keonn provides RFID printing and encoding devices for tags applied to books, along with handheld inventory readers and RFID-enabled kiosks for customer interactions and payments.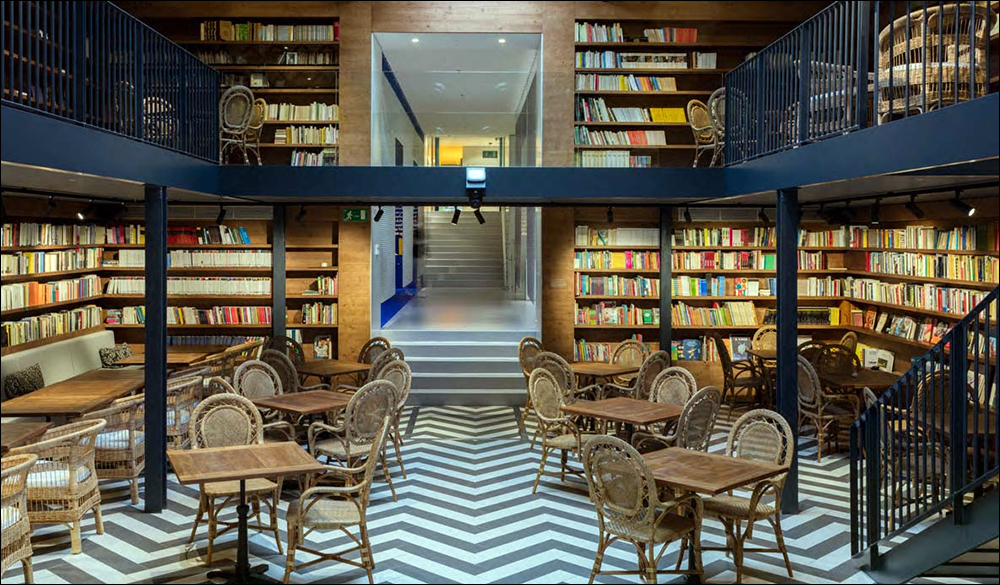 The new store, which focuses on Catalan culture and offers books only in the Catalan language, opened last spring with the RFID technology in place. It is owned by the Ona Llibres chain, which has sold books for the past 50 years. This newest location, however, is designed to be an alternative to standard stores that commonly feature rows of shelved books and long lines at cash registers. Instead, the company wanted the space to focus on the customer experience. It includes a café, large art installations featuring a "wave of books," and specialized volumes intended to be read on site.
The bookstore offers a dedicated area in which books are not for sale; these rare or specialized volumes can be browsed onsite only. It also hosts author presentations that can be attended at the shop or be viewed on YouTube. "Technology has a significant role in the new bookstore of Ona Llibres," says Eduard Puig, Laforja's CEO. The main goal of the implementation was inventory control, he says, and the store sought to offer "a differentiated shopping experience" to customers. "They are using RFID for everything you need in a retail store," explains Ramir De Porrata-Doria, Keonn's co-founder and CEO.
As books are received by employees, RFID tags are printed and encoded for each product, using Keonn's AdvanPrint solution. The unique ID number encoded on each tag is linked to a specific title and author in the software. The tag is then affixed to the book. In that way, every volume can be uniquely identified as it moves throughout the store. The retailer keeps a limited amount of inventory on the sales floor, in order to maintain an uncluttered aesthetic. This means inventory in the back room and at the front of the store must be tracked closely. When a book is sold, the company employs the RFID system to ensure it can be quickly replaced where customers can access it.
The store is using Keonn's AdvanCloud platform to manage the collected data, De Porrata-Doria reports. The software allows catalog management, as well as control of RFID devices and inventories. "It is very powerful," Puig explains. "In addition, it has a very useful API that allows us to integrate with the client's systems." On a regular basis, employees can perform inventory counts using a Keonn AdvanScan handheld device with a built-in  Chainway C72 RFID reader.
As personnel walk among the shelves carrying the reader, it captures the IDs of all tags in inventory. That data is then updated in the AdvanCloud software to identify all items located onsite. This information helps the store manage inventory replenishment, as well as understand information about historic sales patterns. The handheld is used not only for inventory counting but also to seek specific products on the store shelves. Staff members can input a given book title or author, then use the reader to seek the related tag ID while walking around the store.
In addition, the RFID system provides multiple features for customers. Six Keonn AdvanLook kiosks come with 10-inch touch screens, as well as the company's RFID readers to provide details regarding books for customers at the store. Users can take a book off the shelf and place it near the kiosk, then the AdvanCloud software will capture data about that title and display related content on the screen. Customers can learn about that book or receive recommendations for others that may interest them as well.
When patrons are ready to make a purchase, they can use one of seven AdvanPay RFID reading kiosks installed at the store, where they can place the books they wish to buy on the counter. A built-in reader will capture all of the tag IDs and the screen will list the products being purchased, along with the sales price. Shoppers can provide their payment information and finalize the transaction.
The AdvanCloud software was integrated with Ona Llibres' enterprise resource planning software for catalog maintenance and inventory management. In addition, for the interactive data at the AdvanLook kiosks, Laforja custom-designed content in accordance with Ona Llibres' corporate messaging, Puig says. The store employs specialized UHF RFID tags for books that do not leave the room in which they are viewed, with fixed readers capturing their IDs and alerting management to any problems that may arise.
Applying RFID tags to merchandise throughout the store posed some challenges, the company reports, since books that are not sold must be returned to suppliers without tags on them. To that end, Laforja worked with the bookseller to identify tags that could be removed from books without causing any damage to the covers. The firm chose  Dipole RFID's removable label based on  Avery Dennison Smartrac's Web inlay.
The store opened last spring and has maintained operation throughout most of the COVID-19 pandemic. The main benefits, Puig says, have been inventory control and the customer shopping experience. "Thanks to RFID," he states, "all books are uniquely identified, stock is fully controlled, queue times are minimal and customers have extended information on all books with interactive screens."
Keonn has provided RFID technology solutions to retailers since 2011, including to fashion sellers in Spain and worldwide. It provides tag encoding, automatic inventory and tracking, interactive retail systems, points of sale and loss prevention, along with its AdvanCloud and AdvanNet software. The company has also served libraries with book-tracking RFID systems. However, De Porrata-Doria says, the Ona Llibres deployment is unique. "Bookstores traditionally are not focused on image," he explains. "This one is—this store is really something spectacular."