Avery Dennison releases Digital Product Passport as a Service; Sumitomo partners with Rapyuta Robotics for UWB solution; Pepperl+Fuchs Releases two new HF RFID products; ButterflyMX launches video intercom systems for access control with RFID connectivity.
Avery Dennison Releases Digital Product Passport as a Service
Nov 10, 2023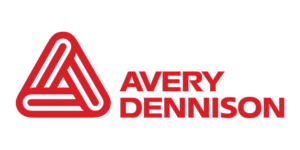 Avery Dennison Corporation has launched a new service called DPPaas (Digital Product Passport as a Service) to help brands prepare for EU legislation on Digital Product Passports. Burton Snowboards is the first customer to use Avery Dennison's new, on-demand, end-to-end service. It includes consultancy, hardware, software, digital ID technology, physical labels, and support services.
The company aims to provide brands with a holistic approach to preparing for the pending DPP requirements. In this effort, the DPPaaS will follow the European Commission's Circular Economy Action Plan (CEAP), which requires a digital passport, first in 2027, for apparel and textiles, batteries, and electronics. Avery Dennison will advise brands on the digital solutions needed to meet those requirements.
Avery Dennison will include DPPaaS in its digital solutions portfolio, which it says connects the physical and digital worlds through its intelligent labeling. This includes atma.io, the company's connected product cloud platform. Already, the company tracks 30 billion items, it says, across the supply chain for global brands, using atma.io.
Snowboarding and outdoors company Burton already uses digital solutions from Avery Dennison across its business, including RFID, to manage products and improve the customer experience. The company will now be one of the first retailers testing DPPaaS to meet demands around DPP legislation.
Sumitomo Partners with Rapyuta Robotics for UWB Solution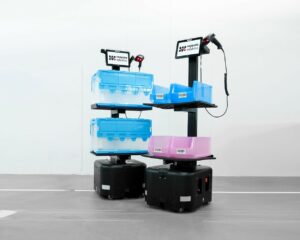 Japanese electronics company Sumitomo Corporation of Americas (SCOA) and Rapyuta Robotics have partnered to offer fulfillment operations technologies to warehouses across the United States. This collaboration will include UWB real-time location (RTLS) technology as a combined solution. The result, the companies say, will be an improved item or SKU-seeking time, greater picking accuracy, and better safety in the workplace.
SCOA and Rapyuta began working together last year and found that Autonomous Mobile Robots (AMR) and Automated Guided Vehicles (AGV) could solve challenges for logistics providers, including improving labor efficiency. Rapyuta sells its pick-assist (PA) AMR in Japan for multi-robot coordination and cloud robotics. As the largest subsidiary of Sumitomo Corporation, SCOA is connected to a global network of companies, offices, and facilities.
Already, Rapyuta reports that its PA-AMR has more than doubled productivity in order picking while addressing staffing shortages by reducing labor requirements. By combining it with UWB RTLS, customers will also gain insights into the routes and stops delivery personnel take. This will aid in further process improvement, the companies say.
The two companies will jointly exhibit their technology solutions for retail and warehouse fulfillment in New York City at the annual National Retail Federation conference and expo in January 2024.
Pepperl+Fuchs Releases Two New HF RFID Products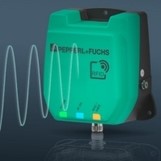 Sensor company Pepperl+Fuchs offers two new HF RFID products with unique read range and compact size. The 13.56 MHz products, complying with ISO protocol 15693, are read-write devices for use in near-field RFID applications. Both devices have a read range of up to 30 centimeters, which can be adjusted down, and can detect up to 20 RFID tags with a single read. Both new devices are engineered to automatically check their resonance frequency to adapt to interference caused by the installation location, surrounding materials, or radiation.
The IQT3-FP-IO-V1 comes with an integrated IO-link interface. The IQH3-FP-V1 can be integrated via IDENTControl. Evaluation units are being sold by Pepperell+Fuchs now. The company develops and manufactures electronic sensors and components for a global automation market.
ButterflyMX Launches Video Intercom Systems for Access Control with RFID Connectivity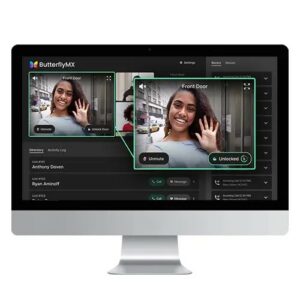 Property access systems company ButterflyMX has released its next-generation 8-inch and 12-inch video intercom systems for access control in gated communities, student housing, and commercial properties. The company's latest video intercom system offers video and sound for an improved property access experience for residents of a secured area, workers, visitors, and service providers. The systems can also be installed in mail rooms, electrical rooms or closets, or for parking area access.
The new solution offers an improved form factor and enhanced hardware, the company says, as well as a simplified installation. They can also be paired with the ButterflyMX ecosystem of property-wide access control products, including its access control system, package room, elevator controls, vehicle access, and smart lock integrations.
The 8-inch and 12-inch products come equipped with an ultra-bright LED display, a high-definition wide-angle camera, and an array of wireless connectivity options, including Wi-Fi and low frequency (LF) 125 kHz RFID. This means users with RFID-enabled badges or cards could access a space while also taking advantage of the video intercom functionality.