Jan 03, 2019Beekeepers face logistical and time challenges when it comes to managing the conditions of their bee hives. These companies tend to maintain thousands of hives, stored in hundreds of yards, often in rough remote terrains. To track the conditions the bees in each hive face in near-real time, Montreal-based technology company Nectar has built a solution using Near Field Communication (NFC) RFID, Bluetooth and cellular technologies.
The system—consisting of two sensor devices known as Beecons, with NFC tags and readers, Bluetooth radios, a cellular gateway and cloud-based software—enables beekeepers to receive hourly updates regarding conditions that include temperature, humidity, sound, motion, the presence of parasites or the absence of a queen in each hive, swarming activity, and honey quantity and quality. Approximately five North American bee companies are now testing the technology, says Xavier de Briey, Nectar's CTO.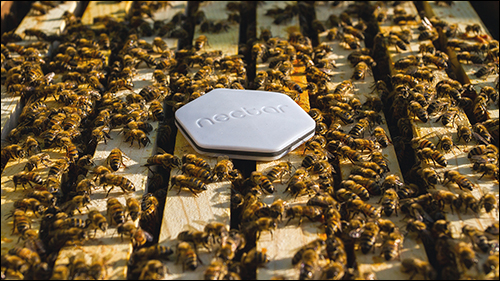 By managing that data, the technology company predicts beekeepers can help to prevent the loss of colonies within their hives, and thereby not only increase honey yields, but combat the global challenge of bee population collapse. The loss of bees poses multiple economic and environmental challenges, including the lack of pollination for farmers.
The population loss rate of bees has been between 23 and 40 percent annually, according to an Environmental Protection Agency (EPA) study. The decline's cause is not fully known, but maintaining proper temperatures and addressing the presence of parasites may prevent some losses. Temperatures that fall too low during the winter, for instance, can cause a colony to die. If a queen is lost, the colony will be lost as well.
Without the technology, beekeepers must visit sites in person and use pen and paper to manually record what they find. They can address problems that might arise in an effort to save the bees, such as introducing a new queen if one has died, or attempting to eliminate parasites from a hive. The inspections, however, are not only intermittent, but time-consuming. Between those physical inspections, de Briey says, "There's no visibility to what's happening with a hive in real time, so we provide a new paradigm with sensors and artificial intelligence."
Nectar offers software-as-a-solution (SaaS) with its own sensors to track conditions in places where beekeepers often have trouble making regular physical visits. "The value we bring to market is prevention," de Briey states. "Beekeepers today are more often only able to react when bad events are already happening." The Nectar system aims to turn that process on its head, he adds, by alerting beekeepers before a problem arises.
The solution consists of one sensor device installed in each hive. By tracking temperature and humidity levels, each unit can identify if a hive becomes too cold, a queen is missing or water is building up, while a microphone, tracking sound, identifies potential problems such as if the bees have begun swarming.
In addition, the units in the hive come with a rechargeable battery. The hardware electronics were provided by Motsai, while the enclosure design was supplied by ALTO Design. Each Beecon also comes with an NFC 13.56 MHz reader, compliant with the ISO 14443a standard, to enable connectivity with beekeepers via their mobile phones. The hive also has an NFC tag attached to it. When beekeepers install a unit in a new hive, they can use an Android-based smartphone to capture the unique ID number on the hive's NFC tag, and link it to the Beecon device, which accesses software in the cloud. They can then input data about the hive so that it can be uniquely identified in the Nectar software.
The sensors capture bee hive-related data, which they transmit every hour, via a Bluetooth connection, to a gateway known as a BeeHub, which has a range of approximately 50 meters (164 feet). The BeeHub that receives hive unit transmissions is solar-powered, with a built-in GPS unit for location and cellular connectivity. The BeeHub aggregates the hive sensor data and uses its cellular signal to send data to the cloud.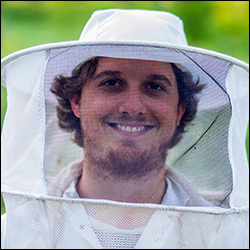 There, the software can provide analytics to further identify specific conditions. For instance, de Briey says, the queen bee serves as a temperature regulator inside a hive. If the temperature is stable and unchanging, that indicates the queen is present. If the temperatures fluctuate with outside temperatures, the system will identify that the queen may not be alive. Audio recordings also help to identify the queen's presence and the activity of the remainder of the colony, indicating a parasite or swarming activity.
The NFC RFID technology is intended to ensure beekeepers can quickly identify the specific hive on which they are working in the bee yard. "Every time you want to switch the sensor device to a new hive, you use RFID to pair it," de Briey explains. "That makes it a very reliable and fast process." Typically, he says, beekeepers need to spend no more than three minutes setting up each hive.
That's important, de Briey says, since the work is being done under challenging conditions. Workers do not want to disturb the hive any longer than necessary, and they wear heavy protective gear, including gloves, so they can't write notes or press a lot of buttons to capture or store data. "All competitors use an app," he states, "but for us, we noticed gloves make it hard to work with an app." Instead, the Nectar system simply accesses the server so a user can view the hive's identity without having to press buttons. The RFID tag also comes with a QR code that enables an individual to access the server where data is being collected and stored.
In a typical beehive yard, there could be around 25 hives, and only a single BeeHub would be necessary. The 50-meter range could potentially be increased, de Briey notes. "We have a chip set that can do 270 meters," he says, but there are several environmental challenges that could reduce that range—namely, the presence of honey and wax, which can obstruct transmission.
Approximately five companies are currently testing the technology, de Briey says, and they are large operations. In fact, he adds, one customer has around 10,000 hives throughout a total of 300 yards. The company's existing or potential customer market operates in the United States (in California, Florida, Texas and North Dakota), as well as in Canada (in Alberta and Quebec).