Jul 29, 2014Following two pilots conducted at Bay Area hospitals, San Francisco-based startup PantryLabs has begun selling its smart sensor-based refrigerated vending machine, known as a Pantry, to enable businesses—such as health-care facilities, restaurants and other food sellers—to dispense fresh food automatically. The Pantry has a built-in RFID reader to track the items stored inside the unit via tags affixed to food packaging. The company initially has 1,000 of the kiosks available for pre-orders.
PantryLabs developed the solution to allow users to monitor the food inventory inside vending machines, view alerts to restock those machines, and prevent products from going out of stock, thereby reducing sales. PantryLabs' customers "want to extend their reach of point of service," says Art Tkachenko, PantryLabs' CEO. Although they can sell fresh food to workers and visitors during business hours, companies that continue operating throughout the night are often unable to provide the same food service during that time.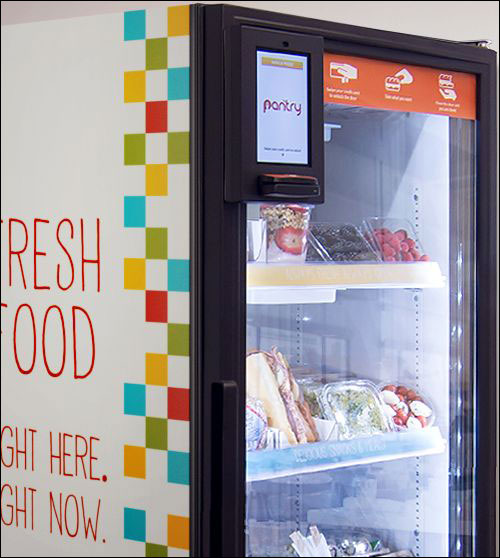 This spring and summer, the University of California, San Francisco Medical Center's nutrition and food services department and Stanford Health Care each piloted a refrigerated kiosk to determine whether they could use the Pantry system to provide fresh foods and cold drinks to employees and visitors, even when staff members were not available to sell the product personally.
"Our operations have used traditional vending machines for years," says Charles Davies, the UCSF Medical Center's associate director of operations and culinary innovation. The machines dispense packaged snack foods and beverages. However, he says, stocking and managing a vending machine with fresh foods can be time-consuming. "With the use of RFID tags and PantryLabs' kiosk, we now have expanded our vending options to fresh refrigerated food," Davies states. That includes sandwiches, salads, fruit and entrées, such as burritos, that can be microwaved.
The medical center is open 24 hours a day, while its café closes at night, leaving personnel and other customers with few food options except those items sold in vending machines after business hours. In April 2014, UCSF installed the Pantry, which resembles a refrigerator with a door made of clear glass.
The Pantry has a ThingMagic Mercury6e RFID reader module and a reader antenna on each of its shelves. The unit employs a Wi-Fi or 3G cellular connection to PantryLabs' hosted server, Tkachenko explains, where data regarding its inventory is stored and managed. The use of a cellular connection versus Wi-Fi, he notes, depends on network stability.
First, upon acquiring and installing the Pantry, users apply a PantryLabs RFID label—with a built-in Impinj Monza 4D chip that PantryLabs has pre-encoded with a unique ID number—to each food item. The label's ID is linked to the food item's description and expiration date, which employees input into the software, and the item is then placed inside the kiosk, where its ID number is captured and stored automatically in the server's software.
To use the Pantry, a consumer first swipes a credit or debit card through a mag-stripe reader installed on the kiosk's front, prompting the refrigerator door to unlock. The individual then opens the door and removes the desired items. Once he or she closes the door again, the system considers the transaction complete, and the software determines which items have been removed. The total cost is then charged to that person's credit or debit card account.

The UCSF Medical Center's food service operators can view inventory status on the PantryLabs server, and can thus determine when products need to be restocked, as well as when a particular food item has reached its expiration date and should be removed from the kiosk. In addition, the software provides analytics regarding which products are selling the most, at what times of day and on which particular days of the week. This information can not only help Davies ensure that the proper inventory is available to meet demand, but also help prevent shrinkage related to food unpopular with customers expiring before it can be consumed.
"We have been impressed and pleased with the technology, and have experienced very few glitches," Davies reports. Since the machine's installation, he says, "sales have steadily increased."
The glitches, he says, have involved RFID tags falling off items, leading to customers not being properly charged. In addition, customers' failure to follow instructions to remove the label before placing an item into the microwave oven sometimes leads to arcing and smoking, he adds.
Based on the pilot's results, Davies says, "We will continue to use the technology as we are currently, and intend to extend services to other locations in the near future."
PantryLabs is partnering with companies that maintain and service the machines, while PantryLabs itself focuses on managing the data generated by the units. It currently has 15 Pantry machines deployed with customers, according to Talia Soffer, the firm's business-development manager. Additional kiosks are expected to be shipped to customers and installed by the first and second quarters of 2015.