Jun 17, 2013After Sean McHugh lost his right forearm in a construction accident 11 years ago, he was fitted with a prosthetic arm and hand. But simple acts, such as picking up a wine glass, putting on a coat or carrying a briefcase, were complicated undertakings, often fraught with frustration or mishaps. His grip might change unbidden or require a taxing effort.
McHugh tried two types of prostheses: One was cable-operated, and the other was myoelectric, which means it used a sensor to convert muscle movements to electrical signals to open and close the hand and vary grips. Both had limitations in terms of reliability and ease of use.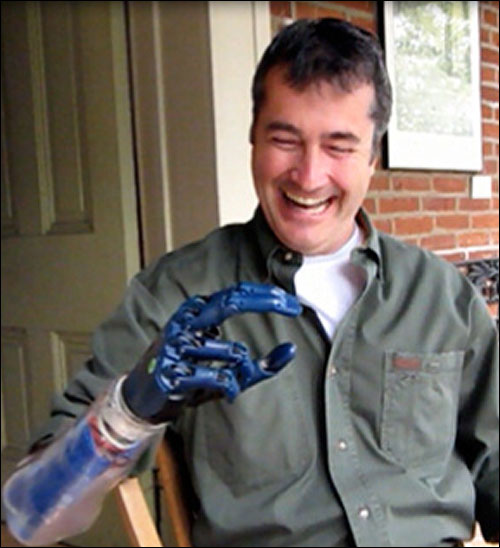 That changed last year when McHugh was fitted with a myoelectric prosthesis equipped with a built-in radio frequency identification reader. He keeps several RFID tags in his shirt pocket, on his belt and in other convenient locations, and each is programmed to affect a specific position, such as a pinching grip. To get his prosthetic hand to move the way he wants, he simply passes it over the appropriate tag. He is now able to control his right hand, making it easier to put a gallon of milk in the refrigerator and carry out other routine tasks.
McHugh was one of several amputees chosen to test the prosthetic device, called MORPH (Myoelectrically Operated RFID Prosthetic Hand), and provide feedback to the researchers at Infinite Biomedical Technologies, which developed the system. "The day I got the prototype, it was a joyous occasion," McHugh says. "It changed my future. It's a wonderful feeling to reach for something and have my hand go in the right position. This saves me time and gives me confidence. It replaces disability with ability."
Infinite Biomedical Technologies, a Baltimore-based medical device maker spun out of Johns Hopkins University in 1997, describes its mission as finding innovative breakthroughs to improve prostheses. And the company believes it has done just that with its MORPH product. "The power of RFID is that it allows the patient to take control of their environment to whatever degree they want," says Ananth Natarajan, co-founder and board member of the privately held firm.
Mission Control
Nitish Thakor, the company's co-founder and a professor of biomedical engineering at Johns Hopkins, came up with the idea for using RFID to make it easier to control myoelectric prostheses and improve daily life for amputees. Planning and design of the initial MORPH prototype began in 2009. Graduate students from Johns Hopkins' biomedical engineering program worked on the software and hardware development and design. Interns helped with the embedded systems and the graphic user interface.
The MORPH is installed near the wrist of the prosthesis, attaching to the hand via a coaxial plug. It contains two circuit boards. A small (21- by 19- by 6- millimeter), 125 kHz low-frequency RFID reader, from ID Innovations, is attached to the master board. That board also contains a microcontroller, which receives the tag information from the reader, and a Bluetooth reader, used to program the RFID tags. The other circuit board contains a custom-designed antenna. The device has a read range of 11 centimeters. Since only the tag's unique ID is transmitted between the tag and the reader, minimal data transfer occurs.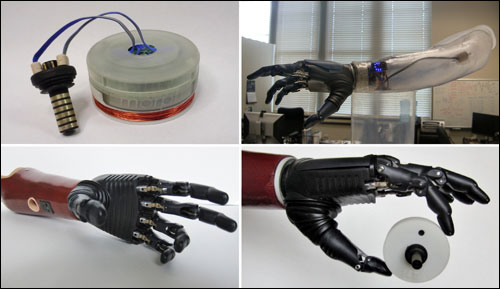 The system uses LF tags in different shapes and sizes from multiple vendors. Business card-size tags (RFID125-ISO-5) from Olimex, for example, can be used in the home or office for activities such as preparing food and typing at a keyboard. Button-size tags (EM4102) from Trossen Robotics can be clipped to clothing or tucked in pockets to help position the hand for tasks like putting on a jacket or hat.
The MORPH uses two software packages, developed by Infinite Biomedical. One is embedded in the microcontroller and controls the device's operations. The software prioritizes commands from the tags, which mimic muscle signals from a user, and based on that input, it controls the position of the artificial hand. When a user moves the hand near a tag programmed to trigger a specific grip or position, it sends a signal to the microcontroller to form the associated position. Interference or noise from other RFID tags within read range is not a problem, because MORPH reacts only to tags that have been programmed to work with it.
The other software lets the user program the RFID tags. It runs on the user's computer and communicates with the microprocessor via Bluetooth. The software can be used to modify the hand and finger positions associated with each RFID tag.
Feedback
After almost two years of planning, design and testing, the researchers had their first working prototype. For the next 18 months, they put the device through rounds of evaluations with amputees and medical professionals who specialize in prosthetic rehabilitation. The feedback they gathered on functionality, consistency and performance guided further refinements.
Information gleaned through a pilot study with two amputees, for example, led to an overhaul of the MORPH design. The participants made it clear they were not interested in replacing their myoelectric prostheses with a different device. Instead, they wanted to increase the options for controlling the existing prostheses in different environments or conditions. "We had a unique collaboration with patients and clinicians," Natarajan says. "That allowed us to try a lot of things."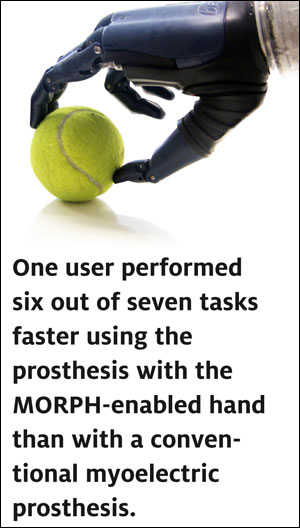 In addition to collecting feedback from prototype users, Infinite Biomedical conducted evaluations, including a Jebsen Hand Function test, a standardized test used by health professionals to evaluate how people with hand disabilities complete routine tasks, such as writing or picking up a bottle cap. One user performed six out of seven tasks faster using the prosthesis with the MORPH-enabled hand than with a conventional myoelectric prosthesis, according to the company. The other performed four out of seven tasks faster. In another test that involved switching between different grips to perform tasks, both amputees achieved faster results using the MORPH-enabled hand. Based on the studies and data collected, Infinite Biomedical estimates use of the MORPH can result in a time-savings of 20 percent. The company says the improvements result from the fact that the read rate for the RFID tags is 100 percent, while myoelectric limbs can easily misinterpret muscle signals and offer inconsistent results.
"The change is dramatic," says Natarajan. "This changes people's lives."
Getting a Grip
Infinite Biomedical CEO Rahul Kaliki managed the process of bringing the MORPH to the market; it began shipping in May 2013. Each MORPH unit comes with 20 tags, but a customer can use as few or as many tags as he or she wants to program the different grips and hand positions. "People start with a small set of tags and they experiment," Kaliki says. "Our job is to give them many options with the tags."
MORPH is compatible with prostheses from various manufacturers and can be retrofitted for use with existing commercial myoelectric limbs. This means amputees already using a prosthetic can add a MORPH device and improve functionality of the limb. Customers can visit Infinite Biomedical's offices and have the MORPH installed there, a process that takes roughly 10 minutes. Or, prosthetists can install the unit in their offices. Customers receive training to get to know how to use the tags.
In most cases, it takes an hour or less for a person to learn to use the MORPH once it's installed in their prostheses, but there is a longer learning curve in determining how to effectively integrate the RFID tags into daily routines, says Martin Vilarino, an Infinite Biomedical research engineer. "The goal is to find the places where these tags offer the maximum potential," he says. "We think this is a great area for creativity, where users can learn to use the product in a way that is tailored to them. Our goal has always been to create a personalized solution, that while used differently by each individual, accomplishes the same goal: reducing effort and increasing satisfaction."
The company plans to continue improving the MORPH and expects to add features such as vibration motors and buzzers that would activate when a tag is programmed successfully or when it comes within range of the reader. This would let the user know the system is working properly and could be deactivated if the customer prefers. Researchers at Johns Hopkins are also investigating the possibility of using tactile feedback and tags with sensors.
McHugh, who works in sales in the home-automation industry, is using a MORPH-enabled prosthesis, manufactured by RSLSteeper. He hopes future iterations of the device will help him increase his wrist motion.
Providing feedback that has impacted the product's features has been hugely satisfying for McHugh. It has not only led to a device that better fits his needs, but it has also opened new possibilities of things he can accomplish using his prosthesis. "As an end user, you are not typically involved in research and development," he says. "This has given me the opportunity to dream."