Mar 04, 2020An article published by Bloomberg (see Don't Toss That Cup: McDonald's and Starbucks Are Developing Reusables) reports what is already widely known in the Internet of Packaging sector: that radio frequency identification, QR code and digital printing technologies can, in addition to offering several business resources, assist in brands' sustainability. This facilitates environmentally friendly operations such as recycling.
The initiative, known as CupClub, involves reusable coffee cups that are intended to replace the disposable ones thrown away by billions of people every year. The project's goal is that consumers in the future, when ordering coffee at McDonald's or Starbucks restaurants, will be able to be served via the same cup they'd used during prior visits.

This, according to the Bloomberg story, underlies a two-year pilot called the NextGen Cup Challenge, led by Starbucks and McDonald's. The test will introduce two types of reusable and smart cups in coffee shops throughout San Francisco and Palo Alto, Calif. The new cups are mainly composed of plastic and feature RFID or QR codes for the purpose of identification and tracking.
The two companies use billions of paper cups annually (the exact number is not revealed in the article), most of which are lined with plastic, making them almost impossible to recycle. "Eliminating this waste would help a lot toward achieving the environmental goals set by each company," says Bloomberg's Emily Chasan. The NextGen group also plans to try some disposable compostable and recyclable cups in Oakland.
The goal, according to the article, is to make the carbon footprint lighter. As such, the material being used may not be the ideal choice, but there are disadvantages with any type of disposable cup, be it paper, aluminum or plastic. Instead, NextGen aims to make cups durable and create a system by which they can be reusable. For this to happen, it will be necessary to collect, clean, redistribute and track the cups digitally, which will be quite a complex process.
The article quotes Bridget Croke, the managing director of Closed Loop Partners, a private equity firm focused on recycling that coordinated the challenge, as saying, "This technology for tech-enabled reusable cups didn't exist five years ago." The pilot provides a test for the public and also for the new cups. The question is whether consumers will choose to drop off the cups at designated collection places instead of letting them end up in dumps.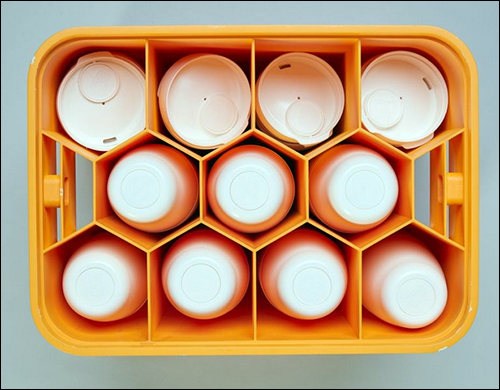 After use, the cups should be brought to yellow delivery points scattered throughout the city, where they will then be stacked in vans and sent out for cleaning. Embedded with RFID tags, the cups can be scanned as they pass close to certain points, such as a coffee shop counter or a collection area.
At the center of the project is the consumer experience. Regardless of what the best method might be to carry out identification and tracking activities, guarantee a product's authenticity or, as in this case, reduce a company's environmental impact, what matters most is how people will react to such initiatives. In the 21st century, with advanced technologies being used to solve problems that were not yet afflicting humanity until recent years, the best projects will be those that manage to increase customer satisfaction. You can mark my words on this.
Edson Perin is the editor of IoP Journal Brasil and the founder of Netpress Editora.