The technology from Checkpoint Systems is used by more than 1,500 restaurants to provide visibility into reusable, dine-in cups, bowls, lids, and French fry containers.
Aug 23, 2023With the goal of reducing waste at its fast-serve restaurants across the country, McDonald's France has shifted this year from disposable to re-usable serving items. And to manage the many thousands of cups, bowls, and containers that are used daily at these sites, the company deployed an RFID technology solution.
The restaurant chain is tracking the containers and serving items automatically, thereby reducing waste and helping create its own circular economy, while also preventing challenges related to shrink due to theft or loss. The solution, provided by Checkpoint Systems, includes passive UHF RFID tags and readers to capture tag IDs. What's more, the solution includes cloud-based software that manages data for about 3,000 reusable "dine in" containers in each of the 1,200 restaurants across France.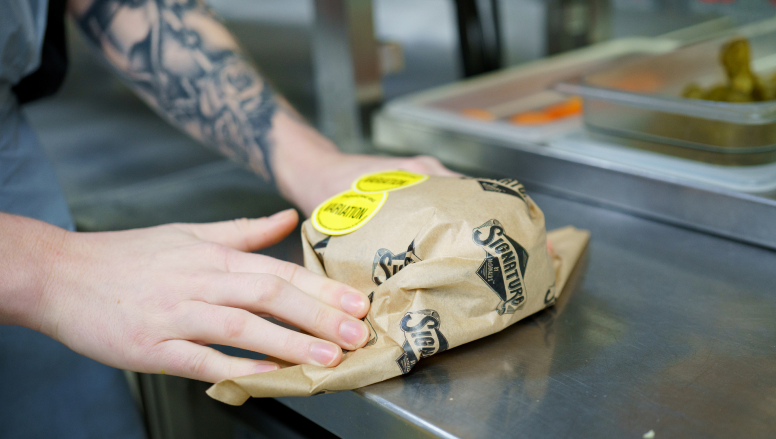 McDonald's France's goal has been to meet the requirements of Anti-Waste for a Circular Economy (AGEC) legislation that went into effect in January 2023 to increase and support biodiversity and natural resources. As of this year, AGEC place onus on businesses to employ new products, materials, and equipment to reduce environmental and health impacts. This means prohibition of single-use plastics and reducing other disposable packaging.
McDonald's France is a subsidiary of global fast-food chain giant McDonalds, which not only serves hamburgers, fries, and milkshakes, but also salads, fish, wraps, and smoothies. Its 1,500 restaurants serve about 46 million people weekly.
Two years ago, in anticipation of the French legislation, the European franchise began developing its plan to transition to reusable containers, which could be tracked to prevent loss as well as to ensure they were properly cleaned and maintained at each site.
With RFID tags on dine-in containers, the company wanted to understand where its containers are, and thereby prevent or reduce the risk of loss. The reusable, higher value containers are costly to replace. McDonald's France selected Checkpoint System's RFID offering, and the two companies began working together to develop an integrated solution, says Julien Thibult, RFID Sales Director, Checkpoint France.
Customized for Food Safety and Durability
Development began between McDonald's France and Checkpoint in laboratory test sessions and consultations to develop food-safe and heat and water-resistant RFID tags. The necessary form-factors are applied to most items, from cups and bottles to containers for French fries.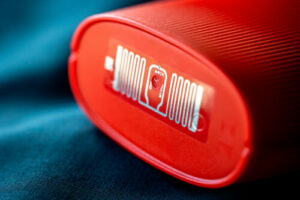 The program was comprised of three phases, Thibult says - tests in the McDonald's France lab, a proof of concept (POC) demonstration, and a pilot at 10 restaurants - before the country-wide roll-out.
Part of the unique challenge for this project was the need for technology that could operate safely and reliably in the food preparation environment. The company needed tags that were durable enough to continue operating after numerous washes at high temperature, as well as being food safe.
Checkpoint specially designed two RFID tags to use across the reusable container range. One is a round-shaped tag designed to be molded into reusable cups, lids, and bowls. The second is an in-mold labeling (IML) tag integrated directly into French fry containers.
These tags are the first food-safe and heat- and water-resistant RFID solution allowing full longevity and durability of reusable containers, Thibult says.
How it Works
UHF RFID tags are each encoded with a unique ID that links to data in Checkpoint's cloud-based software, specific to each item such as a cup or lid. As the tags are read, the data is captured, interpreted, and stored with the item's identity in the software.
Each restaurant is equipped with an RFID hand-held device and a single-fixed RFID reader. Store employees can use the handheld reader to accomplish inventory counts or to search for specific products. They simply carry the reader through the restaurant, reading the tags within range of the reader, and updating the status of each item. If an item's tag is not read, they can view the information in the system software.
Employees are also provided with a tablet device to view and manage stock inventory, order replenishment, as well as using the track and trace function to search for items that are missing.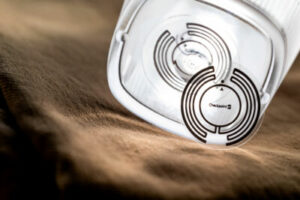 Checkpoint built the specialized, automated track and trace function in its software platform to help restaurants pinpoint the exact location of on-site and nearby containers.  For example, if a reusable container is thrown into a restaurant trash bin, it can be detected either by a fixed reader in the restaurant or with a handheld reader by scanning tags near trash bins.
If they read a tag, employees can then go through the bin and locate the items that were erroneously discarded before the bin is emptied.
The software also enables analytics so that management can view trends and gain insights about overall stock count, numbers of reusables retrieved from the trash, and replenishment needs.
In addition, the system tracks how often reusable containers are washed, as well as when they may need to be maintained or replaced.
To date, McDonald's has installed Checkpoint's RFID hardware and software in all 1,550 restaurants across the country, tracking 3,000 reusable dine-in containers at each site. Tags have been applied to reusable drink cups for both hot and cold beverages, as well as on lids, bowls, and French fry containers. Cutlery is not included.
"Our RFID technology offers McDonald's France real-time data on stock inventory and replenishment requirements with up to 99 percent accuracy," says Thibult, "for improved visibility and control."
Key Takeaways:
RFID technology enables McDonald's France to track its reusable containers and serving dishes in each of its restaurants to prevent shrinkage and ensure proper maintenance and wash cycles.
The technology, deployed earlier this year, helps McDonald's France meet national legislation requirements for circular economy of its containers.