May 27, 2020As companies reopen their manufacturing, industrial and warehouse facilities, some are seeking safe-distancing technologies to help prevent contacts between workers that could pose a COVID-19 transmission risk. Industrial Internet of Things (IIoT) technology company Kinexon already offers its RIoT real-time location system platform, for sports-performance tracking and for digitization of the shop floor in industrial sectors, using ultra-wideband (UWB) technology. This month, the company has modified its solution to provide a low-cost, easy-to-deploy system for social distancing.
The solution consists of a wearable device that detects the locations of others within its immediate vicinity and flashes or emits alerts accordingly. The solution, dubbed SafeZone, was designed to help companies minimize the risk of infection in their working environment as personnel return to work under the new normal of keeping several feet of space between individuals.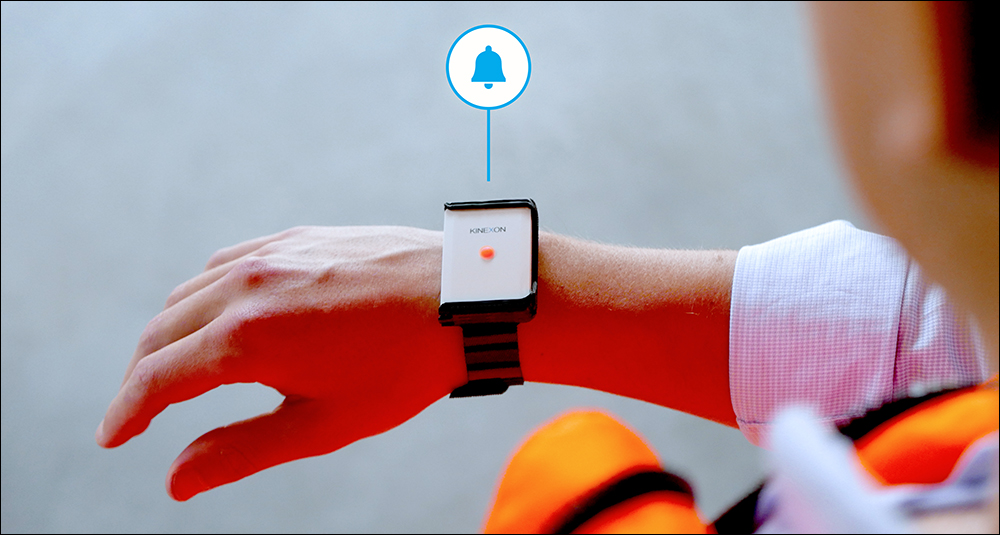 Workers at busy warehouses or manufacturing sites often cross paths, sometimes in closer proximity and with greater frequency than is considered safe by the CDC's pandemic guidelines. The length of time they remain in close proximity can be a measure of how likely virus transmission is. Rather than asking personnel to judge the safety of their working environment on an individual basis, companies are looking for technology that will do the measuring and alert workers accordingly.
SafeZone is designed to detect and prevent social-distancing breeches automatically. The basic version of SafeZone consists of Kinexon's SafeTag, a wristband with what Mehdi Bentanfous, SafeZone's managing director, calls an ultra-precise sensor for reliable distance measurement. With this basic version, he says, the wristbands and a charging station to recharge the bands' batteries for each shift are all a company needs.
First, a user removes his or her SafeTag wristband or badge from the charger when that person's shift starts. The UWB device will immediately begin sending a signal as the worker goes about the day's tasks, and the sensor device receives transmissions from other wristbands within the area. If the SafeTag detects a transmission from another device, it responds based on pre-configured alert settings.
Companies can set up the proximity threshold based on distance and time. For instance, as soon as it gets close to another sensor, a visual alarm—such as the wristband's LED light changing from blue to red—would be triggered. If that close proximity took place for longer than the acceptable time (for six seconds, for instance), the device would emit an audible alert that could become louder over time.
The collected data is stored on the sensor and can be uploaded later into the exposure-management software for tracing purposes in the event of an infection. "There are no anchors needed, just the sensor itself," Bentanfous explains, and employees could wear the sensor. "That's why an implementation is fairly quick and easy."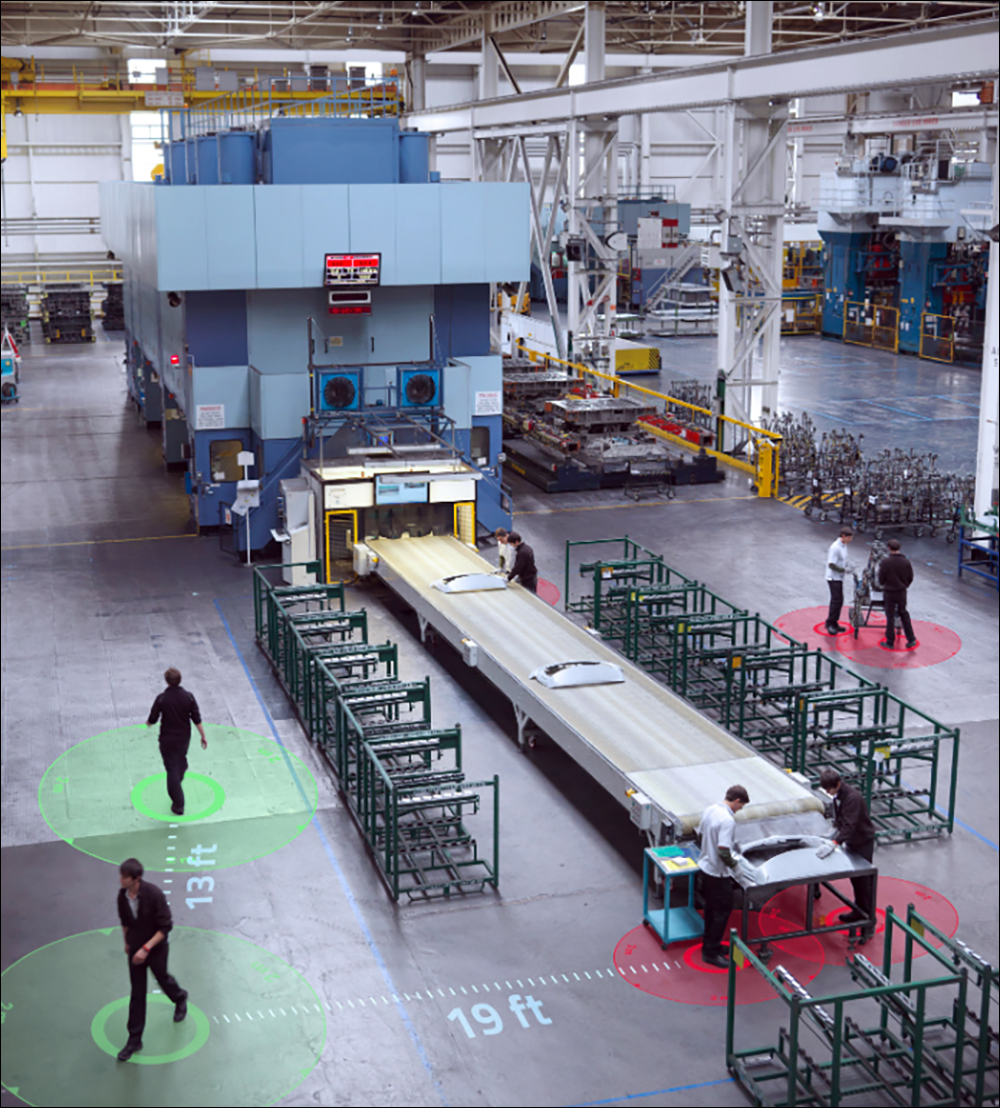 The extended version includes Kinexon's cloud-based RIoT software. As the devices are charged between work shifts, a Kinexon gateway receives transmissions of the stored data from each unit indicating when and how often social-distancing standards were broken during its last use. That data is stored on the wristband's integrated circuit and is then cleared after the bracelet is charged and the information has been uploaded to the server or the exposure-management software used for tracing.
The software can provide analytics for use by management for the purposes of retraining personnel, reassessing operations within a facility and contact-tracing if an individual tests positive for COVID-19. According to Bentanfous, managers can view when and how often individuals have a contact event, and then create ways to reduce those contacts. That data can be used for contact tracing, he says, if the information is captured and stored. In that way, he adds, "We're not just tracking distance between sensors, but also can do tracing so that the end user can look at who was exposed in case of infection."
All information collected remains confidential, as the RIoT software does not store individuals' names or identities. However, a company can designate responsible parties—an HR manager, for instance—who can access the identity of a tag's owner if necessary, such as after a worker tests positive for the coronavirus. The data can then be accessed to view who has been in contact with that person in recent days. The system can enable a company to address those who may have been at risk, and thereby avoid disruptive responses such as shutting down an entire shop floor. If a UWB tracker is attached to a workstation, the software can link the affected individual to specific places he or she has been. That information makes it possible for a business to disinfect those areas.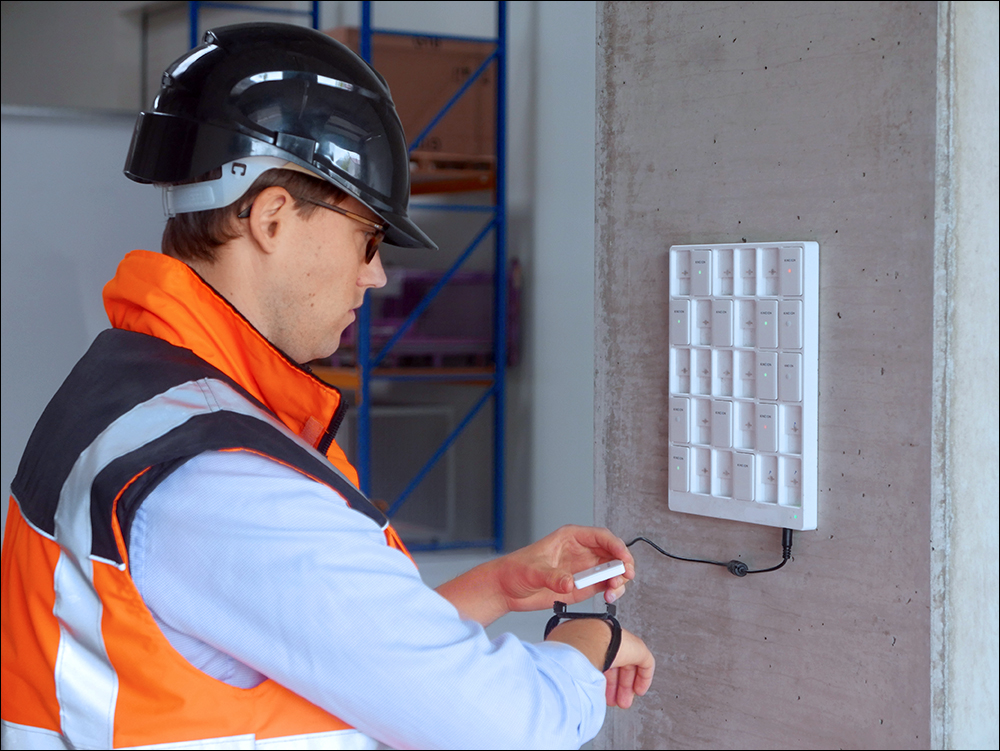 Kinexon was launched in 2012. Its first application was designed for the sports industry. In a sports use case, a wireless tracker can be embedded in each athlete's uniform or pads in order to track his or her performance. Data from the tracker, which includes a gyroscope or other sensor and an accelerometer, can help to identify an athlete's positions and movements. In that way, the system can detect potential health or injury concerns, along with performance. Within a year, the solution was then expanded to factories and logistics facilities to track workers, vehicles and assets, Bentanfous says, "in order to digitize the shop floor." Companies can use the system to analyze processes, material flows and space utilization, thus making their facilities more efficient.
When it comes to the new use case of social distancing, Bentanfous says, emerging solutions have predominantly featured Bluetooth or other smartphone-based systems that are not as precise as UWB. He says Kinexon was positioned to offer a more precise solution for the workplace, by modifying its existing technology. It initially reached out to its current customers, as well as to other manufacturers and industrial companies throughout Europe and North American. Approximately 30 different systems are now being piloted at company sites, he says, including at a large automotive manufacturer and a global food company. "Feedback has been very good about the warning and alarming," he states, "and the accuracy of the data that we are collecting as well as the easiness of use."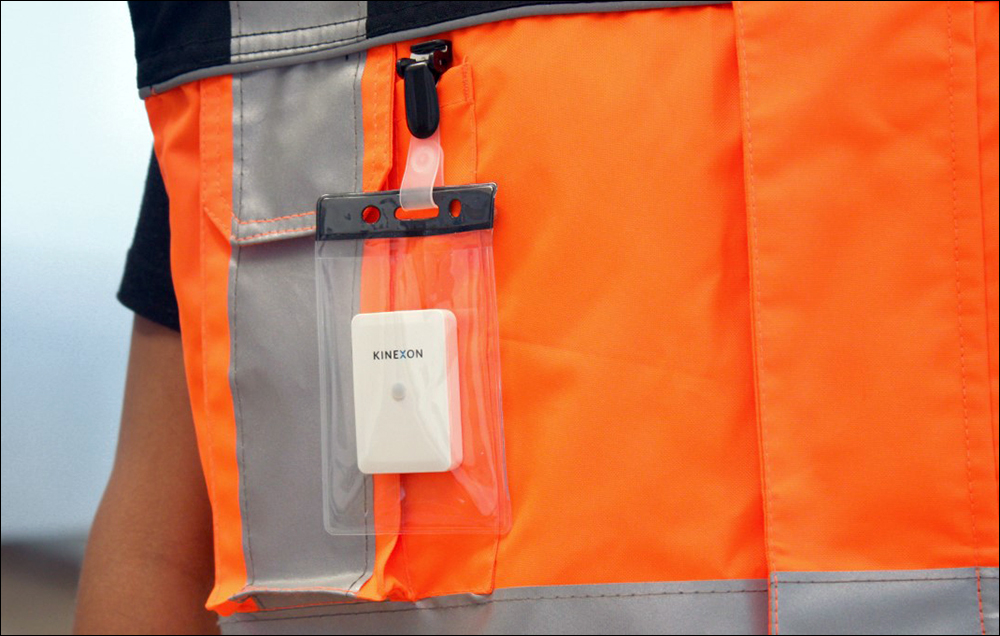 The company now plans to implement the solution with customers in North America and Europe. These include a logistics company, an auto parts supplier, a food and beverage company and a European soccer team. "The ultimate goal is to make sure there is no risk of spread," Bentanfous says, adding that companies are interested in both the basic version of the SafeZone solution and the tracing functionality. "The idea is, once you have the system you can extend it by adding anchors" to capture data related to contact tracing, as well as overall efficiency.
The RIoT software platform includes various applications, such as those for creating heatmaps, geolocating, alerting and process analysis. "We're seeing interest from companies that have already re-opened," Bentanfous says, "as well as some companies trying to open with a COVID plan." The tags are sold at a price that varies according to volume. For the extended plan, companies can purchase tags and pay a software-as-a-service fee per tag for exposure management functionality. For Kinexon, Bentanfous says, the solution is not an entirely new product, which is why it has been released relatively quickly. "We think UWB is exactly the right technology," he states.