Apr 17, 2011
Published: April 2011

Number of pages: 37

Price: $395
Get this report for $199 with a new membership to RFID Journal:
Add subscription and report to cart.


Radio frequency identification is a broad term covering any system that can identify objects remotely using radio waves. RFID technologies are used for a wide array of applications in hospitals and clinics—from tracking large assets, such as gurneys and wheelchairs, to tracking inventories of medical devices, such as stents, and identifying lab samples. Different applications have vastly different performance requirements. A large,multi-floor hospital, for instance, might need to identify a piece of medical equipment from 1,000 feet (300 meters) or more away, and locate it to within a 10-foot (3-meter) radius, while a medical researcher might need to identify the slot of a specific test tube only a few inches square in size.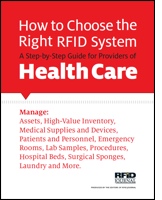 This report details the many types of RFID technologies, including passive low-frequency (LF), high-frequency (HF) and ultrahigh-frequency (UHF) 433 MHz, 900 MHz and 2.4 GHz active systems; ultra-wideband (UWB); ZigBee; Wi-fi; and more. Plus, it features descriptions of hybrid tags that combine RFID with infrared, and alternatives to RFID, including ultrasound. This ultimate guide will help ensure that you choose the most suitable system to do the job at the lowest cost—get this newly released report now, at this special rate.
RFID Journal's editors created this special report to help health-care providers choose the RFID technology that can best meet their needs in both the short and long term. It is designed to walk decision-makers through the process of determining their needs, and then matching those requirements to the proper RFID system. This document provides detailed information regarding the performance characteristics, standards, strengths, weaknesses and common applications for each type of passive, active and battery-assisted RFID system. Because health-care providers are primarily interested in locating assets in real time, we have provided detailed information about the real-time location systems (RTLSs) offered for the health-care sector, including a breakdown of the different features of solutions on the market.
No report can conclusively determine the right RFID system for a particular organization's needs, but this guide will help those charged with selecting a system narrow the options. Our goal is to reduce the time hospitals spend researching the appropriate system, and to provide the information they need to choose a systems integrator and, perhaps, hardware and software providers (a good systems integrator will help with the technology-selection process).
Table of Contents
Part 1

What Is RFID?
The Major Types of RFID Systems

Passive

Active

Battery-Assisted

Real-Time Location Systems
Part 2

A Step-by-Step Guide to Choosing the Right RFID System for Your Application
1. Determine whether you want to deploy RFID as a point solution to solve one
problem, or as an infrastructure approach to solve multiple problems.

2. Determine which objects and/or people you would like to track.

3. Determine over what distance each object or person needs to be identified
and tracked.

4. Determine the location accuracy required for each item being tracked, as well
as the layout of the environment.

5. Create a table within which you can place each item on your list.

6. Consider other factors that might influence which system is most appropriate:

• How large is the asset?

• How critical is knowledge of the asset's location?

• What other RF devices are in operation in the area in which the RFID
system will be used?

• Do you need to monitor the item's condition?

• How much will deploying the system disrupt existing operational activities?

• Does the system need to be intrinsically safe or HERO-compliant?

• How important is data security?

• What is the total cost of ownership?

7. Prioritize the benefits of tracking and managing the objects, or groups of objects,
on your list.

8. Engage the services of a good system integrator.

9. Pilot the system.

10. Roll out the system and expand it as needed.
Part 3
The Different Types of Passive RFID Systems
Passive

Low-Frequency

High-Frequency

Ultrahigh-Frequency
Passive Real-Time Locating Systems

Ultrahigh-Frequency

Ultra-wideband
Part 4
The Different Types of Active RFID Systems
Active

ISO-18000-7 (Dash7)

Proprietary Systems

RuBee
Active Real-Time Locating Systems

Ultra-wideband

Wi-Fi

ZigBee

Proprietary Systems
Part 5
Battery-Assisted RFID Systems
Part 6
Hybrid RFID Systems

RFID and Infrared

Part 7
RFID Sensor Networks
Part 8
Alternatives to RFID

Infrared

Ultrasound

2-D bar codes
Table 1
Product Features in the Major Real-Time Location Systems for Health Care

Appendices
1. The Components of an RFID System

2. RFID Health-Care Applications

3. Leading RFID Technology Providers by Type of System Sold
Graph 1
Read Distance and Location Accuracy of the Major Types of RFID Systems

Get this informative new guide now for just $395.



Add to Cart
Get this report for $199 with a new membership to RFID Journal: Add subscription and report to cart.