May 28, 2019The view that data, and not just billing, offers the greatest value to businesses was the main point of discussion among speakers at this year's GS1 Summit 4.0. The event, held in São Paulo, Brazil, on May 21, 2019, showed that the sales achieved by several technology startups in recent years have been directly related to the amount of data about individuals and transactions that these young companies were able to store. That is, unlike a few years ago, the value of the companies was not directly calculated based solely on their billing or financial results.
The summit revealed the evolution of—and the challenges to be faced by—Industry 4.0 and the Internet of Things (IoT) in Brazil. The event began with an explanation by Roberto Matsubayashi, GS1 Brazil's director of innovation, who stressed the importance of using various technologies, including bar codes, to make the IoT deliver the results expected by companies and their customers and suppliers.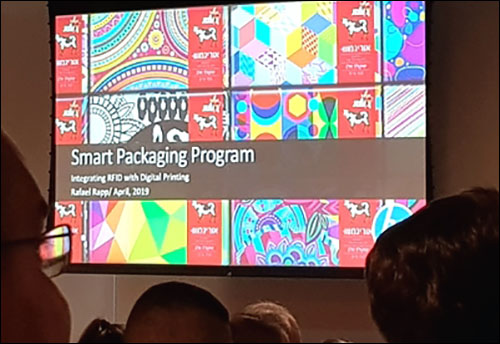 Frederico Bellini Coelho, also of GS1, offered statistics regarding the amount of damage that can result from informational errors about products, which he says amounts to around 1 billion Brazilian real ($248 million) per year. Unnecessary spending could be avoided by the use of information mined by IoT systems, he said—in this case, including such technologies as radio frequency identification.
Representing the Brazilian Industrial Development Agency (ABDI), Bruno Soares revealed that the federal government is creating a Brazilian Chamber of Industry 4.0, with four areas of activity: Agenda 4.0, Pro-Future, Brazil 2027 and the National IoT Plan. The aim, according to Soares, is to achieve results through actions already developed in the past, prototyping public policies.
According to the ABDI executive, the idea is to attack the country's losses with maintenance costs of machinery, on the order of 35 billion real ($8.7 billion) per year; save 7 billion real ($1.7 billion) annually with energy; and achieve gains of 31 billion real ($7.7 billion) per year in efficiency gains. Another goal includes the generation of new business.
"The Brazilian government also plans to help small and medium-sized companies calculate a return on investment (ROI) in advanced IoT technologies, and others that can leverage their business," Soares explains. However, the challenge remains to obtain resources, since the Brazilian federal government, faced with a financial crisis, has announced several measures to contain and reduce expenses. Added to this is the fact that the National Bank for Economic and Social Development (BNDES) spent 17 million real ($4.2 million) in a two-year period to create the IoT Plan—and, after that, it ran out of resources to inject into the companies and, thus, make such a plan feasible.
Maurício Finotti, from the Brazilian Association of the Internet of Things (ABINC), presented what can be expected of Brazilian companies with the use of resources and technologies related to the IoT and Industry 4.0. "We can be sure of one thing: the jobs we have today, the activities we do today and the jobs of the people inside this room will no longer be performed by our children," he predicted. According to Finotti, future professions will have little relation to those of today.
Rafael Rapp, an executive from HP Brazil, presented news about the Industry 4.0 initiatives being undertaken by his company. Starting in the second half of this year, an innovative experience will be delivered to the firm's customers, thanks to the integration of RFID technology. RFID has been in use for more than 15 years via its Smart Packaging concept products, through labels, boxes and other materials printed digitally, with elements that are invisible to the human eye but activate responses in an app installed on smartphones.
According to Rapp, consumers of the company's printers will be able to find data that would be in a product manual. This could include instructions regarding the operation of a machine, or about which cartridge to use and how to make a purchase via HP's Link Technology.
"Instead of a lot of printed material going along with each new printer," Rapp states, "including DVD-ROM, etc., each new product will be able to offer more information to the customer through their smartphone with the Link Technology reader application already installed." That is, it is sufficient for a consumer to point a camera in a mobile phone at the printer using the HP app so that the device will be recognized. Videos and other specific instructions will then be displayed.
The hybrid solution with RFID and Smart Packaging from HP Brazil received an RFID Journal Award in the Best Logistics and Supply Chain RFID Implementation category. The award was presented at this year's RFID Journal LIVE! conference and exhibition, held in Phoenix, Ariz., in April 2019.
Through this initiative, HP seeks to enhance the customer experience by utilizing IoT capabilities. With packaging or labeling printed digitally by Link Technology, each HP product can have its own personalized identity, such as a personal document or an RFID tag. As a "secret identity," Rapp says—since it cannot be seen by the human eye—the printed code resembles a watermark.
Digital printing integrates the design artwork of the packaging, but without interfering with its layout, quality or appearance. In addition, it makes the packaging traceable throughout the value chain. The digital printing technology can be applied individually to each carton, and can be associated with a specific Electronic Product Code (EPC), with the same information recorded on the RFID tags.
Nicole Augustowski, from Here Mobility, spoke about urban mobility, startups and the role of the user in Industry 4.0. She explained that several companies have a market value that is fully increased if only annual revenues are taken into account. "What the buyers of these companies are looking for," she said, " are not the startups' financial returns or the investments made by these companies in the development of new systems. What's at stake is the data accumulated, stored and processed over months or years of operations."
Augustowski's reasoning was championed by other speakers, such as Fausto Padrão, from Coca-Cola Andina, one of the beverage company's bottlers in Brazil, based in Jacarepaguá. Companies and professionals need to keep up with what's going on in the world in terms of technology, Padrão told the audience, by studying and investing in the IoT and Industry 4.0, for example, so that they do not fall behind. "It's not a matter of choice," he stated. "It's something necessary."