Aug 02, 2004EPCglobal, the nonprofit organization that is commercializing Electronic Product Code technologies, has appointed Chris Adcock as president of the organization. Adcock will be responsible for managing the global organization, which is developing EPC standards and which oversees local EPCglobal chapters around the world. He replaces Margaret Fitzgerald, who resigned in April after only a few months on the job (see EPCglobal Chief Resigns).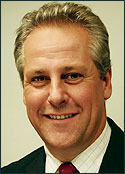 A native of the United Kingdom, Adcock has held a variety of senior positions with The Gillette Company in Europe since 1989. Most recently, he was the general manager of Gillette's Nordic region, where he ran a team of more than 200 employees at four different locations and was responsible for the profit and loss of all Gillette products in the region.
"Chris has enjoyed a distinguished career at The Gillette Company and will bring great energy and leadership to the EPCglobal organization," Dick Cantwell, the lead director of the EPCglobal's board of governors and a Gillette VP, said in a statement. "He is a sharp strategic thinker, a proven consensus builder, and knows how to convert community support into real, tangible results. I know he will bring that same standard of excellence to EPCglobal and help users unlock the power and potential of the Electronic Product Code."
Adcock's appointment was approved by the boards of both the EAN International and the Uniform Code Council, which are copartners in the EPCglobal joint venture. EPCglobal said Adcock would begin his official duties as EPCglobal president on Sept. 1. He will split his time between two offices that will be located in London, at the e.centre (EAN UK), and in Lawrenceville, N.J., at the headquarters of the Uniform Code Council.
Adcock is on vacation until mid-August and was unavailable for an interview. But he takes over at a critical time for EPCglobal. The organization is working aggressively to create a second-generation global standard for EPC systems operating in the UHF spectrum. It is also working to develop standards for the EPCglobal Network (the global system that will allow companies to use EPC technology to track and share supply chain information), to promote EPC technology outside of its roots in the consumer packaged goods and retail industries, and to prove there is a business case for adopting EPC technologies.
"I don't know [Adcock], but I hope that he has the right stuff," says one EPCglobal member who did not want to be identified. "The organization needs real leadership, and it needs it now."