Oct 26, 2018As part of the growing trend toward consumer wearable devices, Maxim Integrated has developed a health-care-based wristband system using Internet of Things (IoT) technology, known as Health Sensor Platform (HSP) 2.0. The solution is intended to put the management of one's own health and wellbeing more firmly in the hands of a person wearing the device. The watchband consists of multiple sensors, including an electrocardiogram (ECG) sensor and photoplethysmogram (PPG) sensors to measure heart rate and variation, as well as a Bluetooth or Bluetooth Low Energy (BLE) connection to a mobile phone or device. It comes with an IoT app enabling users to receive and manage the sensor-based data.
Maxim Integrated, an IC and sensor technology company, has been developing clinical-grade sensor products to fulfil the needs of a market in which individuals sought greater ownership of their health data, says Andrew Burt, the firm's executive business manager. He cites such products as watches, cardiac patches and diabetic patches that capture measurements, which can inform users and their physicians regarding their health throughout the day.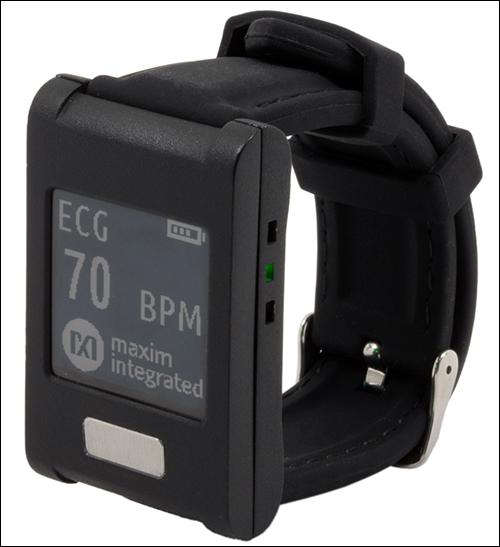 While wristband sensors for monitoring health are already available on the market, Maxim Integrated reports, the HSP 2.0 is unique in that it offers sensor-based data about ECG readings and PPG heart rate signals. It also comes with an open platform so users can develop their own software-based solution in which data can be stored and evaluated, without requiring a technology provider (such as Apple or FitBit) to manage that data.
An ECG sensor measures the electrical activity of each heartbeat and detects the wave that causes the muscles to squeeze, thereby pumping blood from the heart. Tracking this activity within the heart can help patients to better understand their cardiac health, but most sensors that can monitor ECG readings must be applied directly to a person's chest. Maxim's engineers have developed a sensor that can detect ECG data directly from the wrist's own pulse.
The ability for customers to manage this data themselves makes the platform appealing, Burt says, noting that several developmental steps led to the HSP 2.0's release. Approximately two years ago, Maxim Integrated released a developer's kit that enabled users to create their own reference designs for wearable sensors. This summer, the firm released a health band incorporating an ECG sensor. The most recent development was the open software platform, linked to the new wristband, which allows users to take the raw data made available by the system, and tailor their solution according to the information they want to collect and analyze.
Most wrist-based devices can provide heart-rate and motion-based information using PPG, Burt says, but come up short when it comes to ECG monitoring. More typically, he adds, individuals who want ECG information must wear a chest strap. The Maxim wristband housing has two metallic electrodes on the back of the enclosure to contact with the wrist, along with a single electrode on the front, on which users can place a finger for measuring ECG readings. A patient could then share that data with his or her clinician to discuss that person's health and any medication or other strategies required. Body temperatures can also be challenging to measure at the wrist, he adds.
The wristband comes with a built-in Maxim MAX32630 Darwin low-power microcontroller, as well as a sensor hub and a body temperature sensor. It also contains a system to measure bio-potential and bio-impedance (for monitoring cardiac fitness measurements, as well as respiratory and heart rate and cardiovascular pressure, respectively), and an optical pulse sensor.

The wristband and Health Sensor Platform sells for $399. It comes with an Android-based app and a PC graphical user interface (GUI) so that individuals can then create their own solution. Maxim's customers include health-care solution providers that could package the wristband with their own cloud-based software. In addition to sending data wirelessly via Bluetooth or BLE, the wristband can be connected to a back-end system via USB.
In addition, Apple recently released an ECG sensor in its latest version of the iOS. That release, which coincidentally happened at the same time as Maxim's release, serves to further educate consumers and solution providers that ECG measurements can be captured with a personal device that does not need to be strapped to a user's chest, according to the company.
Since the wristband was provided in sample versions, Burt says, "the reaction is very positive." Not only does it offer a variety of sensors, he reports, "but you can own your data." The bracelet is being sold directly to customers and through distributor partners. During the coming months and years, he adds, "We're likely to bring out new sensor boards" that could be used with the wristband solution. The firm may also add the capability for a user to prompt regular sample health checks with the wristband, by scheduling it to take periodic measurements.