Jul 05, 2004Most companies are trying to get small pilots up and running or figure out how they will meet RFID tagging requirements set by their customers. Few are thinking about what it will take to manage an RFID infrastructure that could one day consist of thousands of RFID readers. But ADT Securities Services, the Boca Raton, Fla.-based company that installs and monitors commercial and residential security systems, is thinking ahead. The company believes it can provide not just the hardware that large users will need but also the services necessary to keep critical RFID infrastructures up and running.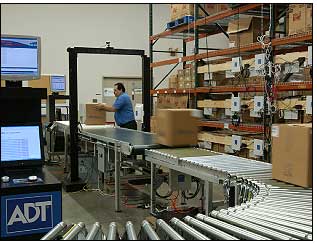 ADT was founded back in 1874 (the letters once stood for American District Telegraph). It now provides services such as fire protection, access control, alarm monitoring, medical alert system monitoring, video surveillance, and intrusion detection through more than 220 offices nationwide. In 1998, the company, which had sales of $158 million in 2003, was purchased by Tyco International, a $37 billion industrial conglomerate based in Portsmouth, N.H. ADT's opportunity in the RFID industry lies in combining its own sales force and 24/7 monitoring capabilities with Tyco's other strengths.
Those other strengths are the ability to mass-produce RFID readers, develop software, and install and maintain them for large customers. The manufacturing know-how and software develop skills are found in Tyco Fire and Security, an $11 billion unit of Tyco International that includes ADT and SimplexGrinnell. The RF service and support capabilities come from and Sensormatic, the world's largest provider of electronic article surveillance (EAS) tags, which Tyco bought in 2001 for $2.2 billion.
EAS tags are used by many retailers to reduce shoplifting. They are essentially 1-bit RFID tags (some EAS tags are acousto-magnetic or electromagnetic and don't use RF) that retailers can turn off when an item is purchased. (When someone walks past a gate at the exit, an alarm sounds if the tag hasn't been turned off.) Sensormatic's sales force was combined with ADT's, and Sensormatic's team of RF service engineers, which install and service EAS systems in thousands of retail locations around the world, was brought under the engineering group of Tyco Fire & Security.
In February 2003, Tyco Fire & Security announced that it was licensing the design for an "agile" reader—one that can read tags that operate at different frequencies and use different protocols—from ThingMagic and manufacture EPC readers for the mass market (see Tyco to Mass-Produce RFID Readers). It markets the reader as the Sensormatic SensorID Agile 1. But ADT wants to do more than just sell the Tyco readers. It wants to install the readers, monitor them and repair them when there is a problem—essentially removing a potential headache for large end users.
"In the long term, we're building a services business," says Randy Dunn, ADT's director of national sales and marketing for RFID. "ADT has demonstrated that we understand what it takes to be a market leader. And we're part of Tyco Fire & Security, which is an $11 billion organization, so we have the financial resources to go after and accomplish our objectives."

In the fall, ADT will begin selling the SensorID Agile 2 Reader, which is designed for maximum flexibility. Like the Agile 1, the Agile 2 Reader uses a software radio architecture, which means that software is used to create a digital signal that a digital-to-analog converter turns into an analog wave. The advantage of this approach is that when new "air-interface" protocols (the way tags and readers communicate) become adopted, the software can be upgraded easily.


Tyco engineers worked with ThingMagic to make the reader design more modular. Instead of all the antenna ports being on one printed circuit board, the reader is designed with four modules that can be swapped in and out. Each UHF module can support one or two antennas, and each high-frequency (13.56 MHz) module can support one HF antenna.
End users can choose to buy readers with modules that operate in the United States (where UHF systems operate between 902 and 928 MHz), Europe (proposed regulations will allow readers to operate between 865.6 MHz and 867.6 MHz) and Japan (proposed regulations allow readers to operate at 960 MHz).
The new version of the reader will be able to read tags based on the UHF EPC Class 1, EPC Class 0 or ISO 18000-6B standards. It will also be able read a variety of 13.56 MHz tags, including ISO 15693, which Boeing and Airbus plan to use to track major airplane parts (see Boeing, Airbus Team on Standards).
"The Agile II reader is different than other RFID readers on the market," says Dunn. "Its modular design supports numerous configurations. We think agility is an important concept, because it's a very fast-paced, dynamic market."
Pricing will vary according to the configuration, but Dunn says the reader will range from $1,900 to $2,700 (list price), depending primarily on how many antennas it is required to support. Antennas for the different frequencies and applications range from $180 to $540 each.
Once readers are installed in a warehouse, distribution center, retail store or manufacturing facility, companies will have to manage the data from the readers, and they will have to manage the readers themselves. Tyco has licensed a data management middleware from GlobeRanger, a Richardson, Texas-based company. GlobeRanger's iMotion Edgeware gathers data from mobile computers and devices such as RFID readers, processes the data by applying workflow rules set up by the user, and transfers the processed data to back-end systems. ADT is marketing a version of the GlobeRanger platform under the name Deployment Manager.
ADT isn't limiting itself to selling its readers only to companies that want to use GlobeRanger's product. Tyco will integrate its readers with middleware from other companies, so the readers provide data in a format the middleware can process. This isn't hard to do because the readers use common data standards, including extensible markup language (XML) and Simple Object Access Protocol (SOAP).

ADT wants to provide data-management middleware so it can offer customers a complete package. But device management for readers is ADT's core competency, since it has managed thousands of installations of Sensormatic EAS systems. Tyco has developed software called Device Commander to manage readers (see
New RFID Reader Management App
), which ADT will market.


This is a potentially huge market because reader management will be a critical issue in the years ahead. "If you have only 50 readers for a pilot, device management is not a big deal," says Ed Jones, director of product development for Tyco. "But once you scale that and you have 500 readers in a cross-dock or thousands of readers in an enterprise, device management becomes a pretty significant issue."
Each server running Device Commander can manage up to 50 readers on one segment of an RFID network and deliver data from the readers through a single connection to enterprise IT systems. The software enables users to monitor RFID reader performance. If a reader goes down, the software will try to connect with it. If, after several tries, Device Commander can't communicate with the reader, it will either activate a backup reader, if one is in place, or send an alert about the problem to a systems manager.
Tyco's product development teams are looking at ways to make it possible for Device Commander to detect problems with a reader by analyzing the data flowing from it. "There's a lot that can be mined from the flow of information," says Jones. "It's not just whether I saw this tag or not. It's: How many tags did this antenna see this hour? Today? This week? Has it changed? Is the difference predictable or does it suggest that there is a problem with the antenna?"
In addition to monitoring the readers, Device Commander can also control individual antennas on a reader. That's important because the new agile reader can support up to eight UHF antennas. Companies might want to use one reader with four antennas around a conveyor. If the individual antennas can't be controlled, then the ones on the right and left, or top and bottom, of the conveyor could interfere with one another.
Device Commander has an auto-discovery feature, so when a new reader is added to the network—say, to replace one that went down—the software will detect it automatically. The new reader will show up in a list of unconfigured readers. The software can copy the configuration settings of the reader that went down and apply them to the replacement reader.
Tyco has also created a firmware library that can be maintained on an RFID network. The library can store the firmware—software that controls the hardware as it boots up—of different reader models. It can also store firmware for readers used for different functions. If, for instance, all of a company's readers on parts bins are configured a particular way, those settings can be stored in the firmware library. When an engineer installs a new reader on a parts bin, he or she can upload the firmware from the library to the new reader.
Device Commander logs all events, so it can generate reports that can tell users when readers went down and when replacements came online. This information is stored in the WindowsNT Event Logging Service, a component of the Windows operating system, instead of a Device Commander database. This way, network management tools used by a company can access the logs and send an e-mail or pager alert when a device goes downs.

Device Commander logs all event failures, including hardware failures and network connection failures. These events can be forwarded via the standard Simple Network Management Protocol (SNMP) to a network management system or alerting system. When there is a network connection failure or other problem, Device Commander stores tag data in a memory buffer until the connection is restored and then forward the stored data.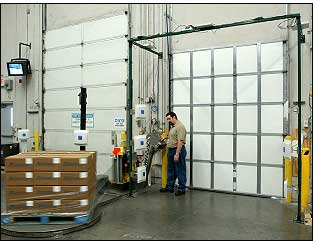 "We're trying to make it as simple as possible to manage large numbers of readers," says Kevin Smith, Tyco's project leader for software quality assurance and integration. "People don't understand the scale of the device management problem until you ask them to imagine what would happen if you had to put a PC—albeit without a keyboard, monitor and hard drive—on every dock door, doorway and trash compactor in the supply chain."
ADT will sell Device Commander to end users that wish to manage the readers on their own. But it also sees the product as a tool it can use to service RFID readers for customers that want to outsource that task. Using Device Commander, Sensormatic engineers will be able to see a problem with a reader and possibly fix it without having to make a visit to the facility where the reader is located, which will save the customer money in the long term.
Sensormatic's EAS system is proprietary, but ADT is committed to open systems. The Sensormatic SensorID Agile 1 reader and the new SensorID Agile 2 reader use standardized air-interface protocols, and ADT will install and service readers from other vendors for companies that plan to buy readers from different vendors.
"There is a Chinese wall between our product development organization and our [integration and support services] business," says George Reynolds, Tyco's VP of RFID. "There's deliberate tension. The product development guys have to design technology that others in the marketplace don't have, and where others have best-of-breed solutions, we expect to be able to integrate those into our [hardware and services] offering."
As part of its integration and support services, Tyco has created the Sensormatic RFID Performance Center in Boca Raton, Fla. The lab consists of two facilities: the Compliance Testing Lab and the Integration Testing Lab. The compliance lab does extensive testing of EPC tags placed on cases of products for manufacturers who are trying to comply with RFID mandates from retailers, including Albertsons, Metro, Target, Tesco and Wal-Mart. Here, the company takes advantage of Sensormatic's history of testing EAS tags on products.
The integration lab helps companies go beyond compliance and achieve internal benefits. For example, if a manufacturer needs to ensure the accuracy of direct-to-store deliveries, it might want to read all tagged cases on a pallet before the pallet is shipped. The integration lab will test where to put tags on the cases and where to install readers to achieve that. The lab can develop custom interfaces that allow SensorID readers to pass data to a customer's middleware. The system can be developed and tested in the lab before rolling it out. "We could install an entire facility in days instead of weeks because all the issues have been worked out in the lab," says Reynolds.
In addition to partnering with GlobeRanger, Tyco has teamed up with UPM Rafsec, a Finnish company that designs and manufacturers RFID tags. (Together, Sensormatic, ADT, ThingMagic and Rafsec make up epcSTARS Alliance, a marketing alliance.) When Tyco tests RFID tags on cases of products in its compliance lab, some products may require special tag designs. Rafsec can create and manufacturer the tags. ADT is reselling generic EPC smart labels and tags from Rafsec under the Sensormatic brand.
Some companies, such as Gillette, have experimented with using RFID tags as an antitheft device. ADT believes that EAS and RFID are different technologies for different applications and that EAS tags will still be needed to reduce shoplifting. The company will continue to maintain and support its EAS installations while building up its RFID services organization.
ADT is among the first companies to go after the RFID services market, but it will likely have competition. Systems integrators and technology outsourcing companies, such as Accenture and IBM Global Services, are looking to install systems and will likely offer to maintain them for companies that want to outsource that work. And Checkpoint Systems, Sensormatic's longtime rival in the EAS market, will likely be a player.
ADT's Dunn believes that winners in the market will be companies that deliver for their customers. "Our go-to-market strategy will be very customer-focused," he says. "We have a complete solutions package. We will listen to our customers and understand what their needs are, and then we'll marry elements of those solutions for them."