Feb 21, 2014Warwickshire College is employing radio frequency identification to better manage the 2,000 laptops, PCs and other electronic assets that it loans out to students and personnel. In so doing, Warwickshire's information services (IS) department—located at the school's main campus in the English town of Leamington Spa—has reduced the incidence of missing assets, as well as the amount of labor time workers previously dedicated to searching for the devices. CoreRFID provided Xerafy Titanium Metal Skin passive ultrahigh-frequency (UHF) tags for the deployment, as well as Atid AB700 handheld readers, and its own software residing on the handhelds.
Last year, Warwickshire's IS department sought an automated solution to better manage the assets that it loans out to some of its 18,500 students and 1,700 employees, spread out across the six campuses. The students and personnel borrow the items, such as laptop computers and audiovisual equipment, which they can take offsite and return at a later time. Before it installed the RFID solution, which was taken live in December 2013, the IS department had a manual system in place to track its assets and ensure that checked-out equipment was subsequently returned. Each item came with an adhesive label printed with a serial number. That number was manually input into spreadsheets at the time that the equipment was borrowed, along with the name and ID of the individual borrowing that item.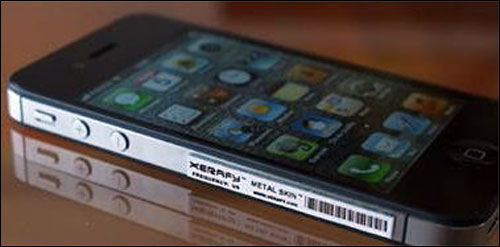 With more than 8,000 assets to track, however, auditing them and identifying what may be missing, or may not have been returned when expected, was a time-consuming task for workers.
CoreRFID suggested an RFID-based solution, according to Adam Robinson, CoreRFID's sales manager, and selected Xerafy's Titanium Metal Skin label—which measures 1.77 inches by 0.22 inch by 0.03 inch in size—because of the tag's readability when attached to assets composed of metal. For most assets, CoreRFID determined, the tag's ID number could be captured at a distance of approximately 1 meter (3.3 feet), using a handheld interrogator.
The IS department then proceeded to apply tags to equipment, and acquired Atid AB700 handheld readers loaded with CoreRFID's mobile application software. Each tag's ID was then stored in the college's own asset register software, along with a description of the item to which that tag was attached. With the new system in place, if someone wishes to borrow a specific item, he or she can contact the IS department and put in a request. An IS worker then retrieves that item from storage and prepares it for that individual. When the borrower arrives to pick up the item, a worker uses the Atid reader to capture that equipment's tag ID and then input the borrower's ID. That information is stored in the reader's CoreRFID mobile application software and, at the end of the day, is uploaded to the college's own asset register software.
Once the individual returns the item, a worker again uses the handheld to capture its ID and update its status as returned. Members of the IS department can then log into the school's asset register software to determine what was checked out and at what time, and quickly identify anything that has not been returned and is past its due date.
About every six months, an IS worker carrying a handheld reader will conduct an audit by walking through the department's storage area, as well as other sites where assets might be located. The employee first inputs his or her own initials and the location in which asset IDs will be read. That person then begins walking through the facility, reading the IDs of tags located within a meter or so, and listing them on the reader's screen.
Once this step is finished, data from the reader will be uploaded to the school's existing management system on its own server. This will enable the college to maintain an updated asset register, and to indicate which equipment might be missing, and thus prompt a search for those items. The audits are expected to be conducted more frequently than they had been previously, Robinson says, since the process is now faster. The college did not respond to requests for comment.
The IS department has tagged about 2,000 pieces of equipment to date, but intends to tag approximately 8,000 items in total. For some types of equipment, such as laptops, the tags are applied to the items' interior, making it more difficult for them to be removed. According to Robinson, the tags are still readable when placed inside assets. The tags can also be interrogated through closed drawers.
Since the system's installation, Warwickshire's IS department has told CoreRFID that there has been greater accountability among those using the equipment. What's more, the college has reported fewer losses, as well as reduced labor time by staff members searching for equipment.